Randy Jones's 1963 Imps of Omaha Crown Convertible
---
Imperial Home Page -> Imperials by Year -> 1963 -> Randy Jones
---
1963 Imperial IMPS OF OMAHA Shriner Convertible
Our thanks to Ken Cassady of Palm springs for providing the pictures.
This car was appearantly sold in 2004 from Denver Colorado and it's current wherabouts are unknown.
The information we have is that Mr. Jones's family bought this car new and his relative was an Imps of Omaha member in 1963. Later the car went to Des Moines Iowa and then on to Denver before being sold in 2004.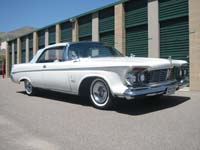 ---
This page was last updated on January 1, 2005. Send us your feedback, and come join the Imperial Mailing List - Online Car Club
---