1974 Imperial Spotter's Guide
---
Imperial Home Page -> Imperials by Year -> 1974 -> Spotter's Guide
---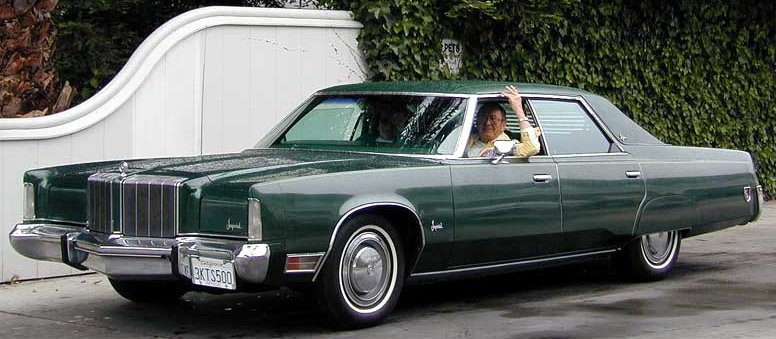 Chrysler Corporation's 50th Anniversary heralded the last redesign of the full size Imperial. This flowing, regal design would carry the torch for Chrysler until 1978. The 1974 Imperial featured the "waterfall" grille that would be a Chrysler signature design element through to 1993. The 1974 Imperial reflected the times by shrinking to 231 inches overall from 235.3 inches in 1973, riding on 124 inch wheelbase, down from the 1973's 127 inch wheelbase. From it's hidden headlamps to its graceful rear deck, Imperial's stylish sculpture reflected the contemporary look of elegance.
The 1974 Imperial LeBaron was offered in 3 body styles, 4 door Lebaron hardtop, 2 door Lebaron hardtop, 2 door Lebaron Crown Coupe. The 1974 Lebaron Crown Coupe was introduced mid-year to commemorate Chrysler's 50th Anniversary. The cars were painted Golden Fawn in colour (i.e. Golden Anniversary). A scant 57 Crown Coupes rolled off the line for the 1974 model year.
The 1974 Imperial's interior appointments were the most opulent yet. The pillowed seats introduced in Imperials previous were refined and upholstered in luxurious leather or voluptuous velour to be arguably the finest Imperial interiors ever.
Look for these items to correctly identify a 1974 Imperial from other model years.
Grille - Grille is fine vertical lines grouped in sections. Sections are separated by slightly thicker grille lines but no lines protrude above any others. This gives the grille a much more flat look than those of other years. Lines start on the horizontal area of the header panel and extend over the front of the car and down to the bumper area. The face of the grille lines are flat.
Front Bumper - Note the abscence of grille extension cutouts. Bumper is solid with no cutouts.
Headliner - Made of the "hoop" design. Later years were moulded single piece pressed fiberglass or cardboard.
Alternator - 65 Amp alternator. Mounted lower on the right side of the engine vs. the later 100 Amp unit that mounted high on the engine next to the AC compressor.
Rear Defogger - No electric rear defroster grid will be found. Look for a blower mounted in the trunk, under the rear package shelf, behind the rear seat.
---
Send us your feedback, and come join the Imperial Mailing List - Online Car Club
---