Christopher Rhinehart's 1976 Chrysler New Yorker Brougham St Regis Coupe
Imperial Home Page -> Imperials by Year -> 1976 Chrysler Imperial Home Page -> Christopher Rhinehart
---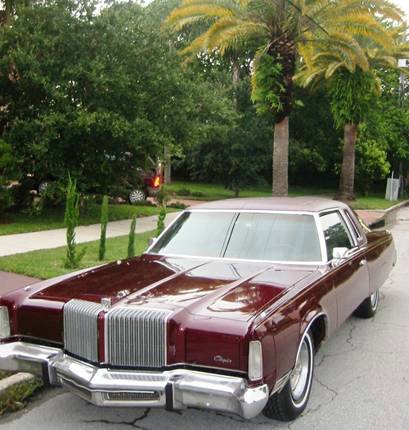 I fell in love with the Chrysler New Yorker Brougham when I was 15. My Grandfather bought a brand-new, fully-loaded 1976 Chrysler New Yorker Brougham 4-Door Hardtop in Forest Green Sunfire Metallic with dark green leather interior and green vinyl roof. We knew even then that this car was basically considered an Imperial. My little Swedish Grandfather drove Chryslers and Imperials and we had shared a love of cars, especially MOPAR land yachts, since I was a little boy. Grandpa would occasionally let me sit on his lap and pretend to steer when I was as young as four years old. Child seats were unheard of and even seat belts were optional back then. When I was five I got in his Imperial by myself, pretending to drive, and with the ease of the push button transmission I managed to roll the car out of the driveway and onto the brick street before my little adventure was abruptly terminated! My Mother took me to get my Learners Permit after school the day I turned 16. My Grandfather was starting to slow down by that point. He wasnt really supposed to drive as much but he could save face by letting me drive the New Yorker Brougham all the time instead of giving in to my Grandmother, who otherwise drove a complimentary color-coordinated 1974 Plymouth Gran Fury two-tone green coupe. This arrangement worked for me since I rarely had to ask my parents, who had owned practically every other model year of the Plymouth Fury III, to borrow a car. One day I was heading west driving the New Yorker into the sunset with my Grandfather quite content as usual sitting in the passenger seat. As I braked for a traffic light the car behind me slammed into the back of the New Yorker Brougham. I put the car in park, got out, and immediately started going off on the guy who ran into us; until, that is, I actually saw the front end of his Vega which was crumpled like an accordian. Upon closer inspection, I determined that there was not even a scratch on the bumper of the New Yorker Brougham so I turned around, got back in the car, and drove on just as the light turned green. My Grandfather, never one for a lot words, quietly asked me if anything was wrong as I smiled and told him everything was fine. That was not the only time the New Yorker Brougham was hit, or rather; the New Yorker Brougham hit something and remarkably suffered no damage. I took my road test in that New Yorker Brougham a couple of months later and passed with a perfect score. People questioned why anyone would choose to take a road test that required parallel parking a car nearly 20 feet long. I found it much easier to maneuver than a smaller car because I could see the top of those cathedral taillights in the mirror. Simply driving that New Yorker Brougham made you feel great, confident you had really arrived! The design of the 1974-1975 Chrysler Imperial and the 1976-1978 Chrysler New Yorker Brougham, epitomized true total American style and luxury to me then and still does very much today!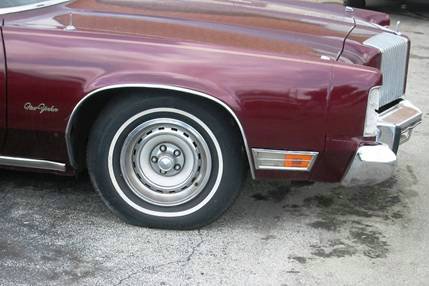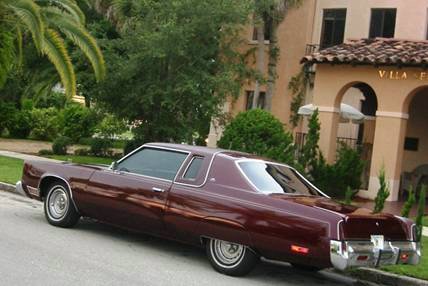 Later that year I bought my own first car, my late Great Uncles 1969 Pontiac Bonneville Brougham 4-door Hardtop that had been mothballed since he had passed away a few years before. Because it didnt seem like a car a 16-year old high school kid would drive, I enjoyed the added convenience of parking the Bonneville Brougham in the teachers lot at school and comfortably driving 7 of my closest friends to concerts on the weekends! Factory 8-track and every other option including climate control certainly made for a luxurious ride. In those days when an air freshener meant a Christmas tree hanging from your rearview mirror, I could still never get rid of the smell of the cigars Uncle Bill smoked with all the windows up and the climate control on!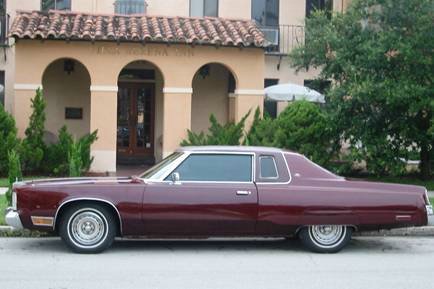 Ive owned various new and classic cars since then including my 1962 Ford Thunderbird and my daily driver, a 1978 Bonneville Brougham Landau Coupe with an original factory moon-roof. A few years ago I bought and restored a 31 foot 1976 Airstream Excella 500, literally the true Land Yacht, and it would have been nice to have a New Yorker Brougham to tow it with even then. After improvements including a parquet wood floor, new custom curtains, and a new awning, I sold the Airstream prior to relocating from Atlanta to Florida. Shortly afterward, I rewarded myself for selling the Airstream by buying the car I always knew Id eventually end up buying, a 1976 Chrysler New Yorker Brougham St.Regis coupe, sight unseen, on eBay! I wanted a loaded 1976-1978 New Yorker Brougham coupe with a leather interior and the rare sunroof option, and in a color other than white because I already had two white cars. I rarely remember seeing many of the 1974-75 Imperial or 1976-78 New Yorker Brougham Coupes or the 1974-77 Chrysler Town & Country station wagons even when they were new.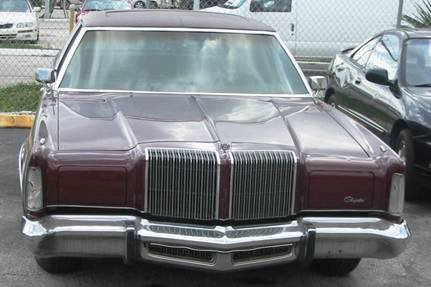 I removed and later reinstalled nearly all of the chrome and had the New Yorker Brougham repainted in its original Vintage Red Sunfire Metallic. The padded St. Regis roof and the headliner were restored, including the sunroof, with n.o.s. materials. Because of the sunroof, the headliner is the more upholstered cloth-type like that of the 1974 Imperial; otherwise the New Yorker headliners were vacuum formed fiberboard with a cloth weave cover. My 1976 New Yorker Brougham St. Regis Coupe has Auto-Temp air-conditioning, auto-speed control, electric rear-window defroster, inside trunk release, power windows, power door locks, 6-way power 50/50 driver and passenger seats, leather interior, AM/FM Stereo Cassette, power radio antenna, tilt-and-telescope steering column, power-operated sunroof, tinted glass, illuminated inside vanity mirror, light package, remote-control right-side outside mirror, electronic digital chronometer, chrome-styled road wheels, St. Regis Package (padded canopy boar-grain vinyl roof with opera windows), and a 400 engine with the Lean Burn option. I have just had a completely remanufactured Chrysler 400 V-8 (4-barrel) long-block engine with an upgraded camshaft option and a 7yr/70K warranty, new radiator, hoses, water pump, and thermostat installed. I installed a new switch for the drivers side power window and replaced the white front cornering lights. Im installing 2 new front and 2 new rear speakers, a Pioneer AM/FM/CD/MP-3/WMA player (with green LED that coordinates nicely with the greenish-tint Chrysler dash lights) and a Sirius Satellite Radio Tuner. I will also have a new windshield installed shortly.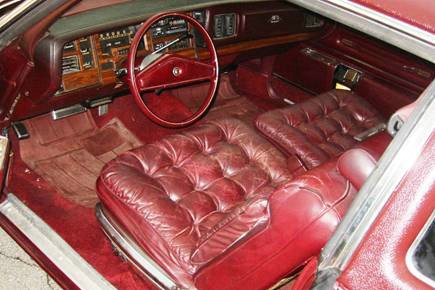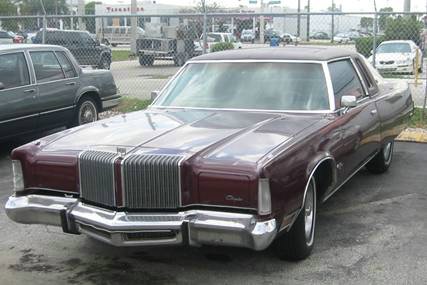 I am also in the process of restoring a 1977 Chrysler Town & Country 8-passenger station wagon and converting it to an Imperial station wagon using all of the appropriate parts from a 1975 Chrysler Imperial including the Imperial hood, header, grille, hidden headlights, bumper, bumper shocks, bumper guards, hood ornament, rear key bezel, rear side marker lights embedded with the Imperial emblems, Chrysler chrome road wheels, and power radio antenna. Im starting a website so anyone interested can follow the progress of my Chrysler Town & Country Imperial station wagon.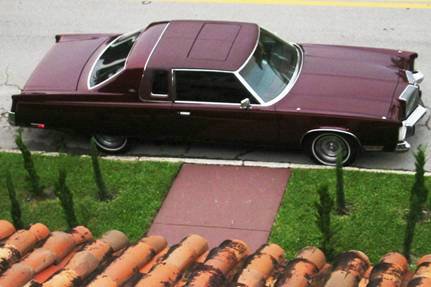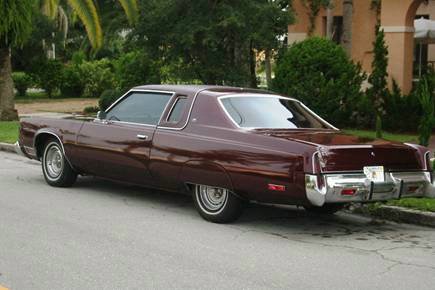 My New Yorker Brougham St. Regis Coupe is beyond a pimped-out ride, its my gangster ride, as a friend remarked. Ive nicknamed this car, The Intimidator.
I have just learned that my Chrysler New Yorker Brougham St. Regis Coupe has been chosen to be featured in the August 2006 issue of Collectible Automobile Magazine in an article about the 1974 through 1978 Chrysler New Yorker, Newport, and Imperial cars so Im very excited about that! No other car feels as good as driving my 1976 Chrysler New Yorker Brougham St. Regis Coupe!
Send an Email to Christopher