Daniel Topping's 1990 Chrysler Imperial
Imperial Home Page -> Imperials by Year -> 1990 Chrysler Imperial Home Page -> Daniel Topping
---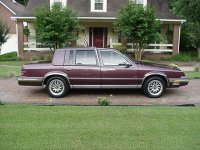 My wife needed a replacement for our Dodge Caravan after a traffic accident totalled it. In my search I came across our 1990 Imperial which was listed on E-Bay. After pictures, discussions, and the winning bid, I became the second owner of this fine automobile. The original owner is a retired Chrysler employee, who had ordered the car new. His failing health prevented driving the car, so his son listed the car for sale, rather than let the car to sit unused in the garage. I paid for the car, bought a one-way plane ticket, met the party at the airport, signed the papers, and then drove home. The car was in very good condition, and the original owner spared no money in keeping it in top condition. After driving it home I didn't want to give it to my wife and kids to wear it out going to work, school, running around, and dealing with mall parking lot issues. I found my wife a Chrysler T&C on E-Bay and bought it to replace her totalled out one.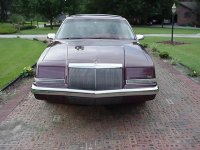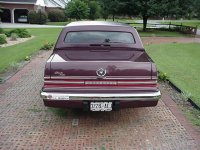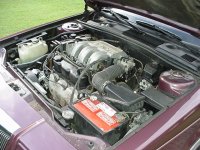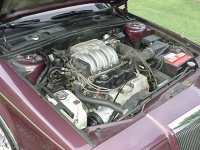 I am a perfectionist and have had several Mopar musclecars and trucks I've restored featured in books, magazines, and calendars, so I set about to bring this fine example to a pristine condition. There was a little bit of parking lot rash, minor surface rust, and the paint was tired. I stripped the car of all trim, chrome, and emblems and took it to the paint shop for a complete makeover. I spent over $1100 at the local Chrysler dealership on new chrome, trim , and emblems. I have helped the owner restore some personal musclecars, so I was able to buy the parts at cost. I went through the front and rear suspension and replaced all worn parts, as well as the brakes. New 16" wheels and tires to replace the original 14" aluminum wheels and wire covers. The interior was gutted cleaned and a new headliner, visors, and trip computer fabric cover installed. While the interior was out I installed a Pioneer am/fm cd player along with Rockford-Fosgate speakers to replace the original am/fm cassette infinity stereo. I completely replaced the entire A/C system and converted it to R134A freon, and had the windows tinted to keep out the strong Southern sun. The car had 91000 miles on it when purchased in Feb 2002, and after three years it now has 103000. The car is still tight and rattle free. Il ike the solid way that the doors close without slamming them, and that cool self pull-down trunk (deck) lid latch. It receives plenty of compliments every time I take it on the road. The color is the extra cost Dusty Rose, and the original owner specified the Mark Cross grey leather interior. I have not seen another with this color combination. Grey interior was usually used with a white exterior paint, and this combination is strikingly beautiful. Most Dusty Rose cars came with maroon or black interior. Another neat feature is the digital dash with electronic trip computer. I had GG Bailey fabricate some color matched custom floormats, dashmat, and trunk mats with the "Imperial" script. I sent the previous owner some pictures of the restored Imperial and he was thrilled and proud to see his baby so well taken care of.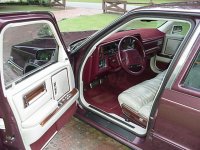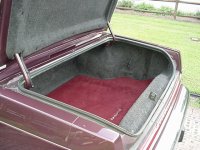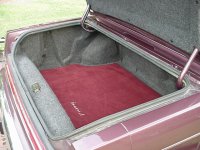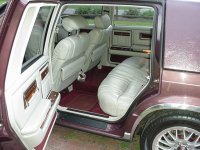 I am very pleased with this luxury cruiser, and with the 3.3 v-6, engine has adequate power and excellent economy. The final touches include new crystal hood, and trunk emblem. I searched for a year before I found a new trunk emblem. The original key cover had the original car color background under the clear plastic and pentastar. I never have found another, but I used a later year model black with Imperial eagle emblem.