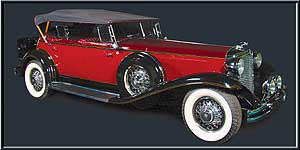 The remarkable styling of the CG series Imperials was the work of LeBaron, one of the greatest design firms of the classic era. Founded by Thomas L. Hibbard and Ray Dietrich, and later joined by Ralph Roberts, the company established itself as innovative, creative and responsive. Although Hibbard and Dietrich later left the firm to pursue other opportunities, the company flourished at the hands of Ralph Roberts.
Probably the most striking design in existence at the time was Al Leamy's L29 Cord, so when Leamy was hired to style the Imperial, it is not surprising that the cars would bear some resemblance to it. Like the L29, the CG was long and low, featuring gracefully swept fenders and a vee-shaped radiator. LeBaron improved on the design, however, with a longer hood, a swept-back grille and a more elegant bodyside treatment.
All Chryslers had a reputation for performance, and the CG Imperial did not disappoint. With 125 horsepower on tap and a four-speed transmission, the cars were very quick. With Chrysler's "Floating Power" and well-tuned suspension, the cars were also quite refined to drive.
The stunning example pictured here is finished in maroon and dark red with black fenders, with a black top and dark red leather interior. It has benefited from a comprehensive professional restoration to the highest standards, and remains in near show-ready condition today. The odometer indicates 485 miles, which may well reflect the distance traveled since restoration. A CCCA National First Place winner, it wears CCCA Senior badge #1116.
The car is equipped with chrome wire wheels, wide whitewall tires, dual sidemount spares, chrome stone guard, wind wings, dual Pilot Ray driving lights and a rear-mounted trunk. The car was acquired by the Kughns in April of 1986 from Jim Quinlan; prior to that, it was part of Harrah's collection in Reno, Nevada.
Many consider the CG Imperial dual cowl phaeton to be among the finest looking cars of the period, in addition to being one of the best driving cars of the era. Only a handful of these cars exist with known provenance and history, and the opportunity to acquire one is consequently extremely rare.
The SCM Analysis
This car was sold for $214,500, including buyer's premium, at RM Classic Cars' Novi sale, held November 15, 2002.
Jim Quinlan, the former owner of this car, is a perfectionist about his restorations and this is amply reflected in the stunning appearance of this Imperial. Besides garnering top CCCA honors, it has won numerous awards at such events as the Meadow Brook Concours d'Elegance.
As the catalog mentions, the CG Imperials have a number of L29 Cord styling cues incorporated into their design, but with a larger platform to display the styling, it is even more esthetically successful than on the low and lovely Cord.
But this was not the first time a Chrysler carried the Imperial badge. The first Imperials appeared on the market in 1927 using a 92-horsepower flathead-six. To introduce the new line of luxury Chryslers, an Imperial was driven on a double cross-country run from San Francisco to New York to Los Angeles, a 6,726-mile trek in which the Imp averaged 40.2 mph—an average that wouldn't be considered bad in a new car today. Imperials would continue to be powered by flathead-six engines until the introduction of the CG series in 1931.
From 1928 to 1931 Chrysler Imperials were offered with a wide selection of semi-custom bodies by LeBaron, Dietrich and Locke. These were built in minuscule numbers, such as the 1928 Dietrich-bodied dual cowl phaeton, of which only four examples were ever produced. For 1931-32 LeBaron produced nearly all the custom and semi-custom Imperial bodies, with six Waterhouse convertible victorias thrown into the mix.
Because they were introduced at the depths of the Great Depression, sales of the 1931-32 Imperial were very thin and only 339 custom and semi-custom CGs found buyers, making them even rarer than Model J and SJ Duesenbergs when new and today.
Imperials were continued in production through 1933 with updated styling and even smaller semi-custom and custom sales, finally being replaced by the radical Airflow Imperials in 1934, which sold a whopping 2,000-plus examples in that year.
Among Classic Car enthusiasts and collectors, the one criticism these cars seem to attract has to do with their strong, reliable but unexotic flathead straight-eight engine. This rugged and powerful unit doesn't have the glamorous specifications of Duesenbergs with their overhead cams and four valves per cylinder or the allure of a V12 or V16. That's one of the reasons these cars have remained a relative Classic bargain despite their beautiful style and undoubted scarcity. But collectors should also remember that it was flathead Chryslers that gave the big Bentleys fits at the Le Mans 24-hour race and nearly won all the marbles in that grueling contest.
This car sold in the right price range in view of its authentic restoration, splendid condition, prize-winning credentials, rarity and Full Classic status. Not cheap, mind you, but fairly bought and nearly certain to be owned with pride and pleasure by the successful bidder long after the purchase price is but a dim memory.—Dave Brownell