McCahill Tests The Imperial
from Mechanix Illustrated
---
Imperial Home Page -> Literature -> Articles -> 1959 McCahill
---
(click small images for close-up view)


1959 Crown Southampton in Factory Showroom
In '59, Chrysler has added optional rear air suspension to their top-flight torsion suspension. Having driven some of the vehicles, the writer can only comment that the air suspension doesn't seem to have done any harm.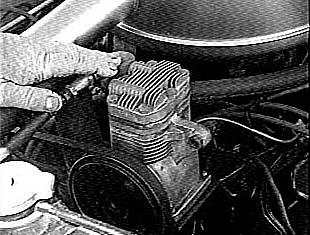 Air suspension pump from Tom Johnson's '59 Crown.
Instrument panels have been changed considerably. Also featured is an "electronically-controlled rear view mirror." Gad!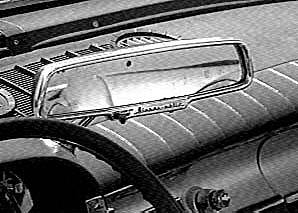 1959 Dash-Mounted Mirror-Matic
Imperial was our choice as the greatest car built in America in 1958. I've seen nothing to alter this opinion in 1959. In a short test ride I gave the new Imperial, there was no breakdown of top handling quality despite its air suspension, even at speeds as high as 122 mph. The power plant has been upped in size from 392 cu. in. to 413, with 10:1 compression ratio. and 100 lbs. less weight in the engine.
When I asked an Imperial man about the rear air suspension - used as an addition to regular leaf springs - he said the principal function was to keep the car level regardless of the trunk load. If the new model handled any better than the '58, I failed to find the difference. However, last year's Imperial was far advanced over the competition in handling and driving ease, and its superiority will probably remain unchallenged through '59.
---
This page was last updated November 13, 2003. Send us your feedback, and come join the Imperial Mailing List - Online Car Club
---