1974-75 Imperial

from WPC News, Vol. 10 #11

A Fantastic Article by Sandy Block

---
Imperial Home Page -> Literature -> Articles -> 1974-75 WPC News
---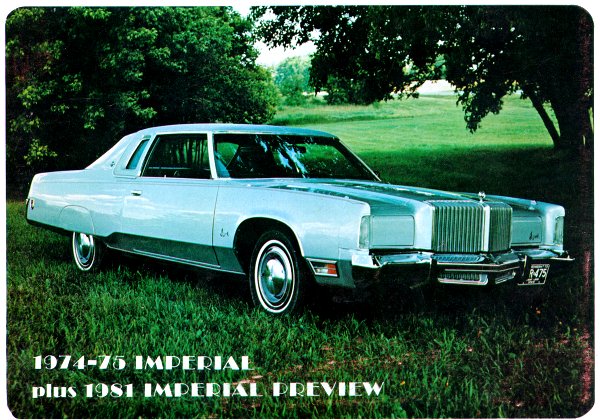 INTRODUCTION
The economy of the United States was particularly healthy during the period that the 1974 Imperial was in its clay model stages of design back at the Chrysler Styling Studios (1972-1973). By autumn of 1973, just prior to the announcement of Chrysler Corporation's 1974 models, there was a slight slowdown of consumer spending. Nonetheless, things were still good and a bright model year seemed to be on the horizon.
Chrysler was aglow with all new models in the full-sized market segment. Gran Fury, Monaco, Newport, New Yorker and Imperial were all treated to fresh, crisp, new styling. This new styling was very departed from previous Chrysler designs. The cars were all good looking automobiles and sold fairly well. Only one of them was touted as "the first in a new generation of luxury motorcars." This tag-line, as it is called, was used in all Imperial advertising, whether it was news-paper, magazine or television. Speaking of television, 1974 was Imperials last year on the "big-screen." The one commercial on T.V. featured an eagle circling a country estate and coming to perch atop the hood of a '74 Imperial sedan in dark chestnut. Through the magic of television the eagle was then transformed into the gleaming eagle hood ornament. The haze of early morn dawn that was used in the brochure was also used in this advertisement. Chrysler had hoped to equal or top the 22,077 production record (that is, of recent years) established for Imperial in 1969. The car had not broken the 20,000 unit mark since 1969. If they could do it again, 1974 was to be the year. At 14,426 units they fell short some 6,000 sales. The economy was falling (remember the oil embargo), slowly, but steadily, and Imperial's new higher prices put the car available to even fewer prospective buyers. Statistics show that Imperial fared best in the sales war in the years when Cadillac and Lincoln were warmed over versions of an old design, while the Imperial was all-new. However, for 1974, Cadillac was also brand new from the ground up, with a very extensive advertising campaign to back it up. All in all, 1974 saw an average sales year for the Imperial.

The first 1974 Imperial prototype.
STYLING
Styling is, and always will be, a very personal thing. You either like a design or you don't. Cut and dry. However, I would find few people to take exception to the statement that the 1974 Imperials were good looking cars. The style is one of restraint, expressing a definite elegance, rather than being flamboyant and daring. They were the "Mona Lisa's" in an "Andy Warhol" world of auto design. The construction and materials used in building the car will never again be duplicated. Today's cars are shrinking and heavy quality materials mean poorer gas mileage figures. Heavy gauge steel is today replaced with lightweight steel; lightweight steel of 1974 is today replaced with aluminum, while aluminum of 1974 is today replaced by plastics. Even door and window glass is today much thinner. It would probably cost the public over $20,000 to buy a 1974 or 1975 Imperial today, if they were still being made. The car was, simply put, big, beautiful, plush, well made, and elegant. So much so, that, in an article in Playboy magazine for February 1978 entitled, 'Tips on keeping your life in high style," was a special feature entitled, "Detroit turns iron into gold"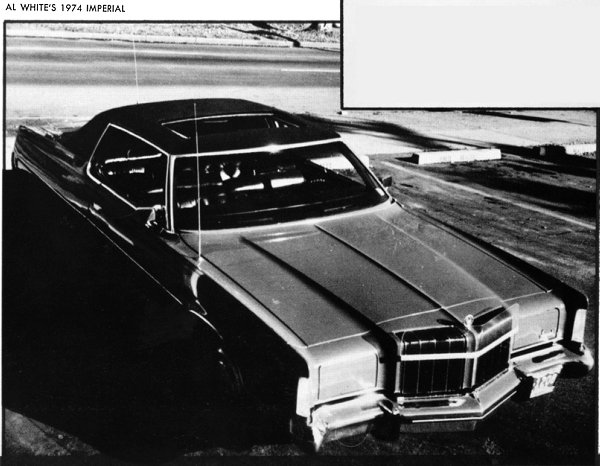 which dealt with automobiles. The text said, in part, ... "As cars get smaller and lighter, today's models will have great nostalgic appeal. Everyone will have his/her favorite make and model; however, one car stands out. The last Chrysler Imperials of 1974 and 1975. It's one of the handsomest and best big cars. A classic for any season, with its beautiful waterfall grille . . ." Here, five years after start of production, Playboy is cheering its inherent good looks. The Imperial for 1974 was built on a slightly down-sized 124 inch wheel base (down from 127" of 1973). The length, however, was up to 231 inches, but this was the first time in Imperial post-war history that the car was built on the New Yorker chassis. The Imperial was offered in 2-Door Hardtop and 4-Door Hardtop body styles. Both were true "hardtops" as there was no center pillar, and rear windows went down into the quarter panels. New front end styling was emphasized with a new bumper configuration and, of course, the now famous "waterfall grille" (a copy of which also found its way onto the Olds Cutlass). The header panel, which served as the housing for the waterfall grille to wrap over and onto, was for the first time made of fiberglass, and the front extension panels were also made of fiberglass and this assembly was all of one piece - a new idea which was catching on with manufacturers, probably due to cost cutting reasons and better assembly. The grille was, unlike the competition, made of zinc. (Cadillac's grille was chromium-plated plastic.) The rear end was changed too; however, the Imperial traditional teardrop design tail lamps were retained. The sides of the car were all new, as were the roof lines. The sides sported a lower belt line with more glass area, and a flattened out slab side design. The Coupe roof line was more sedate and formal than it was in 1973, and was shared with the 4-Door Hardtop roof line. Thinner windshield posts were used in keeping with the more streamlined look, and the "formal-backlight" (partially enclosed) rear window style was retained and the standard padded vinyl top sported a halo effect over the side drip moldings, which were color-keyed to the roof.
INTERIORS
A new style seat was used. it featured the "floating- cushion" design of 1972 and 1973, which, by the way, is used on all top car lines today, and was pioneered by Imperial in 1972. This floating cushion is still $725.00 extra cost on the 1979 Cadillac. It was always standard on Imperial, and for 1974 was greatly improved in appearance. The material was gathered in a loose looking effect (shirred) - Very, very plush!! Motor Trend, in the July 1975 Issue stated, "if you want to see a seat, look into an Imperial That is a seat." The instrument panel was also of a new design and featured " modular-design" - Modular in that all operational controls were placed on the left of the steering wheel, while all comfort controls (radio, heater, lighter, ash
receiver, air conditioner and defogger) were placed to the right of the steering wheel. The dash also featured simulated Brazilian Rosewood, while the glove box was moved to a very convenient position, lower center of the panel, and included a nifty coin holder. A Digital Clock (another Imperial first - 1973) was this year certified as a Chronometer, due to its certification by the Swiss Government as to its accuracy. Automatic temperature control type air conditioning was made standard equipment in 1974 replacing the manual type control. Interior colors were: Medium blue, dark green, parchment beige, gold, black and chestnut brown when either velour (a ribbed velour) or leather was ordered and white and black dash and trim when leather was ordered. Extra sound insulation was added this year and better window sealing to keep Imperial even quieter than before. The coupe was treated to the 50/50 split bench seat this year, losing its bucket seats of 1973, and prior. The 50/50 split bench in the coupe was the same as used in the sedan, however, the seat-back lock was made to fold forward to gain access to the rear. The seat-back lock was released automatically when the front doors were opened, as an added convenience.
EARLY YEAR
The 1974 Imperial was introduced on September 25,1973, and the last 1974 Imperial was assembled on July 3, 1974. During the model year the car was sold through 3,449 franchised dealers in all 50 states and in Canada.
Canada, by the way, received 1,440 of the U.S. made Imperials. Each dealer sold an average of 4 Imperials during the model year, according to the "Automotive News" industry trade paper. 7,893 of the 1974 models were actually made in 1973 - while 6,533 were made in 1974.




MID-YEAR
Introduced on March 25, 1974, for the spring selling season, was a new "Crown-Coupe" package, sales code V4Y. This styling exercise featured the ever popular "opera windows" along with a heavily padded canopy roof. This roof was unusual in that it featured the forward portion padded vinyl, while the rear was metal a reversal of the trend, even popular now. With this roof option, the rear side quarter windows were stationary, and interior rear window switch panels were revised to only accommodate reading lamp switches. Rear interior quarter panels were reworked to accommodate the new opera windows. This $527.00 option gave the car more of an updated appearance, since the public seemed to fancy this idea of "opera windows." The Crown-Coupe package was only available in one roof color and one body color. The body was "golden-fawn" while the roof was "gold." The interior with this package was either to be gold cloth (ribbed velour) or gold leather. Some also may have been made with white/gold leather. This roof conversion was done by American Sun Roof Corporation's specialty car division, who does so much special work for today's manufacturers. The Imperial with this package actually came off the assembly line with no vinyl top at all, and was then sent over to A.S.C. for the conversion work. Only 57 of these Crown-Coupes for 1974 were made, according to a letter to the author. This was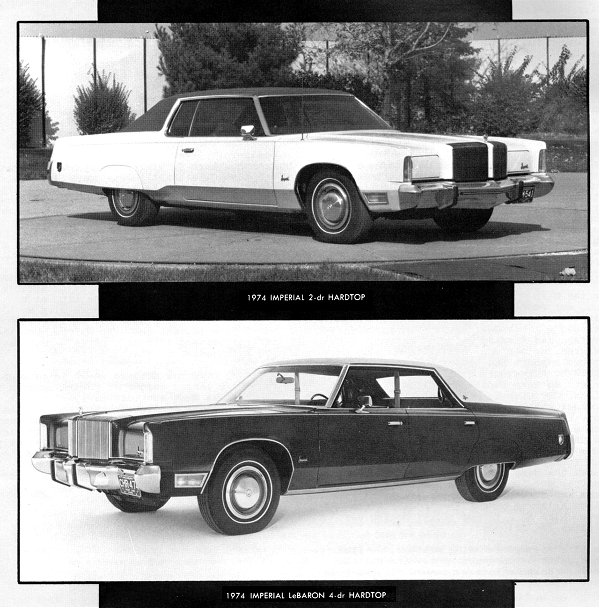 also verified by A.S.C. All other regular production options were available with this package.
ENGINEERING
Imperial for 1974 featured the first use of 4-wheel disc brakes on a regular passenger car. Up until now (1974) only the Corvette Sports Car had 4-wheel discs as standard equipment. With this feature, Imperial was 3 years ahead of Cadillac with braking technology. The Imperial also wore the first set of standard equipment steel-radial 40,000 mile guarantee tires in the industry. Imperial's ignition system was the electronic system, with no points or condenser to wear out. This system was standard on Imperial since the 1972 models and was another Chrysler first. Imperial for 1974 was again using the 440 cubic inch powerplant, coupled with Torqueflite Automatic Transmission. The rear end axle ratio was 3.23:1 and the engine had been slightly reworked to accept regular fuel, which the advertising and brochures touted, but most owners have found the car still runs better with the higher grades of gasoline. Regular would work, but premium works better!! Every Imperial was road tested prior to being loaded for shipment to dealer, a practice only done to Imperials throughout the whole industry. Other makes are random tested, say one out of every 200 or 400 cars gets checked. Every Imperial was road-tested, and any flaws were reason enough to send the car back to the end of the assembly line, to "final check" for the needed correction. The automatic temperature control air conditioning system was upgraded and improved for 1974 by adding two additional cooling outlets in the dash panel, to bring the total to six outlets. In addition, a stronger blower was used for quicker cool downs, after prolonged sun and heat exposure. The Imperial continued to use all previous Chrysler' engineering features, namely, the 7-step dip and spray anti-rusting process, the torsion-bar suspension, and the combination warning light and gauge instrument gauges. The torsion-bar suspension was refined to give a smoother ride, by adding rubber body "Iso-mounts," and this was now called "Torsion Quiet Ride," An optional "electronic security system" was offered, and was the first factory installed burglar alarm ever offered on a regular production automobile. it was integrated into the car's wiring system, but required power door locks to be ordered along with it. The closing line in the 1974 Imperial brochure said, "Before you choose your next luxury car, COMPARE,, Any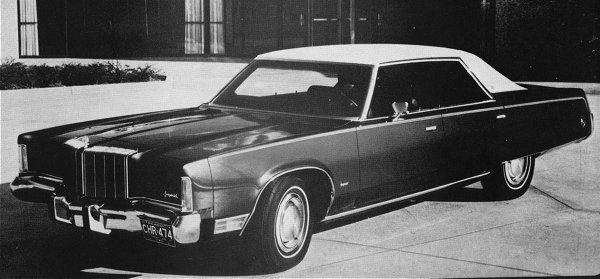 person doing so, would have surely chosen the Imperial. .
As usual, the factory received a few requests for cars painted in "Special-Order" paint color; usually bright "Rallye Red" - as this was the only color in Chryslers 1974 rainbow of colors that was not offered on Imperial. Two such ears are known to exist Mr. Robert Harms of Coal City, IL. owns one that is a 4-Door Hardtop, while Mr. Al White of Denver, Colorado owns a Sun Roofed 2-Door Hardtop. Either white, black, or beige were the interior and roof choices with the Rallye Red paint. Word has it that another unusual colored Imperial was made for Mr. Willie Mays, the famous baseball player, and given to him upon retirement as a gift. It was said Mays' home was painted a soft pastel pink and his driveway was tinted a soft pink to match, so naturally the Imperial given to him was said to be a special light pink with white roof and white leather trim.




IMPERIAL 1975
The finest Imperial ever made, bar none. If ever a car was destined to go out of production, this one went out with a bang! The 1975 Imperial, basically a 1974, however very refined and even upgraded further. The slogan for the year was "committed to every comfort - confident of every comparison." Unfortunately, the economy went to pieces in 1975. Gas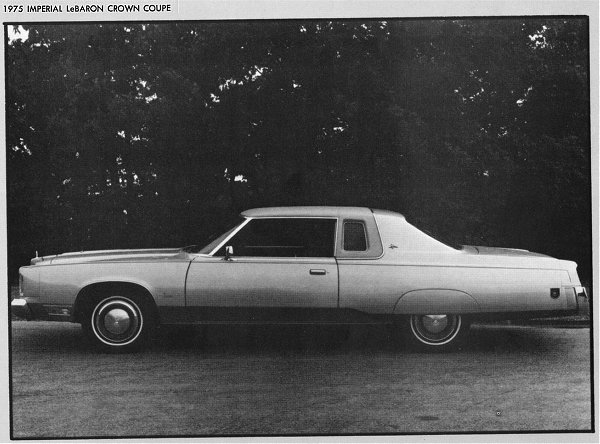 prices were up to $.70 a gallon for unleaded, while Imperial prices were really up, over 1974 levels. Cadillac had a little surprise called "Seville" to make Imperials life more unbearable, while Chrysler itself put all of its advertising monies into its little surprise called "Cordoba." Cordoba was the recipient of most of Chrysler Corporation's advertising dollars. Imperial was not featured on television at all this last year. The only print (magazine only) advertisement featured a Silver-Imperial Crown-Coupe with the silver roof and black leather interior parked in the driveway of a country estate. The Imperial in the advertisement had to share the spotlight with Cordoba and New Yorker Brougham, which also received mention in the ad copy. As for styling changes, they were minimal on the surface, limited to a new, revised grille with wider spaced vertical bars. However, under a closer inspection, many more changes could be found. Interiors were kept the same with a couple of small changes. Dark red was introduced as another color choice, offered in both velour and leather trims. Speaking of velour, this years was not ribbed, as was in 1974, but featured a smooth brushed type velour fabric. Secondly, white leather was available with colored carpets, dash, seat belts and trim. Accent colors were dark red, blue, green and gold. (Black was still offered to those who preferred it.) Carpeting was altered too, however, not for the enrichment of the car. 197 carpeting was "Plush-Shag-Pile" while 1975 was "Loop-Pile" not as deep or heavy in texture.

The 1975 Imperial was introduced on October 1st, 1974, and the last one was made on June 12th, 1975. The car was sold through 3,360 dealers, 89 less than in 1974. 6,900 of the 1975's were made in 1974, while only 1,930 were made after January 1st, 1975. 4,909 units were ordered by dealers for stock and 3,921 were retail orders submitted by dealers as "sold" units for waiting customers.

Interestingly, Imperial had a very good year in Canada for 1975. Imperial outsold Buick Riviera and Cadillac Seville as 1,145 Imperials were sold to lucky Canadians.

The "Crown-Coupe" package was still installed off the assembly line by A.S.C. as it was in 1974; however, color availability was now increased to eight offerings. They were as follows:

Silver Cloud Metallic Body with Silver Roof.
Dark Chestnut Metallic Body with Dark Chestnut Roof.
Golden Fawn Body with Gold Roof.
Inca Gold Metallic Body with Gold Roof.
Starlight Blue Metallic Body with Dark Blue Roof.
Deep Sherwood Metallic Body with Dark Green Roof.
Formal Black Body with Black Roof.
Spinnaker White Body with White Roof.

The passenger side interior sun visor was sporting an illuminated visor vanity mirror this year. It was not an Imperial exclusive, however, Imperial was the only car to offer it as standard equipment. The electronic ignition system was upgraded for 1975. This year the ignition system had special platinum tipped spark plugs claiming 50,000 miles before change was needed. Along with this engineering feature was the all new "Automatic Height Control" which was made standard equipment. Again, the only luxury car to offer this feature, which raised the rear end of the car to normal levels, under heavy loads, which would normally make the rear end drop. The battery supplied with the car was upgraded to 500 Amps from 440 Amps in 1974.

The rear axle ratio was changed to 2.71:1 for better gas mileage, however, the former 3.23:1 of 1974 was still offered to those seeking more pulling power. It was extra cost. Another new option was the "Fuel Pacer System" which also included Fender Mounted Turn Signal Lights (the only way you could get these little lights). The fuel pacer system used the left fender turn signal light to light up when too much pedal pressure was applied to the gas, in a "jack-rabbit" type of startup. The idea was to retrain the driver to maintain a light foot. Nicest part of it was you got the turn signals this way.

The rear defogger of 1974 was dropped in favor of the electric (grid-wire) rear defroster, a most welcome, however late, addition. Steering wheels were made smaller in circumference, aiding handling. Also, the one fault of the 1974 wheel was corrected. The steering wheels were now color-keyed to the interior. No more black steering wheels, unless your interior was black!

In the July, 1975 issue of Motor Trend magazine the editors tested 1975 Eldorado, 1975 Lincoln Mark IV and 1975 Imperial. The winner was clearly the Imperial, besting the competition on (1) solidness, (2) instrument gauges, (3) ease of night-time operation of controls, (4) comfort, (5)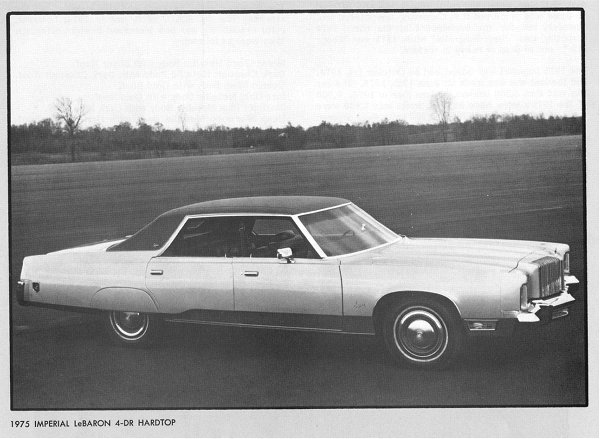 type of leather used, (6) fit and finish of upholstery, (7) braking ability, and (8) trunk capacity. At the same time, "Consumer Guide" annual reviewed all '75 model cars by class and in the luxury class found the Imperial to be the "best overall luxury car in America" and second only to the Mercedes-Benz, worldwide.
For 1975, Imperial got the catalytic converter added to its exhaust system, thereby making the owner of the car buy only "unleaded" type fuel; very unpopular feature, but required by government. Happily though, the "starter interlock" system of 1974 was dropped and replaced by just a warning buzzer and dashlight that buzzed and blinked for just 5 seconds or so. There was even a change in the trunk area. 1974 featured plush, deep shag trunk area carpeting while 1975 switched to loop-pile carpeting. The loop-pile was nice, but not as nice as 1974's shag.
At the front end, the new grille was extended down into the bumper section rather than ending at the bumper line. It was done for additional cooling and it gave a rather "deeper-cut" and bolder looking front end design.
Lastly, the headlining was altered. 1974 was cloth covered, while 1975 was vacuum formed fiberboard covered in cloth weave. (If a sun roof was ordered, the '74 type cloth headlining was used.) The '75 type was easier to clean, but the '74 type was richer to the feel and looked higher quality. Also interesting to note, common to both years, no dome lamp was offered, but if the customer ordered a power sun roof then the car was equipped with a bright (needed, in this author's opinion) dome light. The reason is to bring elec. and power ground to the sun roof motor. This little known fact was found out by the author simply on a very thorough investigation process.
The last Imperial made was an all black 4-Door Hardtop and was manufactured on June 12th, 1975 at the Jefferson Avenue assembly plant. The car holds serial number YM43-T5C-182947 and was sold to a Chrysler Corporation employee who shall remain anonymous. The car is in good hands. Window sticker was $10,403.35.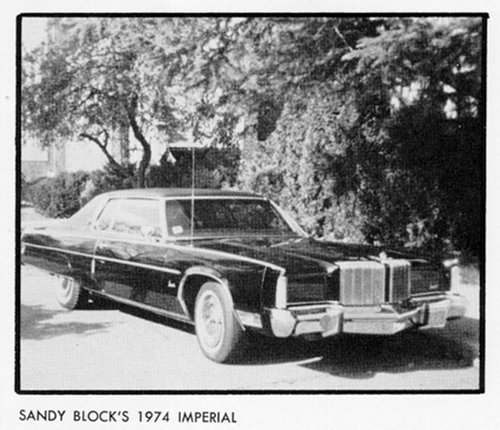 IN CONCLUSION
The Imperial of 1974 and 1975 was probably the best made Imperial Chrysler Corporation ever turned out. However, it was simply the right product at the wrong time. Furthermore, Chrysler was already having difficulties, financially speaking, and their advertising was aimed at fast selling products that the majority of people could afford to buy. Had they ever gone after the luxury market in the same vein as Ford Motor Company did with their Lincoln Continental, they would have been even more successful than Ford was with the Lincoln. A small taste of this success can be seen in the production figures for the 1976, 1977 and 1978 Chrysler New Yorker Brougham, which was so very much like its Imperial predecessor. During just those 3 years ('76, '77, '78) the "New Yorker Brougham" nameplate racked up 39,837, 72,342 and 44,559 units respectively. It is a known fact that Chrysler will again market a luxury car to be called the "Imperial." We know the new "Imperial," a product with 55 years heritage, will continue its tradition of luxury, high quality with distinctive styling. . . and be fuel efficient. All, of course, attributes necessary for success in the eighties for a true "ultimate" luxury automobile.

The author would like to thank Mr. Sherwood Kahlenberg and Chrysler Historical Collection for their help. In addition, much of the information contained herein was obtained from the author's own private collection of 1974 and 1975 Imperial printed material from Chrysler Corporation. Automotive News, the industry trade paper, also provided some numerical information. Any questions and or additions would be greatly appreciated by the author.
HERE ARE 7 DESIGN DRAFT DRAWINGS OF THE 1974 IMPERIAL:
(Click on any of the images to see a larger picture.)
DEATH NOTICE
(The following is the Press Release, AP, on the demise of the Imperial Motorcar.)
Friday, June 13th, 1975
(Detroit, Michigan) (AP)
The Chrysler Corporation will stop selling the luxury Imperial when the 1975 model year ends, according to auto industry sources. Thus, the Imperial's 50-year reign as monarch of the Chrysler empire is ending. The unprofitable, top of the line, luxury car is being phased out, due to flagging sales. Chrysler is thus abandoning the U.S. luxury car market to General Motors' dominant Cadillac and Ford's revitalized Lincoln. Chrysler Corporation had no comment about its 1976 model plans, but word leaked out pertaining to the demise of the Imperial, after Chrysler held a press preview of its 1976 models for magazine writers yesterday, June 12th, 1975. United Auto Workers officials say there are no plans to continue Imperial production at the Jefferson Avenue Assembly Plant where the auto has been manufactured for all of its 49 years. The car went into production almost 50 years ago, in January, 1926, as the Chrysler Imperial 80 Model. The "80" stood for the top speed the car could travel, making it the fastest production car at that time. The Imperial, however, has run a poor third, sales wise, in the American luxury car field, behind Cadillac and Lincoln. This year, 1975, so far Imperial sales have totaled only 2,808 units, off 55% from last years 6,199. Imperial accounts for only 2% of the luxury car sales in this country, compared to 5% of the market it held last year.
Chrysler will retain the Imperial, in fact, although it will bear the "New Yorker" nameplate. However, some formerly standard features will be available only optionally and still others will be discontinued, notably, some specially engineered features previously available exclusively on Imperial. Specifically, the four-wheel disc braking system; and the Automatic Load Leveler, which will be available on the New Yorker, at extra cost, only.
Some say the Imperial died two years ago, at the conclusion of 1973, but is only now being buried. In the past years, the Imperial's distinct appearance set it apart from other Chryslers. But the firm introduced a restyled lineup for 1974 and the Imperial became a luxurious copy of the Chrysler New Yorker. Industry observers say the phasing out of the Imperial is an economy move forced by dwindling sales, In the past 17 years, the car's share of the high-profit (for the manufacturer) luxury market has dropped from l5 to 2 percent. Imperial sales peaked in 1957 when they sold 37,557 Imperials. In 1960 sales were down to 17,703 -less than 9 percent of the market. A decade later, 1970, saw only 11,816 customers willing to part with their money for an Imperial; giving the car a 5 percent of the market. So far this year, 1975, Imperial sales are running at about the rate of 8,000 units, off 55 percent from just last year. The 4-Door Hardtop model has a list price of $8,844.00 while the 2-Door Hardtop model has a list price of $8,698.00.
The death of the Imperial marks the beginning of an industry-wide move to phase out big cars during the next few years, for fuel economy reasons. The last Imperial rolled off the assembly line yesterday, June 12th, 1975, early in the afternoon, at the Jefferson Avenue Assembly Plant in Detroit. It was a Black 4-Door Model with a retail list price of $10,404.00, and bears serial number YM43-T5C-182947. It was sold to a Chrysler employee.

(Follow-up story)
July 25th, 1975 (6 weeks later)
Detroit, (AP)
Chrysler Corporation confirmed, yesterday, prior reports that it is dropping its full-sized luxury Imperial from its 1976 car line-up. Although details of its 1976 models are not scheduled to be released until next week, a spokesman for Chrysler Corporation said . . . "Chrysler is discontinuing the Imperial in nameplate only, and upgrading its New Yorker into Imperial Skin in an effort to combine its best car, with its best selling nameplate, in an effort to keep some buyers of high-priced luxury cars." Chrysler has reported that they manufactured 6,102 1975 Four-Door Imperials and 2,728 Two-Door models, for a 1975 total of 8,830 units.




--FACTS & FIGURES ---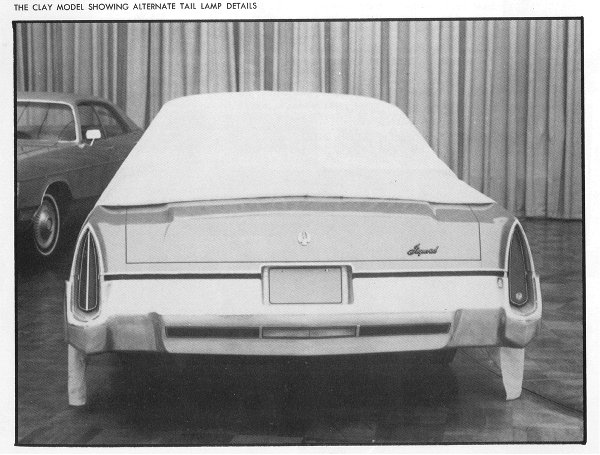 Production Figures 1974:
10,576 4-Door Hardtops
3,793 2-Door Hardtops
57 Crown-Coupes
14,426 Total made of which 1,440 went to Canada for sale.
Production Figures 1975:
6,102 4-Door Hardtops
1,641 Crown-Coupes
1,087 2-Door Hardtops
8,830 Total 1975 Imperials 1,145 shipped to Canada for sale.


Paints For 1974:
Code Name
A5 Silver Frost Metallic
B1 Powder Blue
B5 Lucerne Blue Metallic
B8 Starlight Blue Metallic
E7 Burnished Red Metallic
G2 Frosty Green Metallic
G8 Deep Sherwood Metallic
J6 Avocado Gold Metallic
L4 Sahara Beige
L8 Dark Moonstone Metallic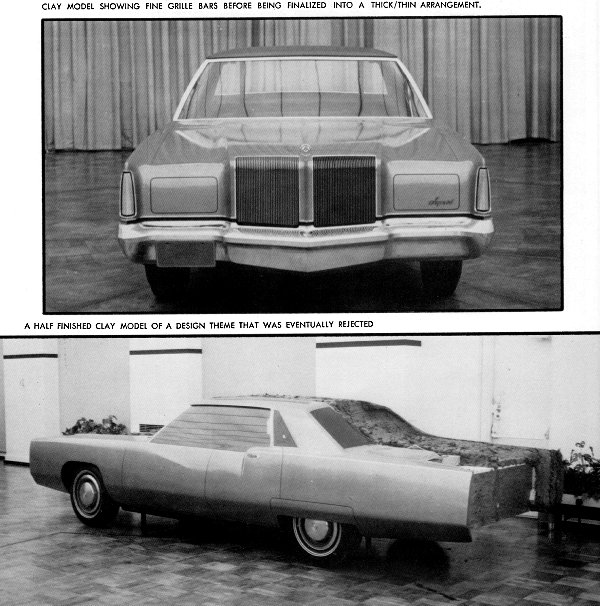 T5 Sienna Metallic
T9 Dark Chestnut Metallic
W1 Spinnaker White
X9 Formal Black
Y2 Sun Fire Yellow
Y4 Golden Fawn
Y6 Golden Haze Metallic
Y9 Tahitian Gold Metallic
Vinyl Roof Colors 1974
Dark Blue, Dark Green, Gold, White, Black, Dark Chestnut and Parchment.

Paints for 1975:
A2 Silver Cloud Metallic New
B1 Powder Blue
B2 Astral Blue Metallic New
B8 Starlight Blue Metallic
E9 Vintage Red Metallic New
G2 Frosty Green Metallic
G8 Deep Sherwood Metallic
J2 Platinum Metallic New
J6 Avocado Gold Metallic
K3 Bittersweet Metallic
L4 Sahara Beige
L5 Moondust Metallic New
T5 Sienna Metallic
T9 Dark Chestnut Metallic
W1 Spinnaker White
X9 Formal Black
Y4 Golden Fawn
Y6 Inca Gold Metallic New
Y9 Spanish Gold Metallic New
Vinyl Roofs Colors 1975:
Same as in 1974, plus the addition of dark red. With the V40 Crown-Coupe option only colors available were: A2, B8, G8, T9, W1, X9, Y4, and Y6
Major Equipment Installation Rate for 1974:
Factory Installed Radio 14,412 or 99.9%
Power Seat, Left 14,051 or 97.4%
Speed Control 12,926 or 89.6%
Tilt/Tele. Steering 12,118 or 84.0%
Power Sun Roof 462 or 3.2%
Major Equipment Installation Rate for 1975:
Driver's Side Power Seat 8,671 or 98.2%
Speed Control 8,344 or 94.5%
Tilt/Telescopic Steering Wheel 7,965 or 90.2%
Elec. Rear Defroster 6,075 or 68.6%
8-Track Stereo Tape Player 6,364 or 41.5%
Power Sun Roofs 362 or 4.1%
(112 Coupes with Sun Roof and 250 Sedans with Sun Roof.)

Options for 1974
Sales List Price
Code Option 3/'74
D91 Sure-Grip Differential Axle $ 59.80
H31 Rear Window Defogger-Blower 32.75
J46 Locking Gas Cap 4.45
L68 Automatic Headlamp Dimmer (Req. L41) 53.20
N25 Engine Block Heater 16.15
A14 Accessory Group . . . Coupe . . . 50.00
Sedan . . . 55.55
(IncI. Door Edge Guards/Front & Rear
Floor Mats/Right Side Remote Mirror)
L41 Safeguard Sentinel Lighting 39.10
P25 6-Way Power Driver Seat 117.45
P28 Dual, Left/Right Power Seats (2) 234.90
P45 Power Trunk Lid Release 34.45
P41 Power Door locks . . . Coupe . . . 51.85
. . . Sedan . . . 76.45
R21 Am Fm Mono Radio, with 2 speakers 194.15
R38 Am Fm Stereo Search Tuner Radio 332.80
R37 Am Fm Stereo with 8-Track Tape Player 432.50
All Radios include Power Antenna
Stereo Radios include 4 Speakers
P42 Security Alarm System (Req. P41) 105.20
S25 Heavy Duty Shock Absorbers 5.40
N88 Auto Pilot Cruise Control 97.95
S61 Tilt/Telescopic Steering Wheel 99.60
M51 Power Sun Roof 615.65
S13 Heavy Duty Suspension (Incl. S25) 18.90
A35 Heavy Duty Trailer Tow Package 276.20
PL Leather Upholstery 35.10
V4Y Crown-Coupe Package 2-Door only S26.70
N95 California Emission Control System 29.70
(mandatory in Calif. ordered cars)
K5X Black vinyl insert, body-side Moulding 41.00
(Added 5/30/'74)
VO9 Special order paint color; ES Rallye Red.
(Approx. 24 were made)
Base Prices 1974 Models
YM23 Imperial LeBaron 2-Door Hardtop $7,329.00
YM43 Imperial LeBaron 4-Door Hardtop $7,457.00
Base Prices 1975 Models
$8,698.00 2 Door Hardtop
$8,844.00 4 Door Hardtop
$9,277.00 Crown-Coupe
OPTIONS 1975
Sales List
Code Optional Equipment Price
D53 Optional Axle Ratio, 3.23:1 $ 14.00
P42 Security Alarm System 114.00
L68 Auto. Beam Changer (Req. L41) 55.00
N88 Speed Control 105.00
G0l Elec. Rear Defroster 76.00
D91 Sure-Grip Differential Axle 62.00
P41 Power Door Locks, 2-Dr. . 61.00
4-Dr. . 88.00
N25 Engine Block Heater 17.00
L73 Fuel Pacer System 34.00
J46 Locking Gas Cap 6.00
A14 Accessory Group, 2-Dr. 55.00
4-Dr. 60.00
(Color-Keyed Floor Mats, Door
Edge Guards, and Right Side
Remote Control Mirror. . .)
L41 Safeguard Sentinel Lighting 45.00
K5X Black Vinyl Body Side Moulding 41.00
R21 Am Fm Radio, 2-Speaker 202.00
R37 Am Fm Stereo/8-Track Tape 451.00
R38 Am Fm Stereo, Search Tuner 347.00
P25 6-Way Power Driver Seat 127.00
P28 Dual, Driver/Pass. Pwr. Seats 253.00
525 Heavy Duty Shock Absorbers 6.00
S61 Tilt/Telescopic Steering Wheel 104.00
M51 Power Sun Roof 668.00
S13 Heavy Duty Suspension Inc. S25) 21.00
A35 Trailer Towing Package 288.00
(Trailer Towing Package for both years, 1974 and 1975 included the following:
High Capacity Radiator, Heavy Duty Suspension, Heavy Duty Torsion Bars,
Heavy Duty Front Anti-Sway Bar, Heavy Duty Rear Springs, Auxiliary
Transmission Oil Cooler, Trailer Brake Controller, Heavy Duty 65 Amp. Alternator,
Dual Battery Charging Unit, Trailer Wiring Harness (and connector), Variable Load
Turn Signal Flasher, Load Distributing Hitch Platform.) With the trailer tow package,
sure grip axle and the optional ratio were both highly recommended.
PL Leather Upholstery 200.00
P45 Power Trunk Lid Release 39.00
G25 Vent Windows, 4-Door Only 39.00
V40 Crown-Coupe Option, 2-Dr. Only 579.00
Incl. . Above Base
---
This page was last updated May 5, 2004. Send us your feedback, and come join the Imperial Mailing List - Online Car Club
---