Anniston Fall Gathering, September 20-22, 2002
---
Imperial Home Page -> Events ->Anniston Alabama Fall Gathering 2002
---
This page has LOTS of thumbnails and may take some time to fully load!
Please click on the thumbnails for a larger image.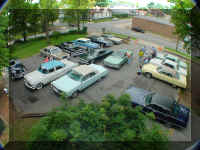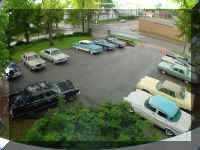 Another great time was had by ALL at this year's Anniston Fall Gathering, hosted by the Alabama Packard Club at the historic Victoria Inn in Anniston, Alabama. This event was again hosted by Donald Taccone and Debbie Brown from Birmingham, Alabama.
Even though the weather was not the best for the entire weekend, everyone still had a great time at this fall's event. A wide range of years of Imperials was covered, all the way from Donald Taccone's '56 Imperial to Mark McDonald's '71 Imperial LeBaron coupe, sporting a fresh paint job. In fact, there were THREE fuselage Imperials present, which is a pretty good showing!
Ray Hickey from Huntsville, Alabama, attended with this incredibly nice 1937 Chrysler Airflow. It was a real treat to see this rare and beautiful car. Be sure to enjoy a brief video of the engine running on this classic Airflow.
Donald Taccone brought this super-nice 1950 Packard. It sure was a treat to see this nice example of one of America's finest automobiles.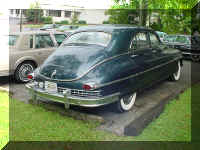 Dale is the proud owner of this extremely nice 1951 Packard 300.
Phillip Bostany is the proud owner of this 1955 Packard, proudly nicknamed "The Black Duke." It certainly is a regal autombile!
Donald Taccone's '56 Imperial demonstrates one of the finest American cars available for 1956.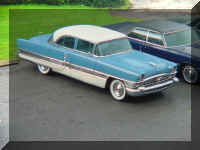 Don's '56 Packard Patrician has to be one of the finest ORIGINAL '56 Packards in existence. It's an incredibly low mileage car, and is a joy to admire . . . and to drive! [This Anniston Meet would prove to be Don's last, as he passed away not long after. Don was a good friend to all of us. He will be genuinely missed by all who knew him, and certainly by those of us who enjoyed talking with him at our car gatherings. 11/02]
Todd Stennis drove this 1961 Cadillac. This car was originally purchased by a funeral parlor, and has been well-maintained all its life. It made for some nice comparisons among three of America's premier luxury car builders. Todd's car is so nice that even the clock is whisper quiet!
Kerry Pinkerton is the lucky owner of this gorgeous '65 Imperial Crown. However, Ken Newberry is the official driver for this outstanding car! Ken is a lucky guy to spend so much time behind the wheel of this great Imperial. Keen says he feels right at home in this Crown!
Ed Jones drove his '64 Imperial Crown convertible up from Birmingham. Ed's had this car for a number of years, but after a close encounter with a logging truck a few years ago, the Imperial was retired to storage. (And only an Imperial could have survived being broadsided by a logging truck with such minimal damage!) I think the enthusiasm of our group has finally worn off, because Ed's now planning to restore the car. Having been in storage for a while, the Imperial had a couple of minor "issues" on the trip, but nothing the a quick trip to AutoZone and a few basic tools couldn't cure!
Mark Harris owns this beautiful 1965 Imperial Crown. Mark has been restoring this car for a while now, and each time we see it, it just looks that much better. Mark recently had a new vinyl top installed on the car, which is absolutely stunning! Check out a short video of Jeff's car in motion!
Jeff Carrothers just acquired this incredibly nice 1965 Chrysler New Yorker four door hardtop. He was lucky enough to purchase the cara from the family of the original owner. The car even came with records for every single oil change since 1965! And even though the car has over 200,000 original miles on it, the 413 still purrs like a kitten.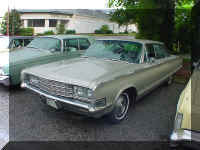 Another nice appearance for the mid '60s was Kerry Pinkerton's "new" 1966 Chrysler 300 four door hardtop. The '66 300 has a distinctive styling that makes it an incredibly attractive car.
Pete Morgan of Oxford, AL, owns this sharp 1967 Imperial Crown convertible. The "aircraft style" bucket seats sure make the interior a visual treat! The color combination on this car makes it quite an eye-catcher -- another example of the "Newest Prestige Car in a Decade."
Robert Soule made the drive from Chattanooga in this 1968 Chrysler Newport four door hardtop. The Newport is in great condition and is a really nice driver. Robert affectionately refers to this car as "old reliable."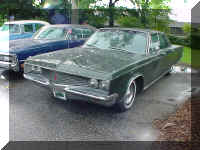 Ed Noble is the proud owner of this 1969 Imperial LeBaron. Ed has owned this car for 30 years! The amazing condition of the car, especially the supple leather interior, is a true testament to his ability as a caretaker for this fine car. It's a great car to admire and enjoy. Ever wonder what those sequential turn signals look like on a '69 Imperial? Be sure to check out these video clips of the right side, left side, and left side again.
Elijah Scott is the proud owner of this 1971 Imperial LeBaron four door hardtop. Elijah has owned this Imperial since 1988! The car has gotten a lot of care and attention over the years, slowly being brought back to good original condition.
Mark McDonald received his 1971Imperial LeBaron two door hardtop with a fresh new paint job on Saturday evening! It was a real treat to see this car after its recent "facelift." The interior of this car is absolutely fantastic as well.
Bill Craig drove this 1977 New Yorker Brougham. Bill is trying to find a nice new home for this car! It has some unusual features and is a prime example of the New Yorker Broughams of this era.
---
This page was last updated November 18, 2003. Send us your feedback, and come join the Imperial Mailing List - Online Car Club
---