2008 Anniston Fall Gathering
September 19-21, 2008
---
Imperial Home Page -> Events -> Fall Anniston 2008
---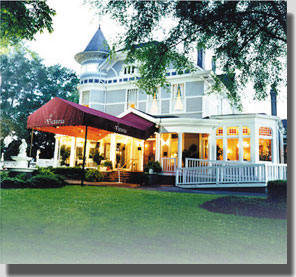 Put your TorqueFlite in Drive and turn the Airtemp on . . . It's time for another fabulous Anniston get together! Alabama Packards would like to cordially invite all Imperial owners to Anniston, Alabama, for the weekend of September 19, 20, and 21, 2008. We had many fine cars at our Spring 2008 gathering and everyone had a great time!

The meet will be held at The Victoria, a victorian home that has been restored with 44 additional rooms added in the rear of the property in the style of the original home. This bed and breakfast is elegantly furnished and offers many amenities, including a 5 star restaurant and piano bar. A block of rooms are reserved for this event at a rate of $69.00 per night plus tax, which includes a delicious complementary Southern-style breakfast on Saturday and Sunday mornings.

The fun will begin Friday around 7:00 p.m. with a cocktail party hosted by Donald Taccone. This is always great fun with wonderful food and spirits!

Saturday morning we will gather in the hotel parking lot and the Imperial and Packard Motoring will begin! Lunch on Saturday will be on your own. The Packard Club will be having dinner together Saturday night in the hotel restaurant, and everyone is invited to attend. There may also be arrangements for those who may wish to dine at a local drive-in or other restaurant.

Call The Victoria at 1-800-260-8781 to reserve your room . . . you will need to let them know that you are with the Alabama Packard Club when you make your reservation. After you make your reservation, email Donald (pacdoc1956@aol.com) to let him know when you will be arriving, how many nights you'll be staying, what type of car you will be bringing, and if you want to eat in the Hotel Restaurant Saturday night. Just to let you know, the hotel policy is no pets allowed. Please make arrangements as soon as possible, as the availability is limited.
---
This page was last updated May 21, 2008. Send us your feedback, and come join the Imperial Mailing List - Online Car Club.
---