The Announcement: July 4th - July 8th Attend part or all
Final Route and Schedule for the 2001 Cascades Loop for Imperials:
It's official. Dates, destinations and routes for the Cascade Loop Run are as follows. All those who wish to attend are hereby invited to make reservations for: Thursday, July 5, 2001 Seattle to Winthrop, Washington via the North Cascades Highway 20. Overnight in Winthrop. I have reservations at The Winthrop Inn for $65.00. 800-444-1972 $5.00 more for your dog, Leslie. Known as a good place for car clubs with parking out back off the highway. Talk to Jane Check for information at: www.methownet.com or search for "Winthrop, Washington".For those with Imperial budgets, The Sun Mountain Lodge has rooms from $160 to $620.
Friday, July 6, 2001 Winthrop to Yakima, Washington via Lake Chelan, Levenworth, for lunch in a small Bavarian village, Ellensburg via Blewett Pass (PEN will you be there to meet us?) and Yakima along the river road, Highway 821. I have reservations at Cavanaughs Yakima Hotel. (Recommended by mikanlin62.) $95.00 with a king. 19 Rooms left as of 2/12/01. 800-325-4000. Mike says we can go cruising, or take a trip out to a local winery or both. Possible cruise down 82 to the Teapot Dome Gas Station for Photo Ops.
Saturday, July 7, 2001 Yakima to Mount St. Helens via Highway 12 across White Pass. Visit the three Volcano viewing areas and return to I-5 and head for home either north or south.
I am sponsering an Imperial Fourth of July Barbecue in Seattle for those who want to come to town for dinner and fireworks. I live a few minutes drive from either of two big fireworks shows that start at 10:00 PM. If you plan to stay in Seattle, try to get located north of downtown. Traffic after the fireworks show plugs up for hours but we can park and walk and avoid the jams if you are north of the city. You might also try to get reservations at one of the motels with views of Lake Union or Elliott Bay where the fireworks shows are located. We'll leave the next morning for Winthrop and plan to stop at as many view points and fun stops as we can find along the way. For those who wish to join all or part of this Imperial Event, please make your reservations now. Yakima fills up fast with summer league baseball on the weekend. Please send me a private message if you plan to join us for some or all of the 2001 Cascade Loop. Include your return email address so I can put together a separate list and keep everyone advised privately, instead of on the IML. Our plans call for about 4 1/2 hours of driving per day except on Saturday, when the trip back to Seattle adds about two hours to the schedule.
Loren_Erwin@email.msn.com
1964 Crown Southampton Roam'n Red (Resting, not rusting, in the garage)
Contact Loren for more information
Participants in The 2001 CASCADE LOOP RUN
| | |
| --- | --- |
| B, Dick: 67 Coupe | Couerdelane Idaho |
| Erwin, Loren: 64 Crown Southampton | Coming from: Seattle |
| H, Marc 66 LeBaron | Everett, WA, |
| M, Ken 61 Convertible | Portland, Oregon |
| Leslie 68 Ford Wagon | Coming from: Florence, Oregon |
| U, Willliam: 66 Convertible | Seattle |
| Mikey62 & Linda | Yakima, WA |
| Doug and Linda 61 Dodge Phoenix | Seattle |
The Event
We start early on Thursday on our three day journey around the Cascade
Mountain Range. We regret that Erik couldn't make it and wish him the best
with his battle to tame that spirited '66.
Our remaining Imperial entourage includes a beautiful original '61
convertible, my '64 Crown hardtop, a '66 convertible and an '81. We are
being joined by a '61 Dodge Phoenix convertible and a 2000 Porsche
convertible / hardtop.
The weather in Seattle for the Fourth of July barbecue couldn't have been
better. The day was hot and sunny with a light breeze to keep it
comfortable. We had a warm evening and walked to a perfect spot for watching
a fireworks spectacular that filled the sky over Lake Union with smiling
faces, stars, ringed planets and bursting shells continuously for more than
20 minutes.
We are all hoping that the fantastic luck we had today will follow us around
the mountains.
Loren
(Click on Small Pictures to View Large ones!)
(First Pit Stop)
Just got home from the Cascade Loop Tour of some of the most
beautiful parts of this state with a group of the finest
automobiles and travelling companions we have ever met.
We left Seattle bright and early at 7:30 AM Thursday for our
tour of the North Cascades. Our guide, Loren, had prepared
detailed maps bound in folders for each of us.
Our first stop was at Diablo Dam, where we took an incline
railway car, a short walk, and a power boat ride on Diablo
Lake to Ross Dam. The views of the mountains and the
surrounding hills were breathtaking.
We then traveled east over the summit of the Cascade
Mountains, with more panoramic views around every corner.
It was an awesome sight to see a red '64 Crown followed by a
white '61 convertible and a blue '66 convertible, very
patriotic for the fourth of July holiday. The rest of the
caravan consisted of a bright red '61 Dodge Dart Phoenix
convertible, a '69 Ford Country Squire, and an '81 Imperial.
That night we stayed at Winthrop, WA, a small town that time
has passed by. We were joined there by Dick and Jeanette in
their beautiful yellow '67 Crown. This town typifies the
look of the wild west, with false front buildings and wooden
sidewalks. We did find they rolled up the sidewalks about 9
PM.
Up and going about 9:30, we travelled east and south through
the high prairies and orchards of central Washington,
stopping at Lake Chelan, the Imperials of various vintages conquering the steep mountain passes and
rolling hills with ease.We then caravaned to Leavenworth, a "bavarian" town nestled in the
mountains for Lunch.
Next stop, Ellensburg, where Mike met us in his '62 coupe
and escorted us south along the scenic old highway to
Yakima, the stop for tonight.
My wife and I came on home from there, so we can't wait to
hear from the others about the 3rd leg of the trip. Thanks
gang for an unforgettable journey.
--Roger & Jan van Hoy, '55DeSoto, '42DeSoto, '66Plymouth,
'73Duster, '81 Imperial, Washougal, WA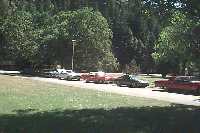 (The Dam Tour- which was a 3 hour tour, including a ride up and incline lift, a view of 2 Dams and a scenic boat ride on the Lake)

| | | |
| --- | --- | --- |
| | | |
| | Scenic rest stop on way to Winthrop | |
| | | |
Hello list,we joined the cascade loop at Winthrop and paraded south as
far as Wenatchee, and after lunch in Leavenworth, we hit the trail back
to Idaho ,........and the 67 started acting up, missing, hissing, no
power, barely made it up out of the columbia river gorge to quincy,
gased up, checked things over, and left for I-90, now the beast started
puke-ing on level ground, not just on hills, we had to nurse it ALL the
way to spokane at +/- 55-60 mph . got home 1930, all in all a great
trip great people, great cars,beautiful day, thanks
everyone,..........now I have to figure out what's bugging our IMP
dick & jeanette
| | | |
| --- | --- | --- |
| | | |
| | | |
| | This was at the Motel in Winthrop. Loren got up and washed his car at dawn everyday, so he was the only one to see the Hot Air Balloon.. The rest of us didn't get to our cars for another 2 hours. | |
| | | |
Much has been written about the Cascade Loop but I want to add my two cents
although I am still out in eastern Washington.
Touring with a bunch of IMLers sure beats the heck out of wandering around
some car show seeing who has the most money. Although we had some really
nice cars in our tour, they all had a few ow-ies and blemishes but nobody
seemed to care.
We enjoyed wonderful weather, incredible scenery (some even prettier than
Oregon - and that's saying something!), but most of all had a chance to just
talk with fellow Imperial lovers. What nice people!
It's hard to describe the absolute joy of driving through the long curves up
and down the Cascades, top down, upper 70s, in my 61 Imperial. It turned
55,000 on the trip and it reminded me to just get out and drive the wheels
off of it. Its pitted chrome and fin dent didn't reduce the pleasure one
iota.
Thanks Loren for putting this together. For heaven's sake fellow IMLers,
come join us next year. This is what owning an Imperial and being on the
IML is all about!
Ken Miller
61 Convert (and I'll bet a pretty jealous 67 Convert sitting in the garage
at home)
| | | |
| --- | --- | --- |
| | | |
| | | |
| | | |
| | Cruising to Chelan, Lunch in Leavenworth, and the Yakima Valley | |
| | | |
| --- | --- | --- |
| | | |
| | Historic Tea Pot Dome Gas Station Just a quick drive from Yakima. Great Place for Photo Ops! | |
| | | |
| | | |
| | | |
| --- | --- | --- |
| | | |
| | | |
| | Mt. St. Helens | |
Loren and Roam'n Red checking in after arriving back in Seattle:
I just heard that Leslie & Bob made it home safely after our Seattle group
separated from them in Kid Valley, Washington at the Texaco Station. Not
your typical place for fond farewells, but it had to be. Leslie and Bob had
to head south, the Seattle contingent of the tour had to head north.
Our group cruised back to Seattle from our last stop at Mount St. Helens via
Kid Valley and Toutle, WA. together so I knew we all got back safely. Now
that I know Leslie and Bob made it back to Florence and have heard back from
all the others who participated, I think it is safe to say our First Annual
Cascade Loop Tour was a complete success.
If you want more details, the complete story and many of the photos will be
posted as soon as possible on the IML website. I've got 50 digital photos to
sort through showing all the cars and a lot of the scenery we passed through
on our 880 mile, three day cruise.
Overall mileage achieved by Roam'n Red, my 1964 Crown, for the full 880 mile
circle was 15.47 mpg. Highest mileage was on the freeway drive back to
Seattle without climbing any mountain passes where I was able to get 17.06
mpg.
I'd like to take this opportunity to say a special "Thank You for
Participating" and pass out the 2001 Cascade Loop Tour Awards to:
Ken Miller from Portland in his 1961 Imperial Convertible
First Place: Biggest Fins
Doug & Kathy from Seattle in their 1961 Dodge Phoenix Convertible
First Place: Most Outrageous Fins
William Ulman from Seattle in his 1966 Crown Convertible
First Place: Best of Tour
Dick & Jeannette from Idaho in their 1967 Imperial
First Place: Longest distance traveled for the least Loop miles
Roger & Jan from Washougal, WA in their 1981 Imperial
First Place: Best 1981 Imperial on the Tour
First Place: Best Auxiliary Dog (they also had a real dog)
Mike & Linda & their 3 young sons from Yakima in the 1962 Imperial
First Place: Most effort expended to participate
Marc Hall from Everett who managed to cross paths with us in Chelan
First Place: Cascade Loop Interception Award
Banker Bob from Seattle in his 2000 Porsche Carrera
First Place: Fastest travel time between Loop destinations
Special Award: Keeping my wife happy for 1.5 days by letting her drive the
Porsche until he headed back to Seattle from Leavenworth.
Leslie & Bob from Florence, Oregon in their 1968 County Squire Wagon
First Place: Imperial Tours do not require an Imperial, just an Imperial
Attitude Award
Patty, Bob, Kathy, Jeanette and Jan who could care less about cars
First Place Tie: Most understanding spouse award
So, that wraps up our Cascade Loop for this year. If anyone thinks this
sounds like a fun event and wants to plan something similar for their area,
I suggest only that you procure two walkie-talkies for the first and last
cars in the caravan so the lead car can be made aware of any problems
quickly. (You can easily afford them if you hand out fewer awards.)
We had cell phones but they didn't work a lot of the time because we
traveled through remote areas with no coverage for most of our trip.
Loren
1964 Crown four door hardtop
Roam'n Red - Rode hard but not put away wet