Southern Regional Chrysler and Imperial Meet, June 7-8, 2002
---
Imperial Home Page -> Events -> Southern Regional Chrysler and Imperial Meet, June 7-8, 2002
---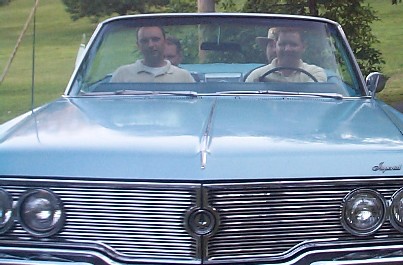 The 2002 Annual Southern Imperial and Chrysler Meet was held in Chattanooga, TN, on June 7-8, 2002. The event was a great success with 21 cars and many owners and enthusiasts in attendance. This year's Meet began on Friday as attendees gathered at the home of Robert and Laqueta Soule near Chattanooga, TN.
The weather was excellent for both days of the meet, which made the experience all the more enjoyable. Scenic Chattanooga provided an terrific location, and many folks took the opportunity to explore some of the area attractions, including the Aquarium, Chattanooga Choo-Choo, Incline Railway, Rock City, and other parts of Lookout Mountain. The Imperials and Chryslers were right at home amidst the beautiful scenery of East Tennessee
Here's the full list of attendees for the meet:
| Year | Car | Owner |
| --- | --- | --- |
| 1955 | Plymouth Belvedere | Jason Rogers |
| 1959 | Imperial LeBaron Southampton | Steve Bryan |
| 1959 | DeSoto Sportsman | John Clines |
| 1960 | Chrysler New Yorker Town & Country | Chris Hawkins |
| 1960 | Corvair (Honorary Mention) | Robert Soule |
| 1962 | Imperial Crown Southampton | Jeff Carrothers |
| 1963 | Chrysler Newport (survivor) | Don Hellstrom |
| 1964 | Imperial Crown | Robert Soule |
| 1965 | Imperial LeBaron | Elijah Scott |
| 1965 | Chrysler 300 Convertible | Robert Soule |
| 1965 | Chrysler New Yorker | Robert Soule |
| 1966 | Imperial LeBaron | Chris Hawkins |
| 1966 | Chrysler 300 | Robert Soule |
| 1967 | Chrysler Newport Town & Country | Jean Chesney |
| 1968 | Imperial LeBaron | Robert Soule |
| 1968 | Imperial Crown Convertible | Robert Soule |
| 1968 | Chrysler Newport | Robert Soule |
| 1971 | Imperial LeBaron | Elijah Scott |
| 1973 | Imperial LeBaron | Kerry Pinkerton |
| 1976 | Chrysler New Yorker Brougham | Dennis Shrader |
| 1991 | Dodge Shadow Convertible | Laqueta Soule |
There were also several folks who came along to enjoy the ride, including Mark Harris (1965 Imperial LeBaron in absentia), Bill Clifton, Donald Taccone (1956 Imperial sedan in absentia), Debbie Brown and her son Alex, Todd "Mr.G" Stennis (1968 Imperial LeBaron in absentia), John Shuty (1969 New Yorker in absentia), Murray Vise (1965 Chrysler 300 L convertible in absentia), Cecil McCall (recent owner of a 1964 Ghia Crown Imperial), and Ed Jones (1964 Imperial Crown convertible in absentia).



The weather on Friday afternoon was absolutely perfect, so naturally convertible tops were down and everyone enjoyed the fresh air of East Tennessee. The cookout at the Soule home was great and we all appreciated their efforts to provide a good "spread." Each new arrival generated excitement among the crowd!



By the time the cookout started Friday evening, we had everything from a '55 Plymouth to a '76 New Yorker Brougham. After dinner, we took time to drive around in some of the cars. With all the good cars and good Mopar fellowship, everyone was up until after midnight enjoying the evening.
Saturday was a FULL day, with folks meeting at the hotel parking lot about 10:00 a.m. We spent the entire day driving, talking, sharing Imperial knowledge, and generally having a good time.





Jason Rogers came over from Jackson, TN, with this adorable '55 Plymouth. This younger cousin of the Imperials and Chryslers fit right in and made a nice presentation. This car was from the first year of the Forward Look, and the color scheme is right on target for 1955!



Steve Bryan won the long-distance award (well, there were no formal awards) for bringing his '59 Imperial LeBaron, known as "Eileen," up from Florida. Other than a broken fan belt, he said the car performed flawlessly for the entire trip. The '59 Imperial has always been one of my favorites, so I was excited to see Steve's car.
Here are some further detailed shots of Steve's '59 LeBaron. This car is nicely optioned, including the FlightSweep decklid and the stainless steel roof insert!







Imperial's "little" cousin for 1959 was this 1959 DeSoto Sportsman, owned by John Clines. Another fine expression of the Forward Look, the '59 DeSoto expresses an exuberant, sporty look from front to rear, highlighted by the two-tone paint and swept-back tailfins. Delightful, De-Lovely, DeSoto!



Chris Hawkins is the proud owner of this 1960 Chrysler New Yorker Town and Country. And he has a right to be proud -- it's a STUNNING automobile! Chris has done most of the restoration of this car himself, including the paint, and it's fantastic inside and out.





Jeff Carrothers is the owner of this fine 1962 Imperial Crown Southampton. The Cocoa Metallic cloth and leather interior is a beautiful example of Imperial opulence. And, of course, nothing beats those 1962 Imperial taillights!

While 1963 is a year that some folks don't care for, this '63 Chrysler Newport might change their minds! Owned by Don Hellstrom, this car is an all original and somewhat unusual car. It's a four door sedan equipped with crank windows, manual steering, and yes, even manual transmission! With a 361 engine mounted to the 3 speed shifter, it's a pretty peppy car.

The 1965 Chryslers were undoubtedly some of the finest automotive designs to come out of Detroit, and this '65 Chrysler New Yorker, owned by Robert Soule, certainly proves that statement. It's a beautiful car inside and out, demonstrating one of the finest examples of Elwood Engle styling.

This 1965 Chrysler 300 convertible is also part of the Robert Soule collection. It's a fun car to drive, and with a 383 HP engine, it'll sure put the wind in your hair!


Chris Hawkins also owns this 1966 Imperial LeBaron. It's absolutely one of the nicest '66 Imperials that I've ever seen. Again, Chris has done all of the restoration of this car himself, and has done an outstanding job! If you're a fan of the '66 Imperial, this is a car you must see! The embossed eagles on the "antique" leather seats is the pinnacle of Imperial interior pinache. Also be sure to enjoy a short video of Chris Hawkins' '66 Imperial LeBaron in motion!
This 1968 Imperial LeBaron belongs to Robert Soule. It's an incredibly nice example of the '68 design. Robert states that this is the nicest car he owns, and it's certainly worthy of that accolade. The car is immaculate inside and out and is also well-optioned.

Robert Soule refers to this '68 Chrysler Newport hardtop as "old reliable." It is a comfortable car that drives and performs extremely well on the road.
This 1971 Imperial LeBaron belongs to Elijah Scott. I've had this car since October 1988, and have been slowly restoring it ever since. At 240,000, it's still a great car to drive and enjoy!

Kerry Pinkerton came over from Alabama for the day in his stunning '73 Imperial LeBaron. Kerry has done a HUGE amount of work to restore this Imperial to top condition.


Jean Chesney arrived from Knoxville with her 1967 Chrysler Newport Town & Country station wagon. Station wagons have really become popular in the last few years, which is pretty cool! Jean has had her '67 for a long time and is very attached to it. She said that the paint was supposed to have been silver with a hint of purple . . . but since purple is her favorite color, she's quite happy with the color of the car! All in all, I'd say the car looks great inside and out!



Dennis Shrader drove down from Clarkesville, TN, in this immaculate '76 Chrysler New Yorker Brougham. Dennis has been the happy owner of this car for some years and always enjoys driving it. The color combination is striking, and the velour interior is the epitome of mid-'70s luxury. Imperial, of course, was no longer available for 1976, but the New Yorker Brougham was certainly a suitable "replacement."
All in all, the Southern Regional Meet did a good job of covering the region, with attendees from Florida, Georgia, Alabama, Mississippi, Louisiana, Tennessee. Thanks to EVERYONE who attended for making the Meet a great success! Special thanks go to Laqueta Soule, Sarah Rowe, and Debbie Brown for providing such a great meal. We all appreciated their hard work!
Hope to see everyone next year!
---
This page was last updated September 13, 2011. Send us your feedback, and come join the Imperial Mailing List - Online Car Club
---