2001 Midwest Imperial Meet
---
Imperial Home Page -> Events -> Midwest 2001
---
Also check out Robb's pictures of the event!
Event Recap by Mike Trettin
Friday evening my wife Christine, ou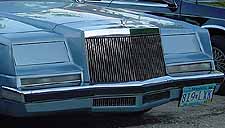 r 6 boys and I piled into our 56 Imperial in Newton, Iowa and headed for Burlington. This year we would skip the safety of taking a "chase vehicle" and trust the Imp to get us there without mishap--and it did! Our backroads route took us through the towns of Fairfield, which was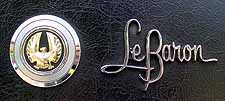 hosting a Dodge Power Wagon meet (mentioned by Roger Cooper) and Mt. Pleasant, site of International tractor and vehicle meet. After some leisurely dilly-dallying, at 11:45 PM we pulled into our hotel to find an '81 Imperial coupe (owned by Neil and Mim Nygrem of Red Wing, MN) and '68 Imperial LeBaron (owned by Ralph and Barbara Seidl of Omaha, NE) in the parking lot.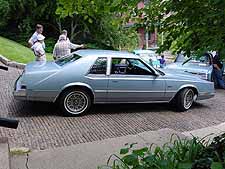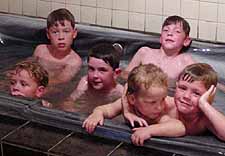 Our hotel was much like a neglected 67 Imperial....it showed traces of its former beauty and glory, but was now a little tattered, not as comfortable, noisier and stinkier. But in my mind, still more interesting than a generic "Ford Taurus" hotel. It was formerly a Ramada, and had a very nice indoor pool with a New Orleans courtyard theme. The first night our family had one of the suites, complete with large whirlpool bath that doubled as a swimming pool for our boys. Saturday morning we got up and headed to the car wash for the once-over to get most of the bugs off and vacuum our (new!) carpets, where we ran into Barbara and Ralph, who were doing the same. Then it was off to downtown Burlington and a parking spot on "Snake Alley", where we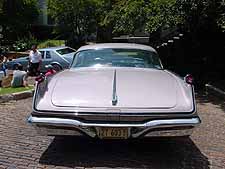 were joined by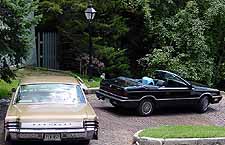 The Seidls and the Nygrems. For a while we thought it was going to be just we three!, but next came Jay Van Houten (regrettably, without his cool '61 Plymouth, but in a very impressive V-10 Ram truck, nonetheless), Jeff in his newly-acquired '62 Imperial Crown 4-door hardtop in Silver Lilac, Wayne Jorgensen and Paul Safransky in their Chrysler LeBaron convertible, Randy in his also newly-acquired 1967 Chrysler New Yorker, gold and in immaculate original condition, and definitely last, but certainly not least, Robb Newton in his 1967 Imperial Custom.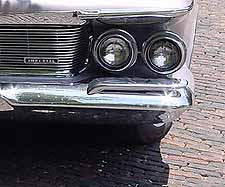 The car gods were not smiling on us this weekend--turnout was not quite what we had hoped--but the unexpected additions of Jeff and his '6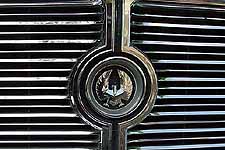 2 and Randy in his '67 NYer made up for it. Rolland Rahr had planned to bring his 57 Imperial, but caught the flu and couldn't make it; Wayne's gorgeous red '66 Imperial needed finishing touches on the interior and top, and his '71 picked Saturday morning as the time not to start, Tony Fortner bombed out at 4:00 a.m. (the big poop! :-) ), and Robb Newton nursed a leaky water pump in order to make it from Chicago. We had a light picnic lunch, socialized and admired each other's cars, then took a guided tour of the historical neighborhood of Burlington.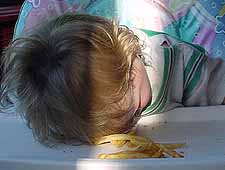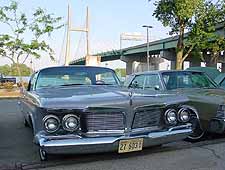 Later it was off to "Big Muddy's" riverfront restaurant for dinner and conversation. Our son Jim was apparently bored, however, and fell asleep with his face plopped onto his tray of french fries. After dinner we all stepped outside to a nice, cool evening and a chance to linger while passers-by admired our Impalas, Studebakers, and occasionally even Imperials! The kids had fun skipping stones and squishing their bare feet in the Mississippi, which just a few weeks earlier had flooded the very spot we were on under 3 feet of water.
| | | | |
| --- | --- | --- | --- |
| | | | |
| Neil & Mim's '81 Rear | Ralph & Barbara's '68 in front of bridge | Row of Imperials at Big Muddy's | Randy's 67 New Yorker at the Mississippi |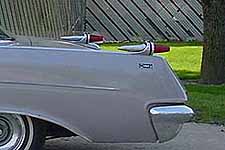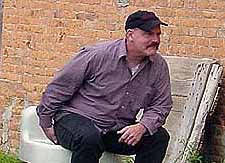 After dinner some of us crashed, some of us swam, and some of us went late night car hunting (for a 1978 New Yorker Brougham). Sunday morning we met at 7:30 for breakfast before hitting the road. Robb attempted to heckle the waitress, but to everyone's pleasant surprise he was out-heckled! :-) Our winding, out-of-the way route took us through Fort Madison on the Mississippi, then on to Bonaparte, IA, on the Des Moines River. Robb couldn't resist trying out the local plumbing....
| | | |
| --- | --- | --- |
| | | |
| Jeff, Randy, Wayne and Paul, with Tom and Bill Trettin in foreground. | What's Robb up to now? Is this where he dreamed up adding sequential flashers to his '67 taillights? | Mike, Barbara, Ralph, Wayne outside antique store in Bonaparte, Iowa. |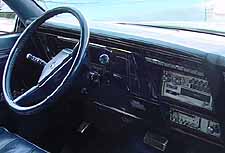 Here we decided to play musical cars--something we would do a few more times along the way--which was a great way to enjoy the trip, as well as get to know each other better. I sank into the plush leather of the Nygrems' '81 for the ride to our next stop, the quaint river town of Bentonsport. The weather was beautiful Sunday morning, slightly overcast and not too hot. I knew the '81 was a comfortable car, but it is a great car to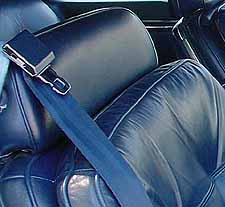 drive, also. Neil's car is in immaculate original condition...a nice introduction to this branch of the Imperial marque. Luckily Neil has never had any problems with his EFI or any other major problems. The Nygrems also own a 1955 New Yorker, an interesting two-toned blue and green with a blue interior.
Bentonsport is a historic town that was once completely deserted, but has been revitalized thanks to some wealthy benefactors. It has a few interesting shops, a wonderful old post office and a beautiful garden. The town use to be part of the Mormon trail which originated in Nauvoo, Illinois. Part of the town's restoration was to convert an 1880's truss-span bridge into a pedestrians only walk across bridge, which is quite an adventure to cross. The old planks were left and many have rotted away and you can see the swift moving Des Moines River flow underneath your feet.
| | | | |
| --- | --- | --- | --- |
| | | | |
| Barbara & Ralph Seidl, Robb Newton, and Jay Van Houten outside a shop. | The kids (and grownups) were fascinated by the local blacksmith. | Christian, Jeff and Robb near the river at Bentonsport. | Jeff and Tom Trettin on the Bentonsport bridge. |
| | | | |
| Mike Trettin and oldest son, Tom. | Wayne and the ubiquitous Tom outside the old post office, which was in operation until 1940. | Wayne on the picturesque bridge. | Snazzy wheel on the '81. |
Geez, still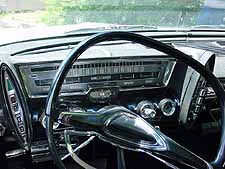 2 hours from the car show, but we're all having a ball in our Imperial caravan. While Ralph Seidl did driver duty in my '56, I got a chance to take the wheel of Jeff's gorgeous 37,000-mile 1962 Imperial Crown. Jeff had taken delivery of the car only Friday, and was incredibly generous and gracious to let us drive it. I've never been in any 60's Mopar that rode and handled so well, with such precise steering--it was truly like new! After a brief stop in Keosaqua, past the old river hotel that just might play host to our group next year, we headed north, and finally TOWARDS our car show destination of Washington. The fact that Robb's 67 had ruptured a water pump seal, forcing him to stop and refill every so often, provided a great excuse to play musical cars once again. Next I piloted Randy's mint, 56,000-mile 1967 New Yorker. It, too, rode and steered like new! The New Yorker featured nearly every available option, including a/c, rear heat/defrost, power vent windows, deluxe stereo, Auto Pilot and automatic headlight dimmer, and had an interior that looked fresh off the showroom floor.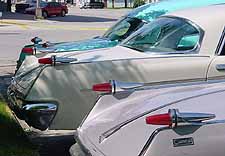 We came upon the Washington town square to find Buck and Belinda Rind's 1962 Custom already parked and entered in the specially-created Imperial class of the car show. Buck was obviously relieved that he was not the ONLY Imperial entrant, especially after he'd told folks that many more were joining him. Buck's car is the Alabaster White one, middle of the photo at left. It also happens to be a real beauty, and winner of first place in the show. Buck is modest and claims that he garnered more votes merely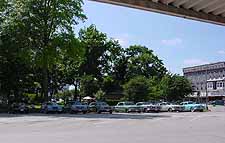 because he was there the longest, but his was a deserving choice nonetheless--congratulations, Buck and Belinda! Other Imperial class winners were Neil and Mim Nygrem ('81), 2nd place, and Wayne Jorgensen and Paul Safransky, embarrassed winners for their non-Imperial but beautiful Chrysler LeBaron convertible, 3rd place. Ralph and Barbara Seidl garnered the show's long-distance award for driving their 1968 LeBaron all the way from Omaha, Nebraska. And finally, the Online Imperial Club went home with the show's club participation award.
| | | | |
| --- | --- | --- | --- |
| | | | |
| Buck and Belinda Rind, 1st Place | Neil Nygrem, 2nd Place | Wayne Jorgensen, 3rd Place | Barbara and Ralph Seidl, Long-Distance Award |
| | | | |
| Elder Statesmen of the group | Most of the gang...pictured next to Wayne are James and Carrie of Des Moines, owners of a '69 LeBaron. | 1981 Coupe at show. Is that Ralph catching some zzzz's? :-) | Jeff's '62 saying goodbye 'til next year..."same bat time, same bat channel." |
---
Original Event Announcement Below
Please contact Mike Trettin or Wayne Jorgensen if you plan to attend or have questions about this event.
| | | |
| --- | --- | --- |
| | Mopars on the Mississippi | |
---
Location
Host City: Burlington, Iowa, June 9-10
Car Show: Washington, Iowa, Sunday, June 10
Accommodations:
Hotel: Wickliffe Hotel

2759 Mount Pleasant St.

Burlington, Iowa

(319) 754-5781

Rooms are reserved for June 8-9 under "Online Imperial Club" - ask for Marge

Rate is $39 per night for 1 bed, $44 per night for 2 beds - **What a bargain!!**

Camping: Geode State Park
| | |
| --- | --- |
| Meet Location | Wickliffe Hotel Location |
| | |
---
Itinerary
** Subject to changes and/or suggestions.
Saturday, June 9

1:00-4:00 PM

Snake Alley

Downtown Burlington

6th St. and Columbia

Click here for map.

Picnic & Imperial Show

We have reserved the "world's crookedest street" with the City of Burlington for a picnic and informal car show. Lunch will be provided, but you might want to bring lawn chairs...and check your brakes!

Saturday, June 9

3:00-4:00 PM

Downtown Burlington

Walking Tour of Homes

Those interested in seeing homes in the Historic District of Burlington can leave their car parked on Snake Alley and take a short self-guided tour.

Saturday, June 9

5:00-7:00 PM

Burlington Riverfront

710 N. Front St.

(319) 753-1699

Click here for map.

Dinner at "Big Muddy's"

Also another opportunity to show off our Imperials by parking along the river outside the restaurant.

Saturday, June 9

7:00 PM til

Deadman's Curve

Drag Racing For Pink Slips

Here's a shot of Robb Newton, winner of last year's tire-smokin' competition.

Sunday, June 10

8:00 -11:30 AM

Meet at

Hotel Parking Lot

Scenic Drive To Washington

We'll caravan leisurely through southeast Iowa on our way to the car show in Washington. Points of interest include historic Fort Madison on the Mississippi, the (Des Moines) river towns of Farmington, Bonaparte, and Keosauqua, and the town of Fairfield, home of far-out Maharishi University. Sunday morning will be an excellent opportunity to swap cars and/or ride with friends. We'll stop at one of the river towns for brunch.

Sunday, June 10

12:00-4:00 PM

Washington Town Square

Car Show

Laid-back multi-make car show around the courthouse square of Washington, IA. Great chance for you Chicagoans to see what life is like in a sleepy Iowa town! This year we'd like to enter as a group so we can park our cars together and be eligible for prizes. Must register by 12:00 noon to be eligible for judging.
---
Expected Participants
** Contact Mike Trettin to add your name to the list.
Bob & Janet Hoffmeister
??
Airplane
Roger Irland
1956 Imperial
Mike & Christine Trettin
??
1957 Imperial
Rolland Rahr
1961 Plymouth
Jay Van Houten
??
1964 Imperial
Larry Dunne
1965 Imperial
Carl & Cathy Salmons
??
1966 Imperial
Brad Smith

1966 Imperial convertible

Wayne Jorgensen

1967 Imperial
Robb Newton
??
1967 Imperial
John Dales
??
1968 Imperial
Dale Anderson
1968 Imperial
Barbara & Ralph Seidl
1971 Imperial
Paul Safransky
1971 Imperial
Tony Fortner
1975 Imperial
Darryl Kippen

1977-3/4 Chrysler

"Newporker Brougham"

Brad Hogg

1981 Imperial
Neil & Miriam Nygren
---
This page last updated October 8, 2003. Send us your feedback, and come join the Imperial Mailing List - Online Car Club
---