Chrysler Corporation and Hollywood
---
Imperial Home Page -> Screen Stars -> Chrysler Corporation and Hollywood
---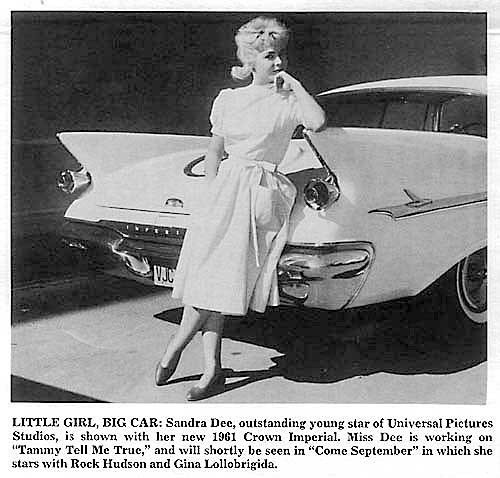 From: CorbuMike@aol.com
Sent: 1/22/97
Re: Imperial police cars... in about 1958 the TV show with Broderick Crawford as a California Highway Patrol detective used some big cars, like chrome-laden Buicks, for patrol cars. An Imperial would have been quite appropriate for Broderick.
Indirectly, I own my '68 LeBaron because of Chrysler Corporation's efforts to place its cars in movies and on television shows. My parents were in the movie/TV industry in Hollywood, and my dad had previously worked for Chrysler in Detroit in public relations, so they knew the guys who worked to place Chrysler Corporation cars, at no cost, in movie/TV productions. They wanted the publicity value. Incidentally, all the cars had to be from Chrysler Corporation -- they couldn't mix and match. Look at some old movies and you might notice all Chrysler cars, and no Ford or GM cars.
My folks got a good deal on the '68 LeBaron from their friends at Chrysler who handled the movie business. One night we had the President of Chrysler Corporation over for dinner, or maybe just for cocktails, I forget. The LeBaron has had only one driveway for 29 years now, passed down from mother to son.
Michael O'Brien, Hollywood, CA
---

Portrait in Black (1960) - Lana Turner, Anthony Quinn, silver 1960 Crown 4drht driven by a chauffeur.
---
Ever notice that Doris Day and Bob Hope movies from the early 60s are loaded with Mopar? Their production companies had deals with Chrysler to supply fleets for filming (as did Filmways (?) for the Beverly Hillbillies, which got me thinking about Imperials on the big screen).
---

Madison Avenue (1962) - Dana Andrews, Eleanor Parker, Although I haven't seen the movie, here is a promotional photo of Dana Andrews driving a 1961 Crown Convertible for the movie.
---
From: Jim Byers:
Universal/Filmways had a contract with Mopar in those days. I also believe Chrysler had an arrangement with Paramount in the late 1950's and early 1960's as well.
---
This page was last updated October 13, 2003. Send us your feedback, and come join the Imperial Mailing List - Online Car Club
---