1960 Imperial Accessories, VIN, Punch card, and Data Plate Decoding Tips
---
Imperial Home Page -> Parts -> Body -> Tags -> 1960
---
From Dietmar:
Decoding an Imperial VIN number:
I found a plate in my Imp's glove-box which Chrysler historical department could not explain.
The vehicle number is 9204113772.
Can anybody else help?
---
From Brett:
"9" = Imperial
"2" = Crown (1=Custom, 3=LeBaron)
"0" = 1960 model year (1=1961 etc.)
"4" = Warren Avenue Plant (all Imperials and only Imperials from 1959 to 1961 were made at the Warren avenue plant)
Remaining six digits are production numbers beginning with 100,001. So, this was the 13,772 Imperial (or Chrysler) made for 1960.
There should be a plate on the radiator support (on the passenger side, facing the front) that has a bunch of numbers all over it. That plate's code will tell you the original inside & outside colors of the car.
1960 TRIM PLATE & PUNCH CARD CODES
(Click small images to see larger images)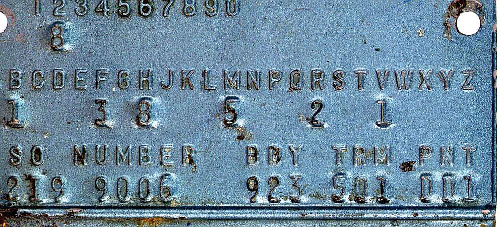 WEBMONSTER NOTE:
The "SO" is the date the chassis starts the down assembly line.
The "NUMBER" is the chassis number, or the order the car is on the assembly line.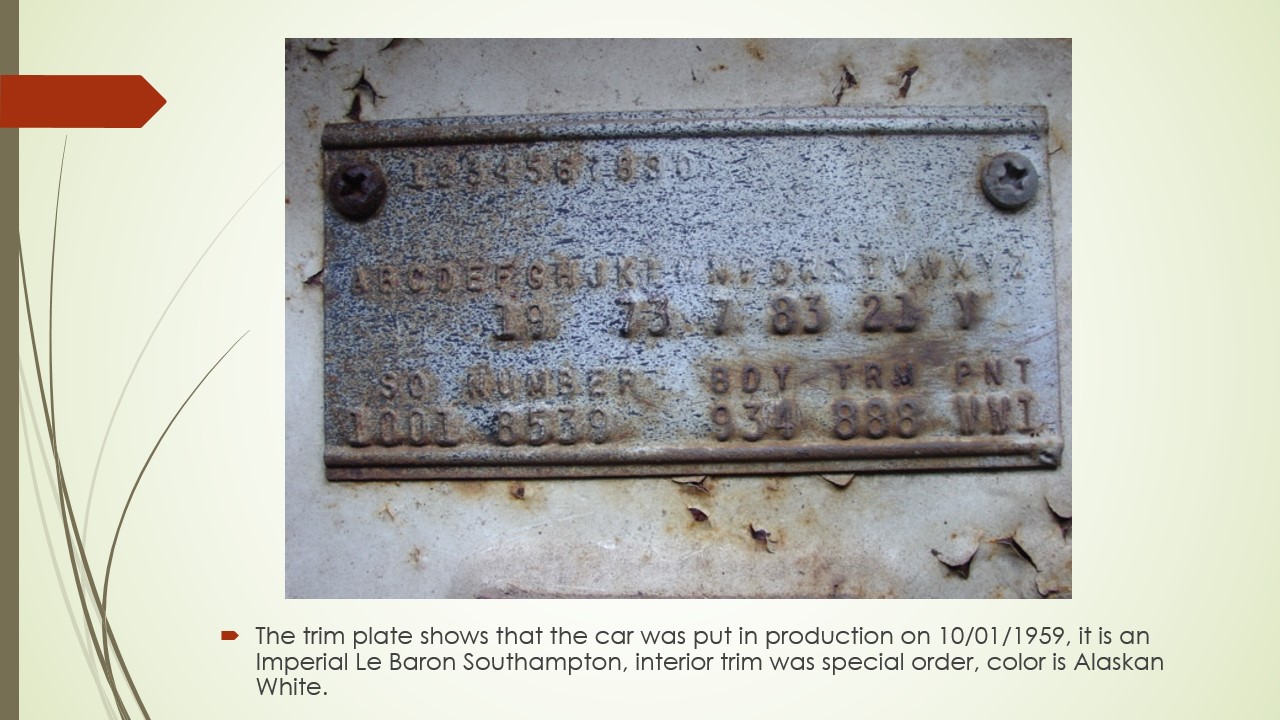 WEBMONSTER NOTE: We don't have any idea how to decipher the A-Z codes,
if you have any information please contact us and let us know.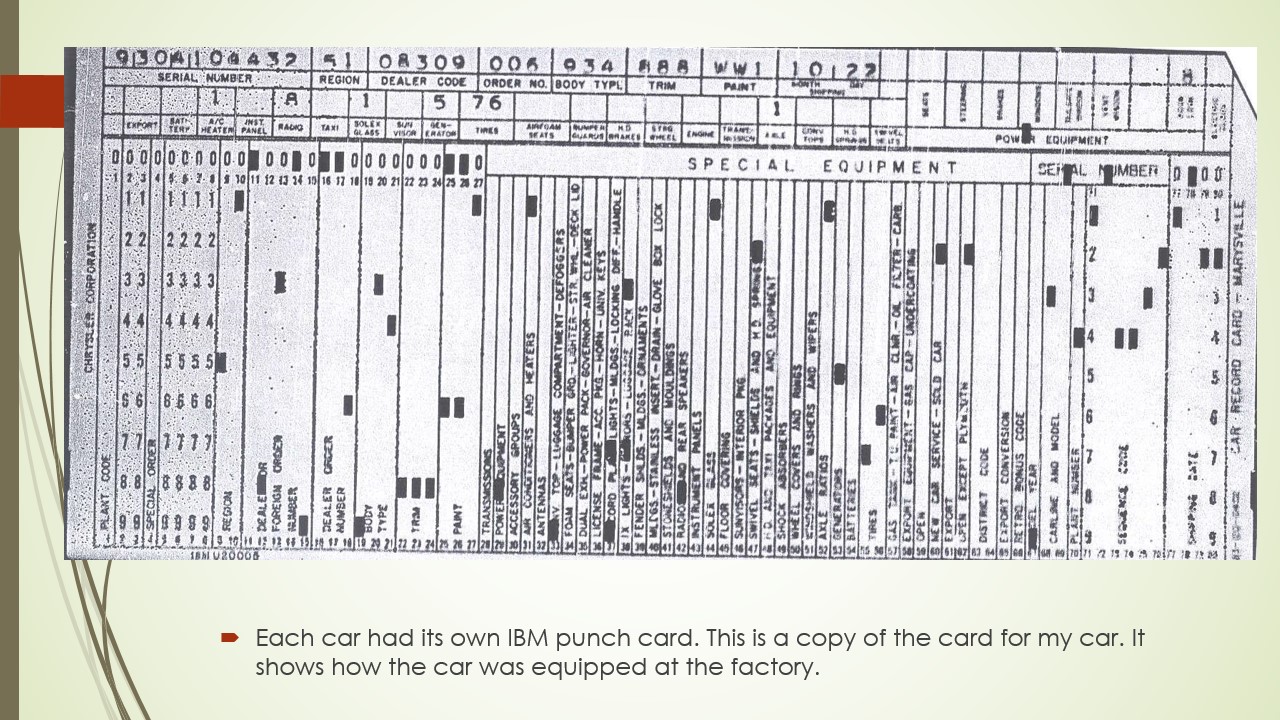 PUNCH CARD CODES AND ACCESSORY CODES FOR 1960
Courtesy of Club Member Tom Willson (January 2022)
Some of the codes below are shown on the above Punch Card, others have been added to help identify other codes.
| Line No. | Line Description | Punch Code | Code Explanation |
| --- | --- | --- | --- |
| 9-10 | Region | 51 | Chicago |
| | | 52 | Kansas City |
| 11-15 | Dealer Code | 8309 | Tom Harrigan Inc., Oak Park, IL |
| | | 9770 | Briley Motors, Omaha, NE |
| 16-18 | Dealer Order No. | 16 | ??? |
| 19-21 | Body Type | 925 | Imperial, Crown, Convertible |
| | | 934 | Imperial, LeBaron, 4 dr HT |
| 22-24 | Trim | 529 | White Leather |
| | | 888 | Special order - Crown Interior, Blue, w/cloth inserts |
| 25-27 | Paint | 661 | WW1 - Alaskan White |
| 29 | Power equip. | 298 | Power Door Locks |
| 30 | Accessory Groups | | |
| 31 | A/C and Heaters | 311 | A/C with Heater |
| 33 | Convert. top, Trunk, Defoggers | 332 | White Convertible Top |
| | | 339 | Defogger, Rear Window |
| 34 | Foam Seats, Bumper Guard, Lighter, Steering Wheel, Deck | 348 | Flite-Sweep Deck Lid |
| 37 | Record Player, Lights, Mldgs, Locking Diff, Handle | 375 | Auto Beam Changer |
| | | 376 | Door Edge Protectors |
| | | 377 | Auto Pilot |
| | | 379 | Sure-Grip Differential |
| 38 | Lights, Mirrors, Luggage Rack | 383 | Mirror, Left Outside, Remote Control |
| | | 385 | Mirror, Right Outside, Manual |
| | | 387 | Mirror-Matic Interior Mirror |
| 42 | Radios and Rear Speakers | 423 | AM Golden Touch w/Pwr Ant., no rear spkr, and foot control(??) |
| | | 428 | AM Golden Touch w/rear Spkr & Pwr Ant. |
| 44 | Solex Glass | 441 | Tinted Glass all around |
| 47 | Swivel Seats, Shields, and HD Springs | 472 | Manual Swivel Seats |
| | | 473 | Automatic Swivel Seats (w/Power Seats only) |
| 52 | Axle ratio | 521 | 2.93:1 |
| 53 | Generators | 535 | 40 Amp Generator |
| 55-56 | Tires | 76 | 8.20 x 15 Nylon w/Whitewalls |
| 60 | New Car Service, Sold Car | 602 | Sold Car, Expedite |
| 67-76 | Serial Number | 9304104432 | |
| 77-80 | Shipping Date | 1014 | October 14, 1959 |
| | | 1022 | October 22, 1959 |
---
This page was last updated January 2022. Send us your feedback, and come join the Imperial Mailing List - Online Car Club
---