1975 Imperial Fender-Tag Codes
---
Imperial Home Page -> Parts -> Body -> Tags -> 1975
---
From Joseph:
MOULDINGS (LINE 11)
M05
door edge mouldings
M21
drip through mouldings
M25
body sill mouldings
M26
wheel lip mouldings
M31
belt mouldings/door quarters
M45
wheelhouse opening skirts
M81
front bumper guards
M83
rear bumper guards.
---
LIGHTS (LINE 11)
L65
ignition switch lamp time delay
L68
auto headlamp dimmer
L72
headlamp on buzzer
L74
headlamp switch w/time delay
L76
warning signal instrument gauges
L77
washer fluid signal
L81
door ajar indicator lamp.
---
MISC. ITEMS (LINE 10)
J11
glove box lock
J15
cigar lighter
J22
electronic digital clock
J25
wipers, three speed variable
J31
dual horns
J41
pedal dress-up
J52
interior hood release
J55
undercoat w/hood pad
J95
instrument panel, Type-5
L05
glove box lamp
L17
ash receiver lamp
L25
trunk compartment lamp
L35
cornering lamps
L41
Safeguard Sentinel delay off headlamps.
---
GLASS-MIRRORS (LINE 9)
G01
electric heat rear window
G11
tinted glass all windows
G41
Prismatic rear view mirror
G44
lighted visor vanity mirror passenger side
G52
L/H outside mirror, remote-control chrome
G63
R/H mirror, remote-control chrome.
---
HEAVY DUTY FLEET (LINE 9)
F17
radio suppression package
F27
battery
F92
thermo ignition vacuum valve.
---
HEATER / AIR CONDITIONING (LINE 8)
H53
A/C with automatic temperature control.
---
CONSOLE-SEATS-BELTS-FLOORING (LINE 8)
C25
floor thermo insulation
C58
50/50 bench seat
C92
floor mats, accessory rubber
C91
floor mats heavy duty front
C97
trunk dress up.
---
BRAKES (LINE 8)
B11
Heavy Duty front brakes
B31
Heavy Duty brakes, rear
B44
all wheel disk front and rear
B65
Auto park brake release.
---
- - - UPDATE APRIL 2019 - - -
Here is a typical 1975 Imperial Data Plate, this one is from a 2 dr Crown Coupe "Inca Gold".
Photo courtesy of Philippe Courant - Pau, France
Decpihering of the Codes by Bill Watson - Vancouver, Canada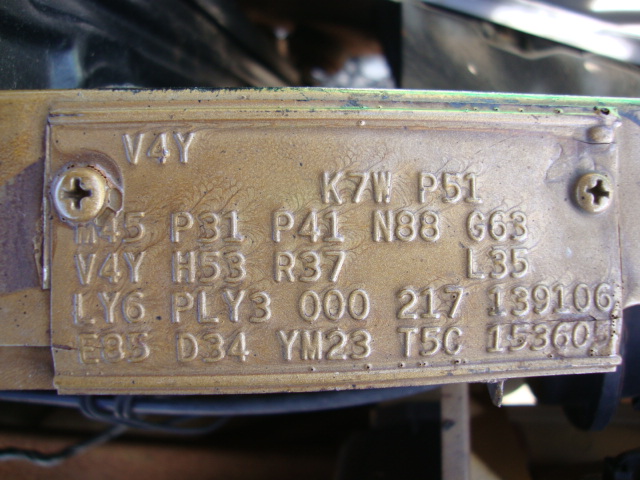 Bottom row -
E85 - 440-cid V8, 4-bbl carb
D34 - Automatic transmission - Torqueflite
VIN - YM23 T5C 153605
Y - Car Line - Imperial
M - Series - LeBaron
23 - 2dr Hardtop
T - Engine - 440-cid V8, 1-4bbl carb
5 - Model Year - 1975
C - Assembly plant - East Jefferson Avenue
Second row -
LY6 - Body Colour - Inca Gold Metallic
PLY3 - Interior trim -
P - Premium
L - Leather & Vinyl, recline
Y3 - Gold
000 - Interior Colour - Gold
0217 139106 - Shipping Order Number - where 217 is the scheduled build date - February 17, 1975
Third Row -
V4Y - Roof treatment - Canopy Vinyl Roof - Gold
H53 - Air Conditioning with automatic temperature control
R37 - AM/FM Radio - multiplex stereo, 8-track
L35 - Cornering lamps
Fourth Row -
M45 - Rear wheel opening skirts
P31 - Power windows
P41 - Power door locks
N88 - Automatic speed control
G63 - Mirror - outside, passenger side, remote, chrome
Fifth Row -
K7W - Body side stripe, tape 7 - White
P51 - Automatic park brake release
The V4Y at the top was for the installation of the canopy style roof treatment. The body was pulled off the assembly line and another department in the plant took care of the roof.
---
This page was last updated April 2019. Send us your feedback, and come join the Imperial Mailing List - Online Car Club
---