Imperial Ambulances
---
Imperial Home Page -> Imperials of Distinction -> Ambulances
---
Imperial Made into 'Hospital on Wheels'
A new kind of ambulance, built from a 1959 Crown Imperial into "a hospital on wheels," was shown buy the Guy Mullen Ambulance Service to St. Louis doctors and hospital administrators for the first time.

Guy Mullen, who was instrumental in designing the ambulance known as The Blue Guardian, announced that he would start building another such ambulance as soon as 1960 Imperials were available. The completed new unit will be placed in service as soon as ambulance orderlies have completed a course in the use of its equipment.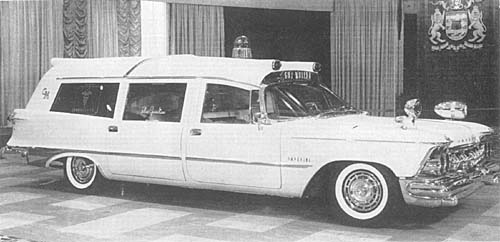 BLUE GUARDIAN-That's the newst ambulance shown doctors and hospital administrators in St. Louis. Name was chosen by Guy Mullen, who designed ambulance, using a 1959 Crown Imperial, to start with.
In commenting on the choice of chassis, Mullen declared, "The Imperial was selected because of its torsion-aire ride, the design and operation of the brakes, the horsepower and the fact that the chassis is constructed of eleven gauge steel, all of which attributes to the safety and comfort of the patient. Nylon tires were added as another safety measure."

Mullen, whose family started an ambulance service in St. Louis in 1890, worked on the new ambulance with an engineer from the Comet Coach Co. of Blytheville, Ark., the firm that made the actual conversion.

The name, The Blue Guardian, was chosen because of the blue leather interior of the 1959 Imperial. It was used throughout the front and rear compartments of the ambulance.

The new ambulance is equipped with such innovations as an electric lung for the patient in need of resuscitation, an electronic cardiac monitor and electronic pulse pick-up with room amplifier, a sphygmomanometer for taking blood pressure, an electrocardiograph machine, as well as oxygen and portable resuscitation equipment.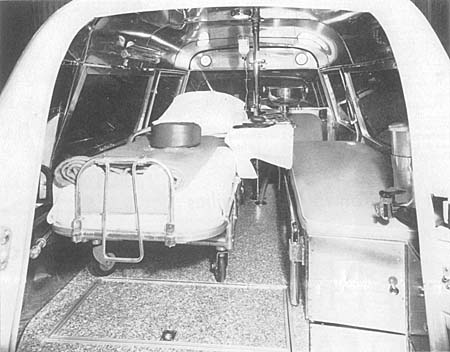 INTERIOR-Photo above shows stainless steel interiors and some of the equipment which makes this ambulance a "hospital on wheels," designed to transport critically ill or injured persons under conditions as sterile as an operating room.
The primary purpose of the ambulance is to transport critically injured or sick persons to the hospital under conditions as sterile as an operating room and as safe and comfortable as a modern hospital room.

The patient's compartment is completely lined with stainless steel and includes and electric kitchen, water fountain, water cooler, all in stainless steel and chrome.

In addition to the Imperial, Mullen has an ambulance built on a Windsor in his fleet of seven ambulances.

The first Mullen ambulance in use in the St. Louis area was a horse-drawn vehicle put into service in 1890.
(This story was originally printed in the October, 1959 issue of the Chrysler and Imperial Times dealership newsletter.)
---
This page was last updated October 4, 2003. Send us your feedback, and come join the Imperial Mailing List - Online Car Club
---