1961 Imperial IMPS OF OMAHA Shriner Convertible
William Adams Clinton Twp. Michigan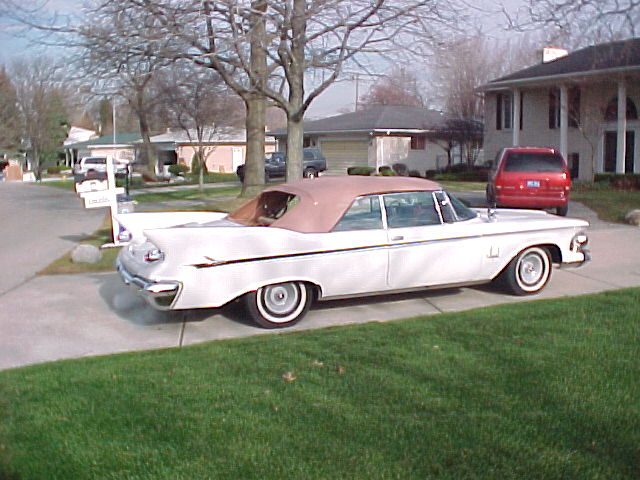 My 61 Imperial is white with a russet top and interior. It is unrestored and in excellent condition.It is equipped with auto pilot,
a/c, flitesweep deck lid, and bench seat.
I am a 29 year Chrysler employee, I have owned many Imperials over the years.
1961 lebaron,1961 conv. 1967 Crown coupe,1970 Lebaron,1974 2 door green ext. tan top, 1982Frank Sinatra, 1981 silver/red,1981 Navy/ navy.
SO# 0902 8519, RL Brezout's is 0902 8517 ?
Paint Code WW1
Trim Code 958 Russet ( it has a Russet top which is original)
Body code 925
VIN 9214102291
It is an excellent condition 44,000 mile all original paint, chrome , engine, spare tire, and interior.
--- Philippe Courant <accf-club@club-internet.fr> wrote:
William ,
I'm sure that your car is one of the 22 Shriner's of 1961: it has the same "SO" than RL Brezout and , as all Shriner's, it's one of the first
model year. The other "number" (8519) is surely the dealer order number, very very closed to than of M. Brezout (8517). So it's 99,9 % sure that it's the same dealer (Briley Motor of Omaha).
Note also that SO means "Special order" and not "shipping order". I've a copy of the documents that send the CHF to M.
Brezout and they write: SO (Special order). Sure that Shriner's were "special order" ! The "sequence date" of Brezout's car is 10/03 (3 october)
The Brezout Shriner car has these numbers below the ABCDE ... line of the data plate: 1685735 3 61 1 8 . I think
you'll find the same as all Shriner's were identical.
---