Ken Cassady's 1964 Imps of Omaha Crown Convertible
Imperial Home Page -> Imperials by Year -> 1964 -> Ken Cassady
---
1964 Imperial Shriner Convertible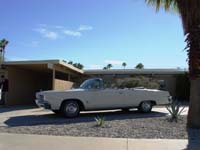 Pictured is a rare1964 Imperial Convertible, one of a handful that was specially ordered for the Shriners of Omaha Nebraska each year. Built September 4, 1963, it is among the first 1964 Imperial Convertibles built. Shriner cars were all built alike each year, with the same interior and exterior color schemes, and loaded with most options. In 1964 that scheme was white exterior, white top, and a special-order white interior with green accents. In addition to the special-order interior, this car also features several early production differences unique to Imperials built in the first month of production. These differences include the spring-loaded door armrest pads that pop up when a small tab is pressed. Also, there is the white "Imperial" nameplate above the radio speaker on the dash. The outside rear view mirrors also have unusual mounting plates that extend all the way over to the fender peak moulding.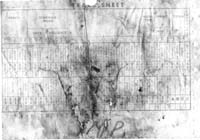 The real difference in the 1964 Shriner convertible is the interior, a special "999" interior code: white leather with a special array of green accents. Standard white leather interior selections in 1964 were available with black, blue, or red trim. These trim colors were used on the carpet, dash, and steering wheel. The remainder of the interior was white. In the Shriner cars, green accents were used in these same areas, however, additional green accents were also used on the seat backs, the headrest shells, the rear seat upper cushion surround, and the tonneau cover, giving a two-tone effect. Standard white interiors got a steering wheel with trim-color spokes and a translucent white rim. Since no white interiors were available with green trim there was no corresponding white rim steering wheel with green spokes available. Instead, the Shriner cars came with the same all-green wheel used in all-green interiors.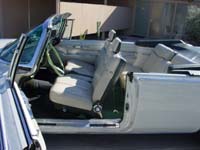 Shriner cars typically came with all available options, and this car is similar in that regard. The only options not ordered were two new-for-1964 options: tilt wheel and AM-FM. Presumably, in the summer of 1963 when the Shriner cars were ordered, the 1964 information about new options had not yet been made available. Thus, the cars were loaded with everything available in 1963.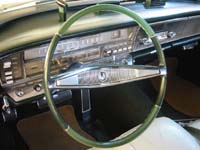 Pristine steering wheel has green plastic rim instead of the pale white translucent rim used with other trim selections for white interiors.
It is unknown how many of these cars were produced in 1964 , however, it was rare that more than 20 were built in any model year. This car is owned by Ken Cassady of Palm Springs, CA. It was purchased last year from a museum collection in Colorado. It is in outstanding unrestored condition and drives like new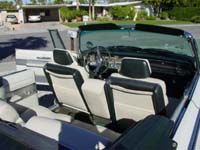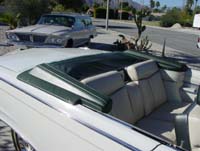 Fiberglass surround for upper seat cushions is green, along with the tonneau cover.The convertible top is white.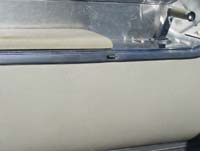 Very early production 1964 Imperials feature spring loaded armrest pads that pop open when a small button in trim is pressed.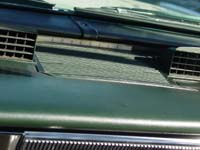 This feature was phased out quickly, as was the Imperial'nameplate above the speaker grill on the dash.
---