Don Briggs' 1927 Chrysler Imperial Cabriolet
---
Imperial Home Page -> Imperials by Year -> 1927 -> Briggs
---
Here is a photo of Don Briggs' 1927 Imperial roadster: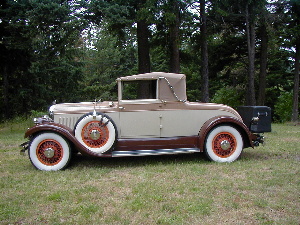 Here are a few words from Don about his pride and joy:
My Imperial was a complete basket case when I purchased it 25 years ago. It had been in a garage fire and had suffered significant damage. The restoration took over 10 years of off and on work but, at this point, looks to be completed. There are still a few minor parts to be located, such as the original steering wheel. It turned out to be a beautiful car and is a great car to drive. We have done some local parades, shows and tours.
We hope Don will write in soon to share more photos and information about this beauty!
---
This page was last updated 11 January 2008. Send us your feedback, and come join the Imperial Mailing List - Online Car Club
---