Darrell Davis' 1931 Custom Imperial Dual Cowl Phaeton
---
Imperial Home Page -> Imperials by Year -> 1931 -> Davis
---
(Click on any picture to see a larger image.)
I recently retired from Chrysler Corp after 36 years of service. I have a collection of about 15 cars that represent vehicles from the classic era to the muscle car period. I am a member of CCCA, AACA, WPC, Plymouth Club, CCCI, Bow Tie Chevys, MAFCA, MARC, Studebaker Club, VVWCA, 300 Club and likely some others. I am also a judge at Pebble Beach and at Meadowbrook. I show my cars as a hobby and have traveled all over the country enjoying the different venues.
My 31 Imperials are my favorite cars. The phaeton that I own was purchase by me in early 97 from Rob Myers at RM Classic Cars. It was shown at the Burn Foundation show in June of 97 when the 31-33 Imperials were featured. It may have been the largest gathering of those cars ever assembled. We then immediately began a complete nut and bolt restoration of that car finishing in August 2000 in time to show the car at Pebble Beach. The car won its class at Pebble Beach in 2000. It went on to win it's class at Amelia Island, the Burn Foundation and Meadowbrook in 2001. It was awarded Senior and Premier awards with two 100 point scores at CCCA. Completed the National First Place and Senior Awards at AACA and won the President's cup award for 2001 in February of 2002. It is one of 11 known documented Phaetons known to exist.
I searched for a long time to find a real Custom Imperail Phaeton and then we spent three years restoring the car.
I also am restoring a club sedan that I own. Auto Gray Dark and Dustproof Gray Light.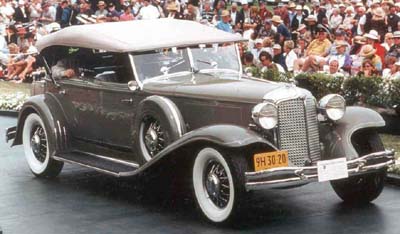 ---
This page was last updated on November 20, 2001. Send us your feedback, and come join the Imperial Mailing List - Online Car Club
---