1933 Chrysler Imperial Imperial LeBaron
---
Imperial Home Page -> Imperials by Year -> 1933 -> Don Mayoras' Imperial LeBaron
---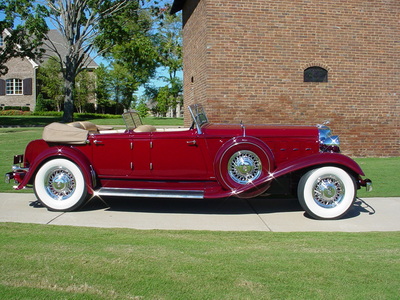 1933 Chrysler CL * Imperial Dual Windshield Phaeton by LeBaron This car is equipped with a 135hp 384 cu. in. nine main bearing inline eight-cylinder engine, four-speed synchromesh transmission, leaf spring and beam axle front suspension, leaf spring and live axle rear suspension, and four-wheel hydraulically-actuated drum brakes. Wheelbase: 146"

The goal for Chrysler was simple going into the 1931 calendar year - mount a serious assault on the fine car market by offering a more affordable luxury car with beautiful styling and performance to match. The result was the incomparable Imperial series. With their long wheelbase chassis, flowing fenders, and smart LeBaron-designed bodies, many consider the Imperials to be among the best looking classics of the era. Although their chassis and drive train technology was rather conventional with 135 horsepower, they were certainly quick.

For 1932 and 1933, the CG chassis was further refined to become the CL Imperial. By 1933, styling was enhanced with a more imposing front view and a sharply pointed grille that blended into a long, impressive hood, gained by overlapping the cowl. The car's dramatic belt line swooped down along the body, creating a design that many believe was the best-looking Imperial of all.

LeBaron Carrossiers Inc. was founded in 1920 by two of the most respected names from the era of the great coachbuilders: Thomas L. Hibbard and Raymond Dietrich. When they decided to set up shop together, they settled on a location and a name. The location - 2 Columbus Circle, New York City - was more than they could afford, but they decided it was essential to their image. Coincidentally, it was also home to Fleetwood's design offices. They chose the LeBaron name because it sounded French and would lend a sophisticated air to their firm. Most interesting was that they chose to have only a design office, without coachbuilding facilities. Not only was this practical - they had no coachbuilding skills - but it allowed them to work independently from (and with) both chassis manufacturers and coachbuilding firms.

Work began to flow in, and soon the pair were approached by Ralph Roberts, who knew Dietrich from his time at Brewster. Roberts wanted to design cars, and when he applied for a job, Hibbard and Dietrich liked him enough that they offered him a full one third partnership - but with the provision that he serve as the firm's business manager.

Hibbard wanted very much to work in France, and in 1923 he left for Paris to look into establishing an office there for LeBaron Carrossiers. While in Paris he met another American designer, Howard 'Dutch' Darrin. The two hit it off, and decided to start their own company, Hibbard & Darrin. Hibbard sold his shares in LeBaron to Roberts and Dietrich and moved to Paris.

At this point, LeBaron hired Werner Gubitz and Roland Stickney as draftsmen, designers, and illustrators. Dietrich continued as chief designer, while Roberts managed the business. Before long, Dietrich was recruited by Murray, and he too left the firm. LeBaron, meanwhile, continued to prosper, even after the loss of its two founders. Ralph Roberts proved to have a good eye for design, and excellent rapport with LeBaron's clients. He and Stickney made a great team, with Stickney refining and implementing Roberts' ideas.

In 1927, LeBaron was acquired by Briggs, one of Detroit's largest body building firms. Briggs' clients included Chrysler, Ford, Overland, and Hudson. LeBaron continued to operate within Briggs, whose strong Detroit connections soon lead to prestigious custom work for Lincoln, Cadillac, and Pierce-Arrow. In effect, LeBaron became Briggs' in house design label, as Dietrich had become Murray's.

Shortly afterwards, Briggs hired designer John Tjaarda, and he and Roberts assumed joint responsibility for running LeBaron. Together with their in-house design staff, the two were responsible for LeBaron's designs for the next several years. LeBaron was ideally positioned to take advantage of the burgeoning demand for coachbuilt bodies that developed in the late 1920s. Factory design work included the legendary Model J Duesenberg, for which LeBaron bodies were among the most prolific. In addition, LeBaron designs graced the top of the line CG, CL and CL* Imperials, as well as the remarkable Marmon Sixteen.

In total, 50 of these Dual Windshield Phaeton bodies were ordered by Chrysler from LeBaron in 1932. Fourteen were shipped in 1932, although a few of these are believed to have been returned to the factory for updating with 1933 sheet metal and trim. Other than these updates, that leaves 36 cars built originally as 1933 models. Remarkably, the Dual Windshield Phaetons have a very high survival rate ~ more than 27 of the original 36 Dual Windshield Phaetons have survived!

This particular Chrysler Imperial CL* Dual Windshield Phaeton, CL 1349, Body Number 172-38, was delivered on June 12, 1933 to Mr. Stephenson of Cincinnati. The car was delivered through the Chrysler Dealer in Columbus, Ohio. The car was a "driveaway" to Columbus from Detroit as indicated on the Original Build Sheet which is still available and with the car. The Chrysler remained in the Stephenson family until the early sixties. The car was then owned and restored by Ray Hunn, in Wisconsin. Ray Hunn was the first to restore the Chrysler in the early sixties and he owned the car for more than 20 years until the early eighties. Ray Hunn sold the car to Friendly Bob Adams, a noted Classic Car Dealer in Kenosha, WI. Friendly Bob later sold the Chrysler to Don Williams of the Blackhawk Collection in the mid-eighties.

The car received a body-off restoration to its present condition in 1985 by Don Williams of Blackhawk and Mike Fannell. This 1933 Chrysler Imperial was restored for the Rose Bowl Parade of 1985. The Chrysler served as the Grand Marshall's Parade Car for the Rose Parade. The Grand Marshall was Lee Iacocca, then Chairman of Chrysler Corporation and the one individual credited with saving Chrysler!

The Chrysler is also documented and pictured in The Behring Collection book, which was published in 1998 and featuring the finest classic automobiles in the Blackhawk Collection of Ken Behring. This 1933 Chrysler Imperial CL* is pictured and detailed on pages 46, 47, 48 & 49.Since the mid eighties, this 1933 Chrysler has been in a Private Collection and rarely shown or driven. Although the restoration is more than twenty years old, it holds up very well.

The 1933 Chrysler Imperial CL* is equipped with Dual Horns, Pilot Ray Lights, Dual Metal Side Mount Covers, Dual Mirrors mounted on the Metal Side Mounts, a Fitted Trunk, Chrome Wire Wheels, Lester Wide Whitewall Tires and the Chrysler Ram Radiator Ornament.

Don & Joni Mayoras bought the car in 2007. Excluding Dealer & Collection Ownership, the Mayoras are only the fifth owners of this fabulous 33 Chrysler.

The 1933 Chrysler Imperial CL* has been mechanically refreshed by Richie Fass of The Stone Barn in New Jersey. The current owner drives the car regularly throughout Central Tennessee.

Chrysler CL Imperials are renowned among Classic era enthusiasts for their spirited performance and agile handling. They are also one of the most attractive cars of the period - in many ways a swan song for the era. Given the remarkable rarity of the Sport Phaeton model, restored examples such as this remain highly sought after as valued additions to the most respected of collections.

Only 151 Custom Imperials were ever produced with only 36 being LeBaron 135bhp 384.84 cubic inch incline eight-cylinder L-head engine, Stromberg 2V model EE-3 carburetor automatic vacuum clutch, stamped steel ladder type chassis, semi-elliptic leaf spring suspension, and four-wheel Lockheed hydraulic drum brakes. Wheelbase: 128inches.