Murid Kudwah's 1952 Chrysler Imperial Crown Fit for a King
---
Imperial Home Page -> Imperials by Year -> 1952 -> Murid Kadwahh
---
I am writing the folling as to summarize my experience with the Chrysler Imperial Limousine 1952 in my possession. I'm a Saudi Citizen, was born 1961 in Jeddah city (western coast of Saudi Arabia) from a father born in the Holy City of Medina (City of the Holy Prophet Mohammad) and a mother originally Palestinian from the Holy City of Jerusalem. Graduated as Civil Engineer in 1982. Worked 5 years in the Royal Saudi Air Force in joint efforts with the US Air Force.
This car was brought from Pakistan by a group of four owners through Damman port at the eastern coast of Saudi Arabia. Its ownership settle solely with me after 6 years of its arrival to Saudi Arabia.
My first trial to sell this car was in 1989 thru writing a letter to Mr. Lee Iacocca, Executive Director of Chrysler Corporation. The only reply was receiving a restorer's guide, with information of agencies and clubs interested in Chrysler products.
As no internet in Saudi Arabia at that time (late 80's) I started to call all those addresses one by one which had consumed time and money because of the difference in time between Saudi Arabia and the USA. Some of the telephone numbers did not respond, others had been changed and the answerer did not know the new numbers.
In 1990 I met an American-Arab citizen in the Marriott Hotel in Riyad whom the car was excepted to him, he did not want to say how much it would be worth and offered to buy it from me and he would sell in in US by himself but I refused (it was my stupidity at that time and I wish I agreed).
It is a masterpiece historic car, manufactured especially for late King Saud of Saudi Arabia. It is an eight-cylinder Chrysler Imperial Crown model 1953, vehicle number 7816135, which gives 6 miles per gallon. It was his first of a fleet of Royal cars, presented to him when he became the King of Arabia. During Mr. Ghulam Mohammad's (the Governor General of Pakistan at that time) visit to the Kingdom of Saudi Arabia; the car was made a personal present to Mr. Ghulam. After, it went to the Governor of Punjab, then to the ex-owner whom received it in a neglected condition.
The ex-owner virtually nursed it and preserve it in an A-1 condition. Keen citizens in Saudi Arabia heard about the car and decided to buy in and re-import it to Arabia. During shipment the front and back accessories were lost.
The present owner found the accessories and imported them to Saudi Arabia, but did not fix them on the car. The only modification done by the present owner was to cover the old fabric car's seats with new fabric and repaint it to the original Royal black color. But not willing to add or allow my change or modification to the car. "The car shall remain in its present condition until is real owner have it" he said.
The car is approximately 21 ft. long, 6 ft. wide deluxe saloon car of 8 cylinders, 42 HP, has automatic transmission, air cooling system, two folding ADC seats, division screen in tinted glass, electrically operated windows (presumably bullet proof), power drive and hydraulic brakes and suspension. It is fitted with two clocks, three cigarette lighters along with ashtrays, and special arm rest and many other comforts. "It is a custom made car" the Chrysler-people said, almost hand made. It was for His Majesty. His Majesty's monogram in gold, golden mongram on the wheels. This vehicle may not be a very ancient vintage, but it is majestic.
To maintain this car, it need the well, contact and finance to cover the possible need. There is not much cost for maintenance involved to have the car maintained with parts from USA and to be kept operational. It needs a minor maintenance to last another 30 years. It needs someone who understands its value, and has the motivation to own such a piece.
Few years ago it was raised up on jacks to save it from resting on the wheels and was covered and parked under shade.
Only 111 pieces were manufactured in 1952-1953 and to the best of the owner's knowledge this was the remaining one.
It is sad if the ownership of the car is not granted for a keen person to after it, this keen person should be able to know the ancient value, historic value of the car and should appreciate it.
Recently I started again efforts of restoration to sell the car hoping this would come to a happy end.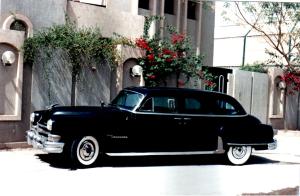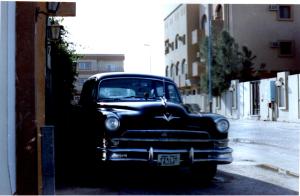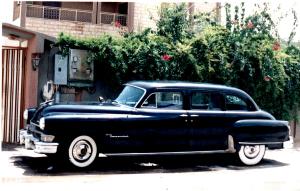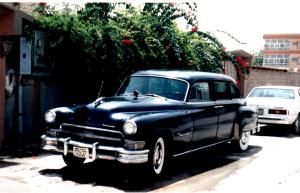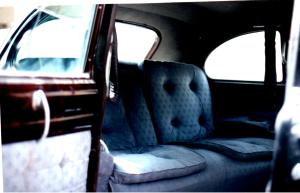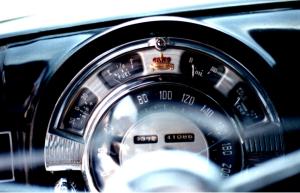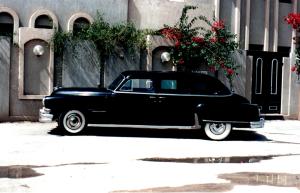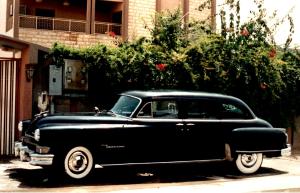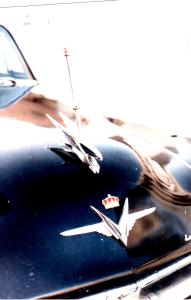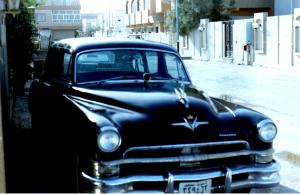 See more documentation about this car
Can you help Murid find some of the missing parts which he needs?
---
This page was last updated . Send us your feedback, and come join the Imperial Mailing List - Online Car Club
---