Steve And Cheryl Bolger's 1953 Imperial Custom
---
Imperial Home Page -> Imperials by Year -> 1953 -> Steve Bolger
---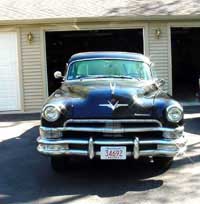 | | | |
| --- | --- | --- |
| | | |
| | | |
| | | |
| | | |
1953 Imperial Custom Sedan
VIN # 7770937
Owned by: Steve & Cheryl Bolger
North Dighton, MA.
I've been in the antique car hobby all my life. I've always been drawn to cars of the fifties, especially cars that were somewhat different. I bought my first hobby car in 1980, a 1954 Hudson Hornet. I did a complete restoration that took 2 years. Later in 1986 I added a 1958 Lincoln Continental Convertible (condition #2) to my collection.
I owned both cars until the Summer of 1998 when my house exploded, and was destroyed by fire. Both cars were total losses and were taken away by a friend of mine with a Payloader, and a Dump Truck. I have before and after pictures that would make anyone cry. So much for that!
A new house was built on the site. We moved into our new home in March of 1999. One of the best things about the new house was the three stall double deep garage.
For several months after we moved in I showed little interest in getting another car. I came home every night to a big empty garage. How many people do you know that have this problem? Once May came around my wife said to me "what are we going to do when our shows and cruises come up this summer? I started thinking about another car(s). I checked out Hemmings, E-Bay, and a host of sites on the Internet. Every thing I liked was either outrageously priced, or was too far away. I was getting the fever again. I thought I was never going to find a car I wanted.
The first good lead from a friend of mine was on a 1960 Imperial, I really liked the car, but it needed a little work. I fought the poor man on the price although it was very reasonable. Being stubborn, I left, then decided the next day that I wanted it. When I went back, it was sold. I was sick.
I went to a swap meet with some friends of mine that weekend just 20 miles away from were I lived. We were doing our usual meet and greet with everyone, and looking at all the same parts we saw the year before when we came to the car corral. All my friends said let's skip it and keep going. They said there was rarely anything good in the coral. All the good cars never make it to the open market. I insisted on going anyway. They were right, most of the cars were well let's just say sad. Just as I was giving up I saw the 1953 Imperial. I couldn't believe it. (My friends weren't quite that impressed). The car looked terrific, it was just what I wanted.
The gentlemen selling the Imperial told me that he bought it a year ago, and that he was the 4th owner. He bought the car because his father had one just like it when he was a kid. He clearly wasn't a car guy, and after of year of storage basically he thought it was best to part with the Imperial.
The owner was able to produce service records for the Imperial back to 1953. The car had a history of originally coming from Arcadia Garage, in Arcadia Maryland. The first three owners all owned the car for about 15 years each. The first two were from Maryland, and the third owner was from Providence, R.I. The Imperial was a complete original with 127,000 miles. The car was totally complete except for the windshield washer bottle. Except for a front fender that creased, hammered out, and spotted back in the 60's all the paint was original.
I was not prepared to buy the car that day, but told the owner I would go to his house the next day. When I got there the owner was just coming down the street. What a sight. The car looked great. "I hadta havit" I made deal that day. The owner would take no money. He wanted to deliver the Imperial to my house on Memorial Day. So I waited. On Memorial Day at about 9 am he pulled into my driveway with the car. He gave me a ton of paperwork and manuals, some terrific parts, and good instructions. As I was paying him for the car I noticed that his brother was almost crying, it was then that I realized that I was getting a really great car. They both left after I gave them the money looking over their shoulders as they drove down the street. It may have been kind of sad for them, but I was really happy.
I've owned the Imperial for three years now. It generates tremendous interest wherever I take it. My wife keeps notes about the car in her wallet so she can answer questions like yea; it's a "Hemi" when I'm not around. I love looking out over the long hood, the tall ornament on it, the sound of the Hemi, and the way she looks going down the road. My 1953 Imperial is a pleasure to own, I'm so glad I got it!
The Imperial is equipped with:
Fluid Torque Drive
Power Steering
Power Brakes
Electric Windows
Electric Seat
Electric Wipers
Solex Glass
Folding Arm Rests
Rear Foot Rests
---
This page was last updated May 24, 2002. Send us your feedback, and come join the Imperial Mailing List - Online Car Club
---