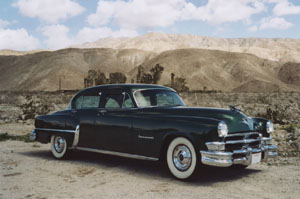 My 1953 Chrysler Custom Imperial is a New Jersey car. It has been in our family since 1955 when it was purchased from the original owner by my late brother-in-law who was somewhat of a collector of cars. My brother-in-law passed away in 1993 and the car was garaged and unused since his passing up until it came into my possession.

The car is all original except for the paint job. It was painted once and is suffering from some lacquer cracks which are barely visible. I intend to paint it sometime in the future and I will go with the original color as indicated on the plate mounted on the firewall.

My sister gave me the car as a birthday gift in 1996. I was completely flabbergasted when I opened the birthday card she sent me... Enclosed with the card was the ownership certificate... and a message to get my car out of her garage! My sister has a romantic attachment to this Imperial because it was in this car that my brother-in-law proposed to her.

I contacted the mechanic who had worked on the car previously and he checked the car out and made it roadworthy. In October of 1996 my wife and I, being the adventuresome that we are, drove the car from Livingston, NJ to Palm Desert, CA in 6 days. We tried to drive on the Route 66 as much as possible and we had a ball. We did not run into trouble until we crossed the Colorado River and were about 50 miles into the desert... BLOWOUT!

With the assistance of a Good Samaritan motor home driver, we were able to change the tire and make it all the way home with no further problems.

A sidebar to the story: The next day, I took the tire to Pep Boys to be repaired. The young man doing the job was literally dumbfounded when he came upon the inner tube in the tire. He ad no idea of what it was or how to deal with it. The manager and I had a good laugh over that and I ended up buying a new spare. The car now sports radials with wide whitewalls. My wife and I drive on weekends and we get a lot of thumbs up signs especially from the young people.

Quint Villanueva
Palm Desert, CA.