1954 Chrysler Magazine Advertisement Supplement
---
Imperial Home Page -> Imperials by Year -> 1954 -> Ads -> Come In
---
(Please click on any small image to see a larger, readable version of the pages from the "Come In" Magazine advertisement. We also have printable versions of these pages available here.)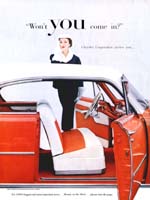 Cover
You can also download larger file-size versions of the above that are suitable for printing (and easier to read) by clicking on the following links. Except for the cover, which measures 10-1/2" x 14", these pages are double images which measure 21" x 14".
Having trouble with printouts coming out way too small, or pieces of a document printing acro ss sev eral page s?
Then go to our "How To Print Imperial Literature" page to learn how to print an item at the size you'd like.
---
This page was last updated October 24, 2003. Send us your feedback, and come join the Imperial Mailing List - Online Car Club
---