Roger Crabtree's 1955 Imperial Sedan
---
Imperial Home Page -> Imperials by Year -> 1955 -> Roger Crabtree
---
(Please click on any small image of Roger's Imperial to view a larger picture.)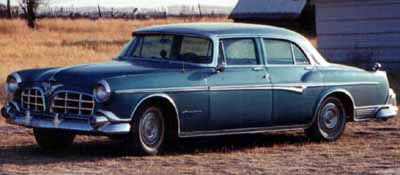 Roger Crabtree found this 1955 Chrysler Imperial sedan on a road between Kalispell, Montana and Eureka, Montana. The owner of the car had bought the car new. The car had been pulled out of a heated garage two days before he spotted it and only had 32,123 miles on it. Incredibly, this wonderful Imperial had not been started since 1972.

Roger bought the car, loaded it on a trailer and took it home. Three months later, after replacing the brakes, clean the fuel tank, repairing some lights, Roger had a "new" car that is a dependable driver. This car is factory original except the fuel pump. It starts and runs easily and everything works. He drives his wonderful '55 in local parades and enters car shows in the "Survivor" class.

Be sure to catch the Factory keys with key identification number tags and original dealer key chain.
---
This page was last updated January 26, 2004. Send us your feedback, and come join the Imperial Mailing List - Online Car Club
---