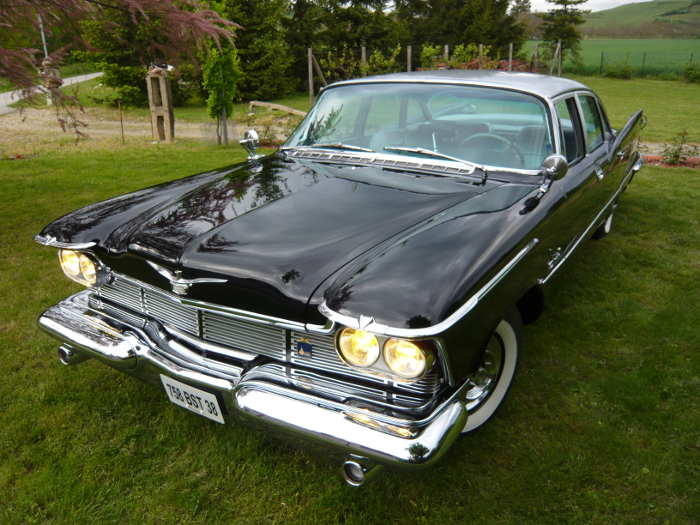 Let's press the reverse button on the time machine. We are in France, back in 1957. The automotive market is boosted, and there are many domestic competitors selling cars, from the ultra-basic Citroen 2CV to the ultra-luxurious Facel Vega Excellence, powered by Chrysler engines. Since 1952/53, anyone wealthy enough can buy an American car. Indeed, before that, only customers with bank accounts in US dollars or UK Sterling Pounds could buy such cars. French francs weren't good enough! You could have been wealthy in francs, but that was insufficient.
On the 1957 market, we can find the domestic makers: Citroen (which belongs to Michelin), Peugeot, Renault (which is a State-owned company), Simca (which acquired the Poissy plant from Ford France in 1954), Facel Vega and Panhard-et-Levassor (the oldest car maker).
Two years before, Citroen introduced the all-new rocket-shaped technically-amazing DS: it looked like a spacecraft, and was technically a masterpiece, with its full hydraulic design: suspension, gearbox, brakes, steering, all controlled by a central high-pressure hydraulic pump. A giant leap from the 1934 Traction Avant!! On their side, the American cars were chromed icons, dazzling under the sun with flamboyant colors, the very opposite of the savorless always-grey Citroen 2CV. Additionally, the American cars were among the few ones that offered full power and automatic cars with plenty of power, and a minimum of reliability. One could always buy a Facel Vega, but they were mainly rather small, sporty, low-production hand-made coupes.
In this context, a very wealthy person could buy an American iron. One of those "happy few". Indeed, the custom taxes applicable to those cars were extremely high at that time. Cadillac, Imperial, Lincoln and Packard were available for sale, with few dealerships, which sold cars regularly. Singer Edith Piaf had a 1956 Packard Caribbean convertible for instance, and even the 1958 Lincoln Continental Mark III got sold here. Regarding the Mopar world, Imperial was sold by France Motors SA, located in Neuilly-sur-Seine, next to Paris. Such a car had a 5,400,000 francs price tag. 5 million? Yes! The most expensive Citroen, the DS, was just above the million. And the cheapest 2CV was listed at less than 400,000. And in dollars, how much was that? In fact, it was the equivalent of around 13,000 dollars of 1957. The price of an Eldorado Brougham! Now you can imagine how extremely wealthy the first owner must have been to be able to afford such a car. And despite those extravagant price tags, around 25,000 US cars were imported during the 1950s in France.
Unfortunately, I do not know who the first owner of my car was. The CEO of a big company? Some gangster in the drug market? I don't know. What I know is that it must have been quite an impressive Christmas gift, as the car was titled on Christmas Eve, 1957.
The car is thus one of the few Imperial that were imported to France (one of two survivors currently documented), and for someone not wanting the "velours" touch of the LeBaron or the rather showy Crown, the LY1-L was then the choice of good taste. In export markets, as you can see on the export brochure, the LY1-L was available only as a pillared sedan. The car came in an all-black paint, but when I repainted it, I kept the idea of a silver roof that a previous owner had, except that I put a 100% grey-scale grey, with minimal metallic effect, so that it matches the aluminum frames of the side windows. It gives the car a very classy touch with its blueish grey, black and silver interior.
I acquired it in 2002, and made a cosmetic restoration. New paint, chrome and interior, and rebuilt engine and transmission. The car has power windows, power door locks, radio and power antenna (a modern antenna as the original one was bent), a low compression engine, kilo speedometer and Solex tinted glass. In addition to those catalog options, the car received some tuning to be compliant with the French regulations: yellow headlights, bigger rear reflectors, different horns and shielded spark plug wires. The car doesn't have the "toilet seat" decklid.
Here in France, the car is a kind of "never been seen before". Among the modern cars, the Imperial looks like a sparking, shining barge. Kids are simply speechless when they see that flying saucer, or they comment "Dad, look, I can see myself entirely on the bumper!". Older people would simply ask "can you start the engine so that we can listen to the V8 engine?". People stop, let you pass, say hello, ask you at the red light if you could do a wedding with it ... At the gas station, the guy sees you as a walking wallet (23 gallons at $8 the gallon ...), and the car wash owner already knows you will spend a lot of nickels to wash and dry it properly ... That's the fun of it, and I like it.
Click on photos to see larger versions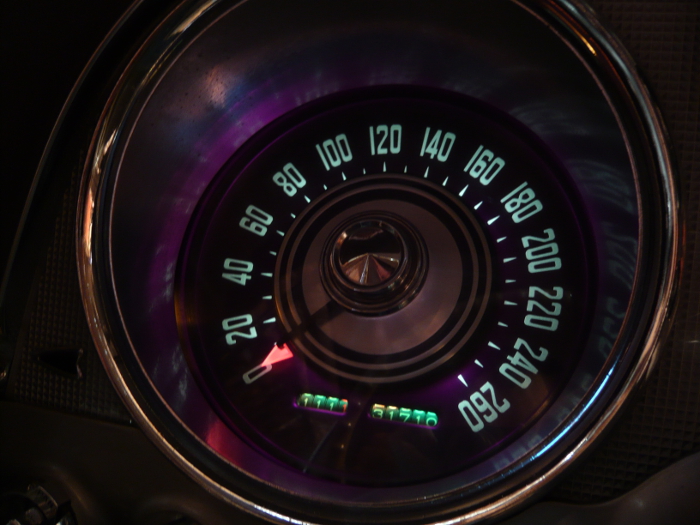 The 260 kph (export) speedometer, by night.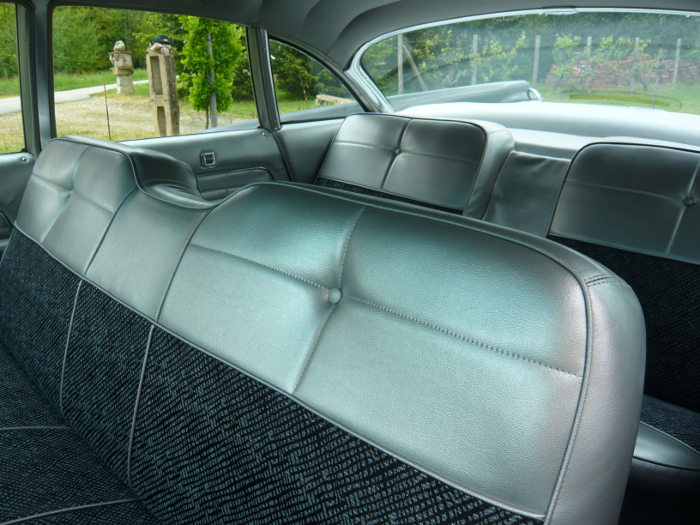 The interior (redone with SMS material).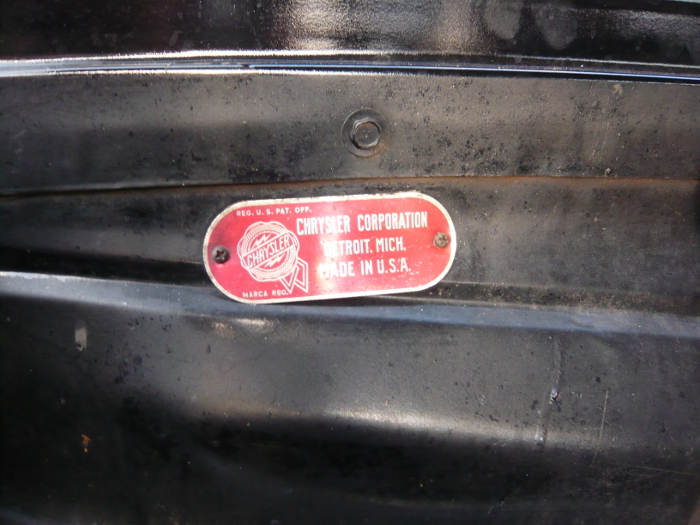 American Iron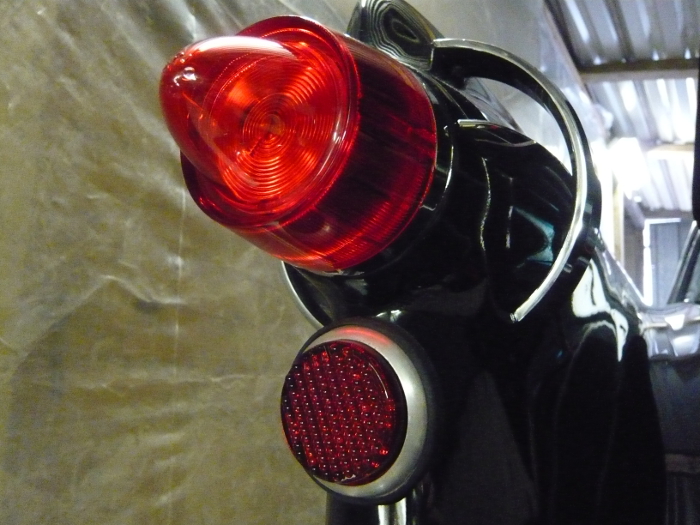 The larger rear reflectors below the taillights.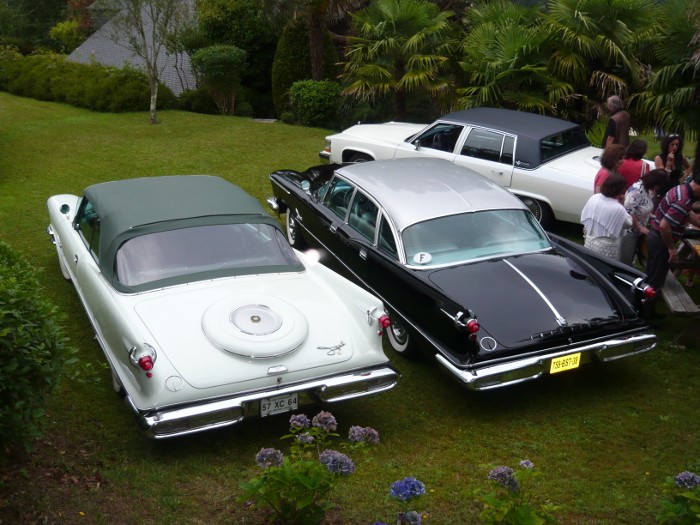 A "flying saucer meet" with my Imperial and Philippe Courant's '57 Crown convertible.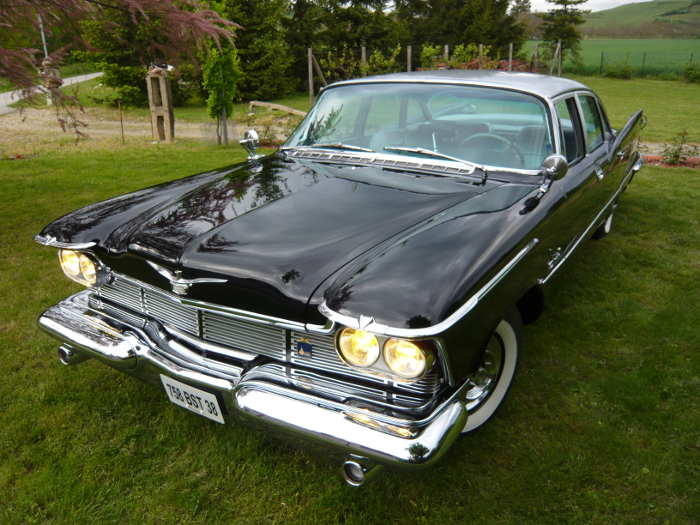 A front picture where one can see the yellow headlights (french stuff).
- - UPDATE 2016 - -
My Imperial was sold to a friend in 2015. It still remains in France. Please enjoy the pictures of my sedan (which by the way is the only one in France known to exist: only one sedan, only one LY1-L. All the other 1958s are hardtops, Crown or LeBaron)
Export cars got more than just a kilo speedometer : mine (1958) got the Export Tool Kit option, firmer shock absorbers, Tubeless Tire Repair kit, lower compression engine, crankcase ventilation (all these confirmed by Chrysler Historical), and once in France, it got additional extras : yellow headlights, regulation-compliant french horns, shielded spark plug wires, regulation-compliant french rear deflectors ...
In France, it is commonly accepted that around 25000 US cars were imported in the 1950s decade. Then, with other markets (like Switzerland, Belgium, Netherlands, Sweden and Finland), I guess the figures could be very surprising.
- - - - - - - - - -
Merci to Frederic, he has contributed many different images and pages of information to the ImperialClub over the years. We hope he will continue to keep us updated and send us more photos and more information from France.
To view Frederic's detailed breakdown of his "Chrysler Punch Card" and details of the Imperial Sedan's Data Plate Codes, please click here.