Bill Melcher's 1959 Imperial
---
Imperial Home Page -> Imperials by Year -> 1959 -> Bill Melcher
---
Bill's 1959 Imperial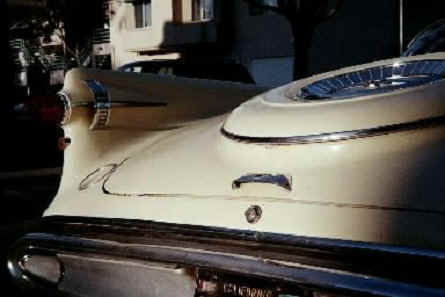 I bought my 1959 Imperial in December, 2001. It has been the car of my dreams since I first layed eyes on one back in 1959, when I was only 9 years old. I've looked at them from time to time, always thinking about someday owning one, then I finally made the decision, and here's my new car!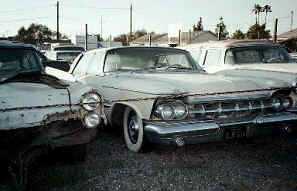 After looking at about ten different 1959's, I finally decided on this one. Here she is sitting out in the yard of an auto body shop in Ontario, California. This is where she had spent her last six years before coming on the market. She was part of a large unrestored Mopar collection. I immediately fell in love with her, and looked at others, but always came back to this one.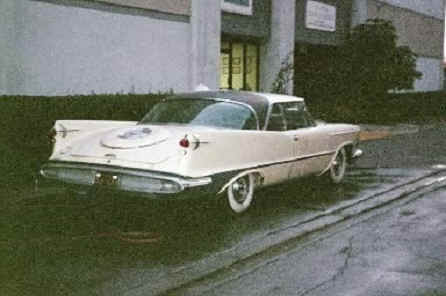 The day after I bought her, I had her picked up on a flatbed, and towed here to my new found Mechanic, Mike Hayden, owner of Hayden Auto Works, which do work on only classic cars. After coming off the flatbed, Mike asked me if I would like to wash her, and although it was a somewhat cool day for Southern California, and I was hardly dressed warmly enough, I jumped at the opportunity, and began getting rid of years of grime which was embeded in every groove. This is how she looked after her first bath.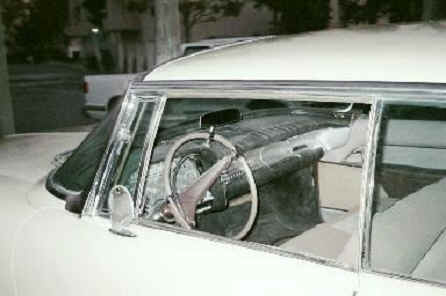 Here's a shot of her sad interior, which had been upholstered in courteroy, and was all very rotted. You can also see the sad aftermarket rearview mirror someone had put on it.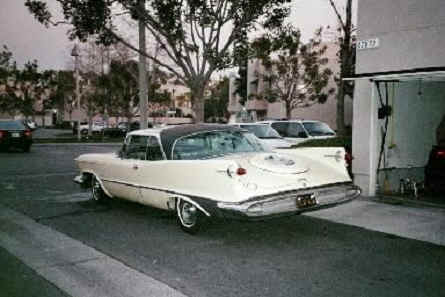 After spending about a month at the mechanics shop getting in good running order again, I finally brought her home on my birthday in January 2002. Here she is after a day of getting hand rubbed out to bring back the shine. This is the only '59 I've ever seen with a factory textured landau roof, which looks exactly like a vinyl roof. No more giant white walls, she now rides on some sportier Goodyear radials. I intend to go with the wider whitewall radials once she is completely restored.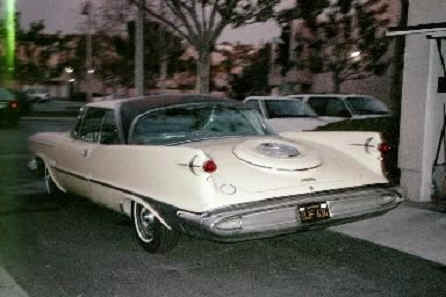 Here she is after a first rub out, shining once again! Could life get any better! She is a Custom model, but I'm turning her into a Crown, so she can match her name, "Queen Victoria". Love all those crowns everywhere!
---
This page was last updated October 14, 2003. Send us your feedback, and come join the Imperial Mailing List - Online Car Club
---