Marty Trendler's 1959 Imperial LeBaron
---
Imperial Home Page -> Imperials by Year -> 1959 -> Marty Trendler
---
Marty Recently created a WEBSITE for photos and documentation of his, and other 1959 Imperials.
If you have a 1959 Imperial - Marty needs your HELP!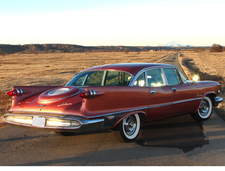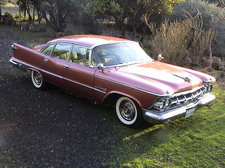 Marty Trendler
Red Bluff, CA
Car owned: 1959 Imperial LeBaron 4 Door Sedan, color-Fiesta Copper (special ordered from the factory), interior-Dark Grey broadcloth, a/c, power steering, power brakes, 6 way power bench w/swivel out seats, push button transmission, foot switch controlled am radio, power antenna, rear window defogger, passenger rear view mirror, hood ornament. Condition-3.
Self-Introduction: The first owner had the car garage kept for 17 years. I believe he was an Imperial car salesman in Phila and either special ordered this car or bought it after someone cancelled their order. The second owner bought it with 17,000 miles on it, in the late 70's, and drove it. I do not believe any work was done to the car at during this time period. I bought the car in 1987 from the second owner in Penndel Pa. It was in disrepair and not running but only had 38,000 miles on it. I had a lot of work done and drove the car some. I lived in Levittown Pa at that time. In 1999 I moved to California and shipped the car out here via car carrier. I have it stored out of the weather. I have had a lot of work done, and there is a lot to go. This project has been on hold for many years but I now wish to continue with restoring it.
I had someone throw a cinder block thru the front windshield of my 1959 Imperial LeBaron, shortly after I first bought it. I was at a friend's birthday party and his Sister's soon to be ex husband was responsible. The car was parked out front of my friend's house at the time. I had never met my friend's Sister or ex before that time. The ex had just picked my car out because it was parked out front. The ex had been stalking her; she was trying to leave him.
The good news is after having the windshield and some trim that was damaged replaced, at the place I had some trim polished, I found a connection which got my car into a made for TV movie ("Flying Blind" by NBC Productions) in Philly and was paid over $2000.00 for the use of the car in the movie. The ex eventually ended up in jail for at least a year on assault charges from 16 other people. I also began dating my friend's Sister for about a year.
I have had great success with finding parts through the help of the IML, and the parts suppliers have been great. I hope to do the paint this year, and redo the engine next year, interior the year after that.
Good Luck to all you restorers of such great cars,
-Marty
Updated March 2005. Restoration Pics


















Update July 2005:
I had the pleasure last week on meeting Lowel Howe down in his salvage yard in Patterson Ca. Lowel hooked me up with the correct 1/4 glass I've been looking for for years and a windshield glass that could not have looked better if it were new. The restoration has been going great and all body work will be done soon. Paint is right around the corner. The rubber from Gary Goers also looks great. The engine will soon come out for a top to bottom redo as well as the suspension and brakes. I hope to be down to chroming and interior in a few months.My mechanic Bill Rice has done a fantastic job on the car so far and has the same passion for it as me.
Updated January 2006.
---
href="/IML-specific/mail.htm?subject= This page was last updated March 2018. Send us your feedback, and come join the Imperial Mailing List - Online Car Club
---