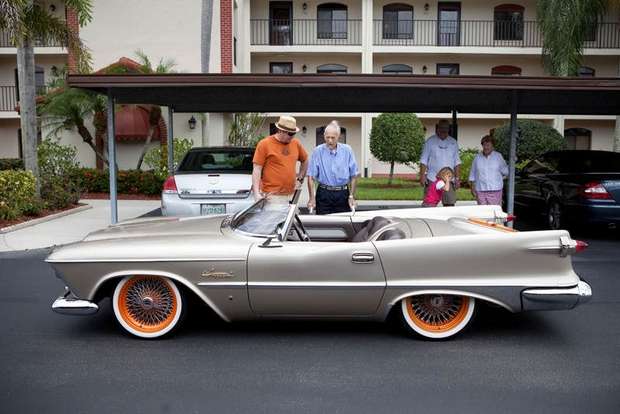 As a teenager in Watertown, N.Y., Murray Pfaff tried buying a number of classic cars in need of some TLC. Each time, his dad, Eugene Pfaff, discouraged him from taking on such projects so he could stay focused on schoolwork. "He tried to buy an old Cadillac in high school and I said, 'Over my dead body,' " said Eugene Pfaff, 92.

But in 2007, with his now-grown son by his side, the elder Pfaff finally changed his tune. It was inside a dilapidated carriage house in northern New York on a mid-July day that Eugene encouraged Murray, 39, to buy the car underneath the tarp in front of them. It was a 1959 Chrysler Imperial, sealed up some 30 years inside the carriage house, owned by one of Eugene's friends. Just a day before, Murray shared a vision he had for that exact car: turning the standard four-door sedan into a two-door sports car, a vehicle Chrysler might have built in the '50s if it had tried to compete with the Corvette and Thunderbird. "I had shown him a drawing I did of it, saying this is a thought of mine, that if I ever found one of these Imperials I'd like to build one," Murray said. Eugene was so supportive of the project that he negotiated the deal to buy the classic car for $650. "I couldn't believe it because I wasn't ready to own the car, but there I was," Murray said.

It took Murray and 10 of his buddies four years and some 10,000 hours of work inside his two-car garage in Royal Oak to complete the champagne-colored car. Murray said his brother David, who is 20 years older and a fellow gearhead, was a big influence in teaching him about cars.

The Imperial Speedster travels across the U.S. to shows and competitions, but never close enough for Eugene Pfaff, now living in Florida, to see it in person -- something he had hoped to do by now. Following the progress of the Imperial, Eugene bounced back from bouts of prostate and colon cancer more than a decade ago, but now it's just old age that is taking its toll, according to Murray. For the last couple of years, Eugene has been in an assisted living facility in Naples, Fla. His wife, Edith, 87, still lives in the nearby condo they shared during the winter months. With Murray's Imperial having such success at shows, and within the hot rod and classic car community, his dad has been able to keep up with it by following stories on a variety of websites. "He's always been a staunch supporter of it, followed it every bit of the way, and has been my biggest fan, honestly," Murray said.

A small business owner who designs hot rods, Murray couldn't afford the $2,000-$3,000 cost of hauling the Imperial down to Naples. Pilot Transport of Brighton, the specialty car carrier that sponsors the Imperial, offered to take the car to Murray's Dad as part of a trek the company was making to Florida. "When we heard about his father getting sick and he hasn't had a chance to see that great car, we jumped at the chance to try to get down there as quick as we could and help out," said Pilot Transport General Manager Joe Parks. "We were going down anyways, so it worked out well."

Eugene Pfaff, 92, of Naples, FL., was at his son's side 5-years-ago, when he purchased a Chrysler Imperial that was transformed into a concept car. Pfaff never got the chance to see it until this weekend. The Imperial left Murray Pfaff's Royal Oak driveway on its 1,350-mile trek Tuesday. He caught a flight down to Florida on Thursday and the car arrived the next day. Eugene Pfaff knew his son was coming, but had no idea the Imperial was in Naples, too. On a typical Saturday afternoon, Eugene usually is at his assisted living facility. This weekend, he was at the condo. His son brought him home for the surprise. From the second floor, Eugene took the elevator down, not sure why Murray asked him to come outside. Pushing his walker toward the parking lot, a frail Eugene, who just had a blood transfusion three days ago, could be heard shouting "I can't believe it, I can't believe it" when he spotted his son's labor of love. Just 10 minutes earlier, he had said to a family friend that he hoped he lived long enough to see the car, Murray said.

After a little maneuvering Eugene was in, ready for the ride of his life. "I don't have any room for your walker," Murray joked. And just as he was getting ready to show his dad that his Chrysler concept, with its 425 hp., 6.1-liter Hemi wasn't just a pretty face, Eugene asked whether there were seatbelts. There were. The powerful engine definitely created a lot of wind with the top down, but it couldn't drown out the father's laughter. Amid all the excitement of driving through the community, Eugene was thinking about his neighbors missing out on seeing the car because many of them are snowbirds. "The thing that bothers me the most is most everybody in our complex has gone home, and they all know all about the car, because that's all I've talked about," Eugene said. For Murray, the five-minute ride will be long enough to last a lifetime. "I think this brings it full circle for me, because he was there when we opened up the door to the carriage house," Murray said. "Who knows what the future will bring and how soon, but I didn't want to wait any longer to do this with him, to do it while he can still get out and we can go for a nice ride and he can realize in person, in a tangible way, put his hands on it and see what we've done and how we succeeded and form his very own personal impression to take with him." As for Eugene, the ride left him with a natural high: "I appreciate everyone, and thank everyone who helped him -- and made my life complete."