A Family Infatuation with Imperials
by Neal B. Herman
My specific interest in Imperials goes back to my grandmother's Wedgewood Blue '64 Crown 4-door. She owned it from 1968 until 1986. She loved that loaded car, and impressing the riff raff that drove lesser vehicles. One of the first cars I learned to drive was hers, and she instructed me on the proper way to pass someone on the freeway: When overtaking someone in a downmarket Mercedes or Cadillac, v-e-r-r-r-y slowly pass them on the left so they can fully appreciate the stature (and length) of the Imperial. When you are fully in front of them increase the speed subtly so they acknowledge the power of the Hemi/413/440 engine. Only when you are half a dozen car lengths in front do you pull into their lane such that they will remain a respectful distance behind you. We did this many times on Highway 101 from San Francisco to LA.
She drove the car in the Bay Area until moving to Fort Worth to be near family in the mid '80s. I'd hinted around that if she ever wanted to get rid of her Imperial, I was interested. Unfortunately, when having the car serviced at Meador Chrysler-Plymouth, she walked into the showroom to wait and saw a Fifth Avenue she liked (God knows why) and determined the dealer would give her for the Imperial what she paid for it 18 years earlier, $3,000. She drove out with a new car (her first ever), and the dealer flipped the car to a local Imperial collector. I didn't know about the transaction until several months had passed and she moved back to California.
Grandmother's first Imperial was a two-tone green '53 hardtop. My grandfather was a Chrysler dealer in Texas who regularly farmed out the good trade-ins to family. He also had a reputation as a philanderer. In the Fall of 1958, when the '59s were coming out, he got a trade-in of a red '57 DeSoto convertible. Grandmother wanted a flashier fun car, so the DeSoto was hers. She'd had enough of the staid '53, and her cheating husband, and a week later she walked out and moved to San Francisco, no doubt top down all the way. The '57 DeSoto was traded for a pink '60 DeSoto 4-door hardtop in the early '60s, which in turn was traded for the '64 Imperial in 1969. I still remember her driving up our driveway in LA in this oh-so stately car. My mom's '64 New Yorker 4-door hardtop was no slouch, either, as I recall.
Mother's first car was a '39 Imperial Custom sedan, a trade-in from some oil man on a Town & Country in 1948 or '49. She hated the Imperial, thinking it was just so ugly in those post-war years of "clean" styling. It was also too large a car for her, and she also traded first chance she got on a '50 DeSoto coupe.
I found my own Imperial, a '59 Crown 4-door Southampton, in Butte, Montana through a Classifieds2000 internet posting in January 1999. It was a Butte ("beaut") car all its life, being first purchased new by a doctor who died a few months later. His wife returned it to the dealer, who resold it to another local professional who bought it for his wife. She drove it to and from her job at the local hospital until they both retired in the late '70s. They used her husband's '74 Imperial for trips, letting the '59 languish in the garage, until they both died in the late '80s. The owner before me inherited it and just cruised around town occassionally, like "American Grafitti", but no drag racing. He put about 1000 miles on it in 10 years, but then decided to concentrate on his '57 Chevy Bel Air that was his father's car and that he grew up with. Why someone would ditch an Imperial for a Chevrolet is beyond me. After 40 years being stuck in the provinces, this Imperial has moved up to the big time in the Nations Capital.
She is Aqua Mist with the Silvercrest Landau option (stainless steel roof and black textured-paint rear canopy). Therefore, she's been dubbed the Aquitania, after the Cunard ocean liner of the early decades of the 20th Century. She's about as long as her namesake, too! She is pretty well equipped for the time: power windows, power locks, power swivel seat, Auto-Pilot, Mirror-Matic, automatic headlamp dimmer. Butte doesn't get particularly hot, so she doesn't have air conditioning.
Around the time the former owner inherited her, she was repainted in a close approximation of her original color. It's only a so-so paint job, and since the lower fenders are starting to show some rust that is gradually getting worse in the East Coast humidity, I'll have her completely repainted in a year or so. The tweed inserts in the front seats wore out long ago, and were replaced with Naugahyde. I have NOS material with turquoise metallic thread for when I re-do the interior.
Mechanically, she runs pretty well. I've had to replace the u-joint and yoke, the fuel pump, rebuild the generator and the transmission. The power windows failed one after the other, so all of the motors have been repaired or replaced so I can go hardtopping in style. The radio has quit working, but there's nothing appropriate on the AM band anyway, so I'm in no big hurry to pull it out. Some of the gauges are temperamental and some dash lights don't work. The Auto-Pilot and Mirror-Matic don't work. As with all old cars, they just take time and a liner- (not a boat-) load of money.
I've shown her in several car shows. In a mixed-make show in Virginia Beach she won Best Chrysler and "Flashiest Car". Most of the other shows have been local in the Washington, DC area, but I did take her to one on Cape Cod. It was most fun driving her through Manhattan on the return trip, down 5th Avenue past Frank Lloyd Wright's 1959 Guggenheim Museum, and the Plaza Hotel, and through Times Square. On a portable cd player in the back seat I was playing Bobby Darin's "Fly Me to the Moon" ("…let me sing among the stars. Let me see what spring is like on Jupiter and Mars") and Dinah Washington's "Destinatin Moon ("Come and take a trip in my rocket ship, we'll have a lovely afternoon. Kiss the world goodbye and away we'll fly – destination moon.") The tunes seemed most appropriate in my Sputnik-era car with rocket-like taillights, that evoked the line in the 1957 Elvis Presley/Lizabeth Scott picture "Loving You": "The flying saucers have landed at last!"
She's been in two movies that were filmed in Washington: "Thirteen Days" with Kevin Costner, about the Cuban Missile Crisis; and "Path to War", an up-coming HBO movie about America's entry into the Vietnam War. Her one "big" scene where I got to drive her in "Thirteen Days" ended up on the cutting room floor. In the other scenes in that movie, and in "Path to War", she is just out of camera range and hence had no screen time. She has led quite the glamourous life since I rescued her out of Butte!
***********************************************
- UPDATE 2016 -
These 6 photos were taken in 2012 after it got out of the restoration shop.
The one with the '59 and the '66 Imperials: I used to own the '66, but sold it when the '59 was finished. There are some pictures of the '66 on the Imperial Club's 1966 page.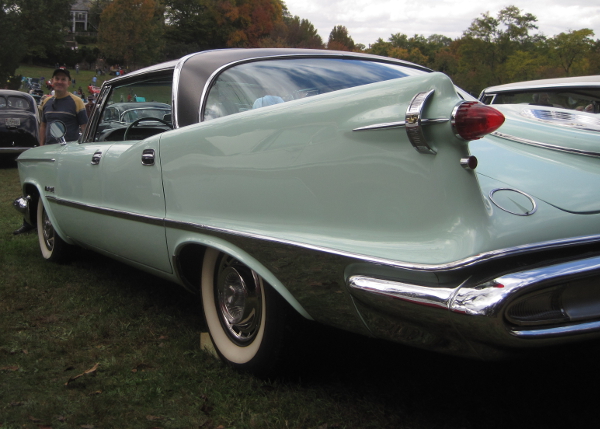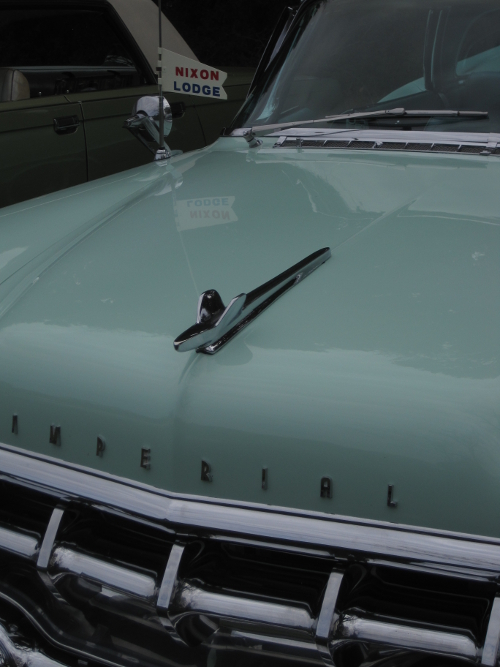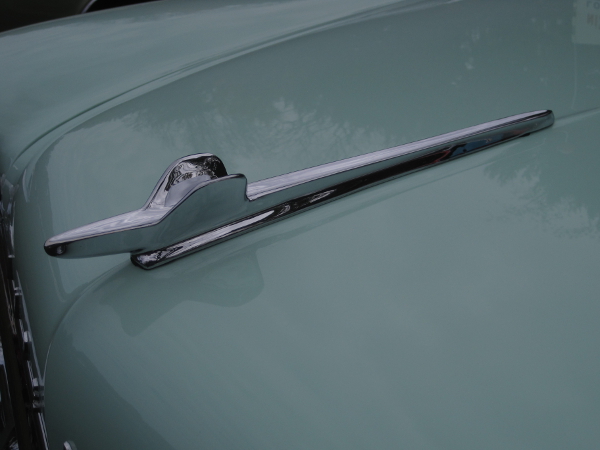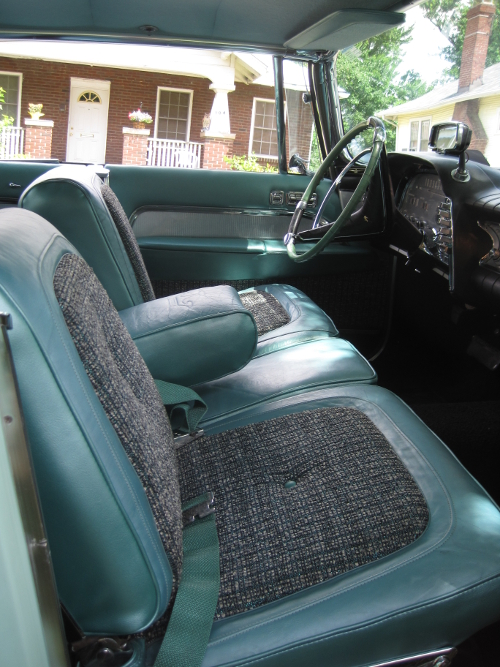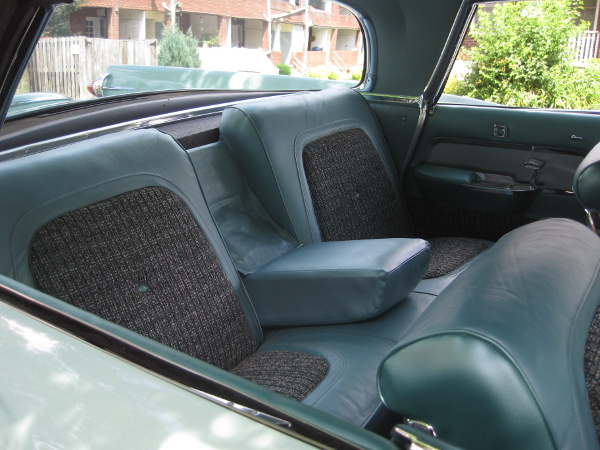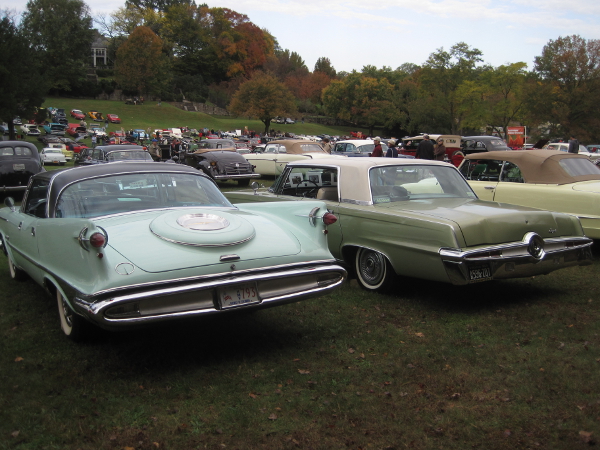 The following three photos were taken in June 2013.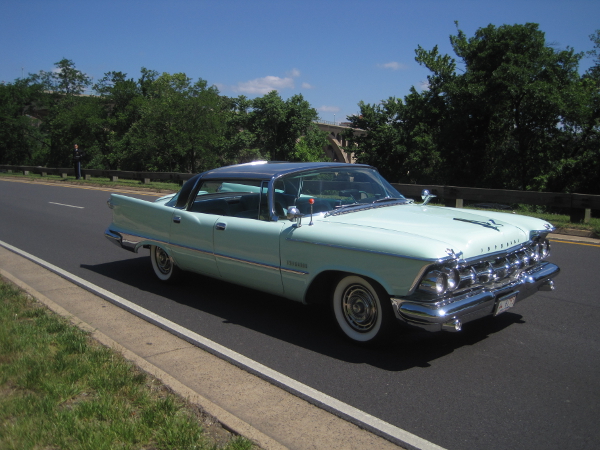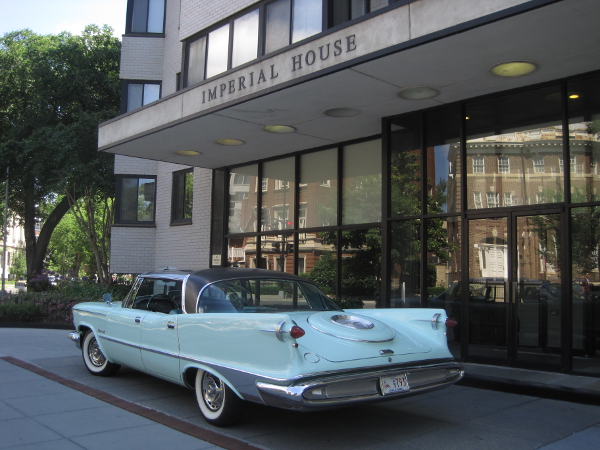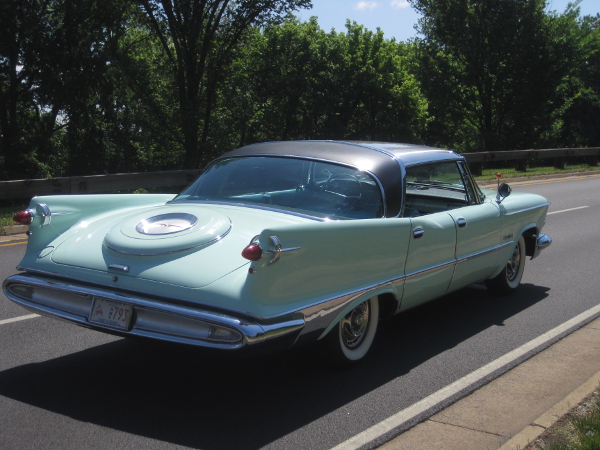 Neal Herman