Bart Stringham's 1959 Imperial Crown Four Door
---
Imperial Home Page -> Imperials By Year -> 1959 -> Bart Stringham
---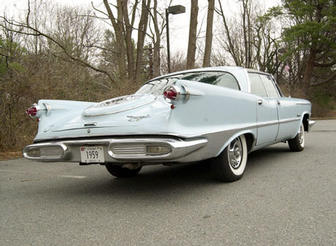 In every Friday edition of the Washington Times Automobile Section (called Auto Weekend), they feature a either a classic or antique car and the car's nutty owner. January 21, 2005 was Bart Stringham's turn to be that nut...
Although not a subscriber, Bart is an active Imperial enthusist and is an honorary member of the Imperial Club. We think there's more to his story. We hope Bart will write in soon with more photos and information about this beauty!
Having trouble with printouts coming out way too small, or pieces of a document printing acro ss sev eral page s?
Then go to our "How To Print Imperial Literature" page to learn how to print an item at the size you'd like.
---
This page was last updated 21 January, 2005. Send us your feedback, and come join the Imperial Mailing List - Online Car Club
---