The 1960 Selling Season opened with the Chicago Auto Show. Even though it was one of Chicago's coldest winters, over 512,000 people crowded into International Ampitheatre from 16th through the 24th of January of 1960. 38 area Chrysler dealers took part and the beautiful Imperial took center stage along with the Chrysler 300-F.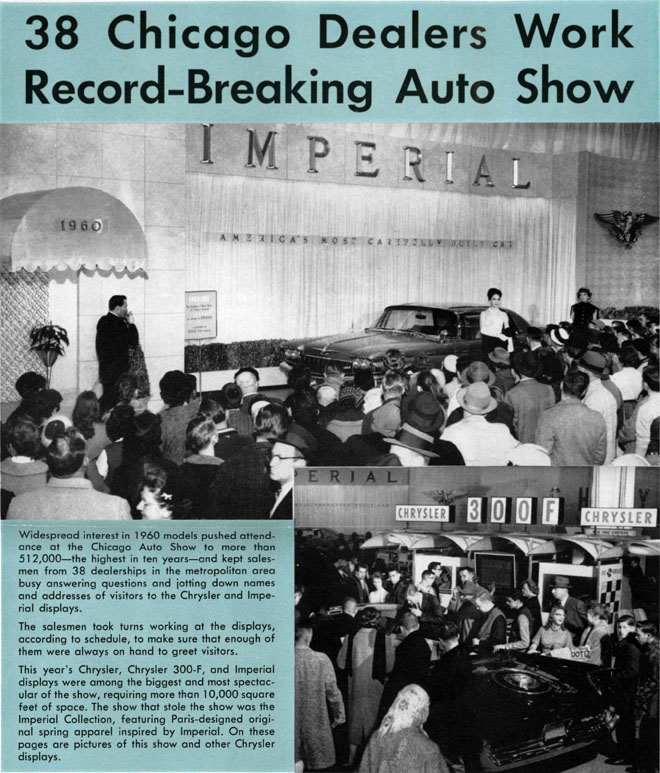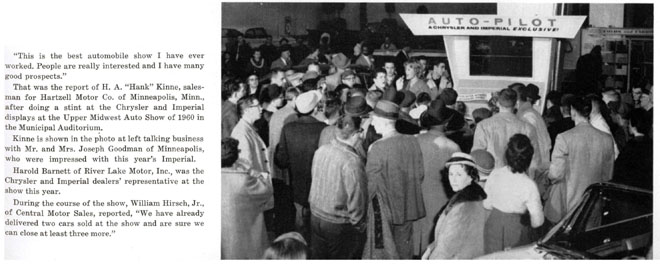 Chrysler teamed up with Vogue magazine to emphasize the style and elegance of the 1960 Imperial by featuring the latest fashions. Called the "Imperial Collection", 275,000 luxury car owners received personal letters inviting them to see the new Imperial. The letter was accompanied by an eight-page spread from Vogue showing the fashion collection designed exclusively by Francois Crahay of the House of Nina Ricci of Paris. Indeed, many magazine advertisements feature these fine garments.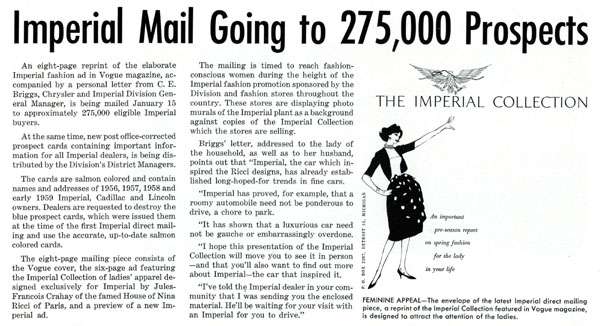 Sure to draw both men and women alike, Chrysler combined car and fashion shows featuring The Imperial Collection. One such show was held in Jacksonville, Florida. On stage were both beautiful women and the beautiful Imperial for 1960.

Imperials and the Imperial Collection
on the Runway in Florida.

Full House - The George Washington Hotel Auditorium was filled to capacity when the Imperial fashion show went on the air.

Guests get a close look at the new Imperial at the Fashion Show in Florida.

Miss Imperial at the Chicago Auto Show.

Mrs. Laurel Akers of Vogue magazine introduces the 1960 Imperial Collection.

Wearing a dress from The Imperial Collection, a model emerges from a white Imperial LeBaron.

A Detroit-area Saks Fifth Ave. store features The Imperial Collection

Imperial Collection & Auto Show in Pittsburgh was presented in the Alcoa Building.