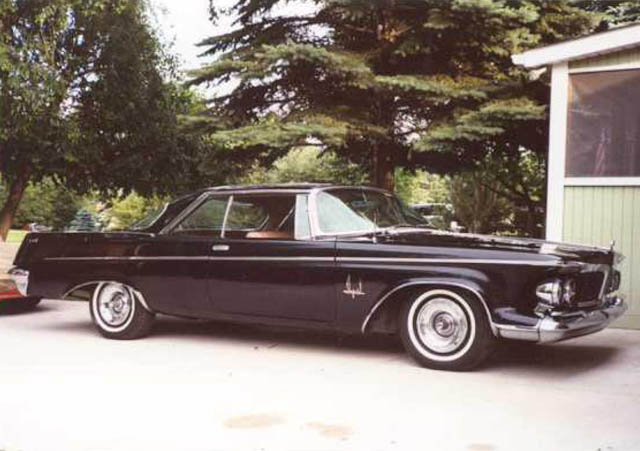 Here are some pictures of my 62 Crown Coupe. I have always been a Chrysler man, as my Father was a lawyer for the company for my entire childhood.He was assigned company cars so we always had great cars at home. I have a special spot in my heart for the 62 Imperial, and after many years I now own the car pictured here.
I purchased this car from a fellow OIC member, Sam Haberman, who has the"Banana Boat" featured on the 58 pages. I have owned the car for two years, and I have been in the process of returning it to the road. It has much new mechanical work done to make it a nice driver, and the car was painted in June of 2003. It now is a nice summer driver, and I look forward to the continued work to make it even better. The interior is my next project. It is an original tan leather that is showing it's age, so that is the next step. Most of the work on this car has been done by my friend Dan, who is the auto shop teacher at the high school that I teach instrumental music! He has a 61 Convertible that will grace the 61 pages as soon as it is ready.
I am always looking for parts to make this car even better, so please contact me.
Thanks.
Gary R. Ashton
62imperialcoupe@sbcglobal.net