Juho Uuraslahti's 1962 Imperial Crown 4-Door Hardtop
---
Imperial Home Page -> Imperials by Year -> 1962 -> Juho Uuraslahti
---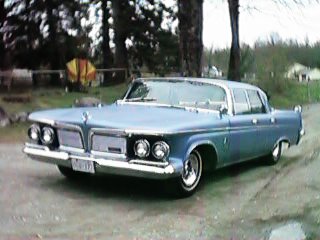 Juho Uuraslahti's 62 Imperial, visiting from Vancouver) in Paul MacDonald's driveway in Langley BC.
---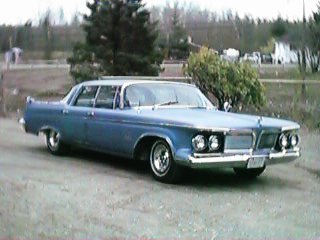 From: Juho juuras@mdi.ca
When I acquired the 62 parts car I got a lot of parts with it, some of which i may not need, as I got extra radios, dashboard instrument cluster panels, master brake cylinders, and also I have some brake cylinders for a 63 imperial. Some of this I may need as my dash doesn't light up nor does my radio work, but hopefully the problems are simple elecrical ones so I won't have to replace them. Once I get everything organized I will post what I have, and I will be more interested in trades rather than cash.
---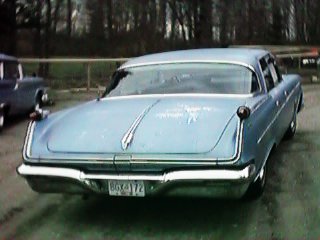 Sent: 4/17/97
From: juuras@mdi.ca (Ju62)
About a week and a half ago i inquired about a paint job quote, andreceived some helpful advice, thank you
But as i pondered the big money decisions and whether this guy could be trusted, I decided to see if I could get some of that crummy blue off and see what the white was like underneath.
With 400 grit I started sanding the blue off, it is coming off slowly and i don't seem to be damaging the original white underneath. I've spent close to 3 hours and have finished only half the trunk. I am going slowly by hand as i don't trust myself with a electric sander. It appears the white underneath will only need touch ups here and there.
Have other people successfully removed the paint that covered their original colour?
. The white really does look good, I believe the blue must be very old, so the white may not have had the chance to significantly fade. I may get some friends involved and have a imperial sanding party (I'll have to supply the beer, for their efforts of course) to speed things up a bit.
Well if what i'm doing is crazy, please let me know
---
This page was last updated August 29, 2001. Send us your feedback, and come join the Imperial Mailing List - Online Car Club
---