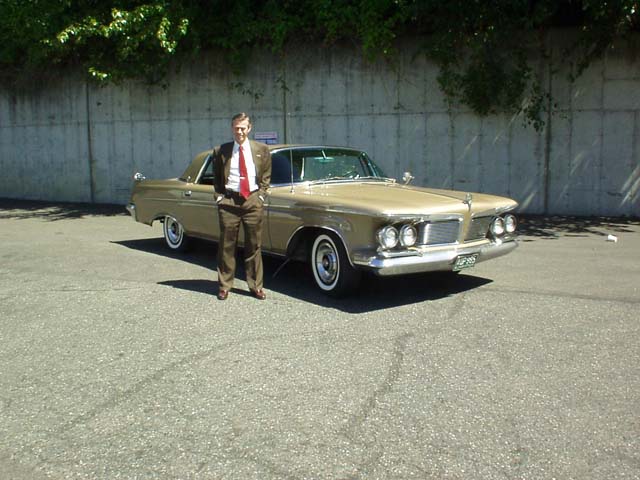 I Had a Dream
In February1962, when I was 10 years old, my mother and father came home from looking at new cars with a large sales brochure for the New 1962 Imperial, America's Most Carefully Built Car. In the brochure was a beautiful picture of a Black LeBaron Southampton Hardtop. I spent the next several years dreaming of someday owning that car.
The first time I saw "my" 1962 Imperial LeBaron was during the summer of 1968. We had just moved to Seattle from Southern California. Our family went out driving (in our Alaskan White 1960 Imperial) every weekend so that we could explore our new community. One Saturday afternoon we were headed north on I-5 close to downtown. I spotted a 1962 Imperial on the freeway up ahead. It was a black LeBaron. I had not seen many of them in my life, so I was anxious to get a better look. We were able to get close enough that I could tell that it had '65 Imperial wheel covers and that the steering wheel was wrapped with a black cover. I was also able to make a mental note of the Washington license plate number, AXL 127.
In the spring of 1971, during my first year as an undergraduate student at the University of Washington I began to think seriously about finding a car. In between classes I would often go for long walks around the University District, noticing used cars for sale along the way. It was on one of those walks that I next saw "my" '62 LeBaron. It was at a used car lot called Daisy Wagon Motors. At first I did not realize that I had seen the car before. I spotted the Black Imperial from across the street and decided to go for a closer look. The sign in the window said $800.00 NOTHING DOWN CLEAN! As I inspected the car I remembered one like it on the road a few years before. I suddenly realized that this was the same car. It still looked good, in fact it looked better since it had been polished, and the white wall tires were clean. The full leather interior was black, and the steering wheel was still wrapped with the cover. The plate number confirmed that this was "my" Black LeBaron. Alas, it was not yet time for me to own the car. My price range was right around $300.00 and this car was over double that price. The dealer would not even consider lowering the price, so I didn't test drive the car. Shortly after that the car was apparently sold.
Eventually I bought my 1956 Imperial Southampton 4 door, but I always remembered that beautiful Black 1962 LeBaron.
In 1979 a good friend named Eric Rood, a fellow Imperialist, came to spend a few months with me in Seattle. Eric was not working, so during the day while I was at work, he would spend the day exploring Seattle in his 1970 Chrysler 300 Coupe'. One night after work Eric told me that he had spotted a '62 LeBaron at the foot of Queen Anne Hill, an exclusive area of Seattle. He said that the car looked bad, but that it had a beautiful black leather interior. He was anxious for me to see the car, so that evening we went out to see it. The car was as Eric had described. It looked like it had been sitting under a tree for about 10 years. The paint was so bad, it was hard to tell what color it was, but through the dirty windows and under the bright lights from the service station next to the car, the beautiful black leather upholstery was visible. Eric and I looked the car over, and we could tell that in spite of its dreadful appearance, it was complete and very straight. I also realized that it was "my" LeBaron. The plate number was AXL 127. It had the '65 Imperial wheel covers. The steering wheel was wrapped in that distinctive cover. I had to find out more!
The next day Eric and I went over to see the car in the day light. It still looked really bad, but this time the service station was open, so I asked the attendant if he knew who owned the car. He gladly stated that it was his, and that it was for sale. He offered us the keys, and said that we could check it out all we wanted. He said that he would leave us a good battery to put in the car so that we could run the engine. He told us that the radiator had blown, so it would not hold water. The man said that he had owned the car for about a year. It had been in the back yard of an old rental house in Ballard, when the house was to be torn down. The owner of the property had the title to the car, since it had belonged to a past tenant of the house. Our man had bought the car when it was being towed to Nix 99 Auto Wrecking in Ballard. YIKES!
Later that evening Eric and I went over to run the car. We were able to get it started, but it wasn't running on all 8 cylinders. The power steering was also making a loud groaning sound. I found that some of the spark plug wires were disconnected, and the power steering pump was empty. I connected the ignition wires, and filled the power steering. This time the car ran smooth and the engine was quiet. We shut it down again so that we could try to fill the radiator. The top tank was badly split, but otherwise it seemed to hold water. I got it going again and took it around the block. Amazingly it ran okay. There was a large radio speaker box on the floor in the rear compartment connected to the radio. It was obvious that the car had fallen on bad times and was ready for some TLC.
I was able to purchase the car from the service station attendant for $100.00 on September 23, 1979. That night I stayed up all night cleaning the car. The interior cleaned up very nicely. Eric came by the next day and was pleased to see that the dingy LeBaron had finally gotten a good home. Cleaning the paint was not enough. It apparently had been coated with some kind of clear painted-on finish over the repainted black enamel. This finish had yellowed, cracked, and had begun to peel. It gave the appearance of looking as if the car had been burned in a fire.
Over the next few months I touched it up with spray paint, but it never looked very goods, so in May 1980 I had it painted at Spray King for $199. The car began its new life as my Bright Platinum Metallic LeBaron. I was able to send a request in to our state to trace its ownership. I found out that it had originally belonged to a man named Ivor Bjerkland until 1969. Over the next ten years it went through a series of 7 or 8 owners. I was able to contact some of them over the phone, but none of them particularly remembered the car. Ivor Bjerkland was also listed in the phone directory so I decided to give him a call. I was able to speak with his wife. She said that the Doctor was elderly and not in good health. I explained to her that I had his old car. She remembered it and said that shortly after she married him they traded the car in on a new Black 1969 Ford LTD. She said that she knew the Doctor had enjoyed that Imperial, and that she would try to get him on the phone. I was able to speak with him for a few minutes as he was very ill. He did say that he always loved that Imperial. He told me that he had been an Orthopedic Surgeon. He also said that his son would remember the car since he was a college student when the car was nearly new. His son's name was Ivor Bjerkland Jr. I looked him up and gave him a call. He also remembered the car and talked about using it when he was home from school during the holidays.
Since then I have kept the LeBaron under cover. When I bought the car it had 112,724 miles on it. During the years since I had seen it for sale it had only been driven 225 miles. How could a car have so many owners and not been driven? This is one of the mysteries that will always surround my car. I have put over 20,000 miles on it and I plan on driving it many more. Although I had stopped driving my Imperials in the late 1980's, I have recently been getting them going again. The LeBaron was one of the first that I wanted to get to work on earlier this year. We rebuilt the brakes, serviced the car, tuned up the engine, replaced the fuel pump, and I am currently having the front end rebuilt. Most of the accessories still work very well. The Auto Pilot still lives up to its original claim of maintaining a set speed up hill and down, and through crosswinds under all conditions.
This July I had it painted for the third time. When I saw it, the body man could tell I was in shock. My LeBaron looked like it had been dressed in a new cheap suit of clothes. Gypsy Gold was not a good color for my car. The manager of the shop told me to bring him a color that I liked and he would paint it again for half price. I went to the local paint shop and found the color that I had been expecting to see on my car. It was actually called Light Fawn Metallic and was popular on the 1980's Lincoln Town Car. The car was hand sanded and primed again. The next day I returned to find that my LeBaron had regained its dignity. The new color was exactly what I was looking for.
My 1962 LeBaron has now been painted a total of 6 times. It has been three different colors, Black, Silver, and now Light Fawn Metallic. One thing I know is that it has plenty of paint on it. When I am dead and gone, the next owner of my LeBaron can strip it down to bear metal, and turn it into a show car. During my tenure as "keeper of the car", though, it will always be a driver. The car is shiny and smooth. It looks very good up close, and looks even better ten feet away. It has a beautiful original black leather interior. It has never been apart, and it has been repaired whenever needed. Nearly everything works and it runs very well. My dream of owning a 1962 Imperial LeBaron Southampton Hardtop came true on September 23, 1979, and still goes on to this day.
Paul J. Wentink
RandalPark@aol.com