A Beautiful Black 1963 Crown 4-dr Hardtop
---
Imperial Home Page -> Imperials by Year -> 1963 -> Gray
---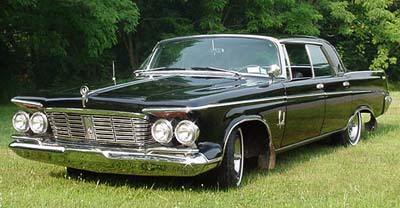 1963 Imperial Crown
Build date: 10/11/62, VIN 9333168728.
This car has AC, headlight dimmer, AutoPilot, power seat, power windows, power vents, power door locks, power trunk release, rear radio speaker, rear defogger. The seats and door panels have been replaced with a '63 LeBaron interior.
In 1989 I purchased the car from Ralph Reichart in Rochester, NY. Ralph bought the car in 1977 from Arizona. He had the car repainted in 1981 and also replaced the engine with a 1966 Imperial 440. In April of 1989 the odometer read 78,729. As of July, 2002, the odometer reads 83,269.
Here is a list of the work done to the car since I've owned it:
1990: Corrected loose wiring in Autopilot, located and corrected corrosion in charging circuit wiring at bulkhead (ammeter had been unsteady). Corrected various vacuum leaks in a/c hoses and parking brake pull off. Replaced starter motor and battery cables. Alternator rebuilt. Carb rebuilt.
1993: replaced master cylinder.
1996: Replaced passenger side motor mount and installed missing heat shield. Checked front brakes and repacked wheel bearings.
1997: Did not renew license plates. Stored with oil and fuel and water stabilizers, moth balls for trunk and interior.
1999: Changed brake fluid in the master cylinder and replaced with low moisture absorbing Castrol DOT4.
6-29-02: Removed from long-term storage. Replaced fuel with fresh and after check of other fluids, car started right up.
7-4-02: flushed radiator, changed thermostat, replaced with 180 with bypass holes. Installed 8 new RJ12YC plugs gapped to .035".
7-06-02: Removed front wheels for brake inspection. Both sides brake shoes are full and fine and no leaks from cylinders. Sprayed with brake clean and reassembled. Repacked both sides outer wheel bearings.
7-7-02: took out for photos. Ran nice and cool even with long idling. Drove up and down the driveway, ran fine.
7-13-02: removed rear hubs and inspected brakes. Shoes and cylinders were in fine shape, lots of lining and no cracks. Cleaned with Brake Clean and reassembled. Noted that driver's side didn't have brake backing plate plugs so added two new rubber ones from stock. Flushed brake system with pressure bleeder and new Dot 4 fluid. Changed oil and filter.
In 1993 I drove the car to the Chrysler 300 meet in Chardon, Ohio; a 600 mile round trip without problem. In 1995 I drove it to the North East Imperial Owner's picnic in Connecticut without problem; another trip of 600 miles. The car runs very well on the highway and is fine around town once you get accustomed to the size.
The car looks great from 10 feet away but shows a paint chip here and there if you get close. The trunk floors and interior floors are rust free and solid. The AC last worked in 1992. I expect there is a leak. I haven't repaired it. The front seat covers shows wear on the driver's side. Since the covers fit well, I have not looked under them to see the condition of the cloth seats themselves.
---
This page was last updated 18 January, 2004. Send us your feedback, and come join the Imperial Mailing List - Online Car Club
---