1965 Imperial Blueprint
---
Imperial Home Page -> Imperials by Year -> 1965 -> Blueprint
---
from: Mike Gray

Eight years ago, I purchased a 1963 LeBaron from a dealership that had gone out of business. The LeBaron had sat on the lot for 20 years at that time, as it was traded in on a '73 model, and the dealership closed shop shortly thereafter. I got the car, and in my investigation of the glovebox contents found the owners manual (which was in perfect shape I might add) and this blueprint, along with all the repair invoices for the car. I also found a new set of sparkplugs with the correct pentastar logo on them. I just wish the car was in good shape. I still have it, but am going to customize it instead of restoring it, as restoration of this car is cost prohibitive. Anyway I love the changes to the site and hope that the club is continuing to grow.
Click on the blueprint below to see a larger, readable version.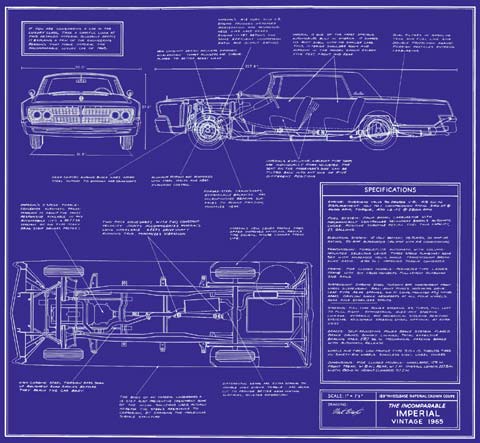 Or click here for a very large, printable version.

Having trouble with printouts coming out way too small, or pieces of a document printing acro ss sev eral page s?

Then go to our "How To Print Imperial Literature" page to learn how to print an item at the size you'd like.
---
This page was last updated October 19, 2003. Send us your feedback, and come join the Imperial Mailing List - Online Car Club
---