Chryslers old Jefferson Avenue Plant and A 1965 Crown
Imperial Home Page - Imperials, Arranged by Year - 1965 Imperial Home Page - Jefferson Avenue Plant
---
From: mopar48291@att.net
Subject: IML-Webmonsters: Jefferson Assembly plant pics
Date: Tue, 11 Feb 2003 20:15:09 +0000
I dug thru my slides and found some pics I took of the old Jefferson Assembly plant in 1990, before it was torn down. Thought these would be fun to
see, especially as an Imperial is in the pics. Cheers,
Roger
More info about the plant and the other cars produced there from another IML member...
From: "C F" <mopowered@usa.com
To: mailing-list@imperialclub.com
Date: Mon, 17 Feb 2003 18:51:52 -0500
Subject: Re: IML: Jefferson Assembly Plant
A little post-Imperial history of the original Chrysler plant, AKA: Jefferson Avenue Assembly Plant.
'75- Last Imperial
'76-'78 New Yorker Brougham & Newports
'79-'80 A short run of Dodge Ramchargers and Plymouth Trailduster SUVs. So I hear from those who were there at the time, this wasn't exactly a brilliant move; as the plant had built unibody cars exclusively for many years and of course, the Ramcharger & Trailduster were body-on-frame trucks.
A lot of work went into converting the plant for a short run. (see also, 1990)
'81 Dodge Aries & Plymouth Reliant. In effect, the plant that "started" Chrysler saves it.
'82 Chrysler LeBaron & Dodge 400 join the mix.
'83-'89 Chrysler New Yorker, E-class & Dodge 600 (extened wheelbase K-cars) are added to the mix, thus the plant again builds NYer's (technically).
'90 Dodge Omni & Plymouth Horizon are built here for a short six-month run. Much like the RWD M-body, this is a platform that just refuses to die!
(1978-1990) Ironically, the 1990 cars got a re-designed dashboard, driver's airbag & rear shoulderbelts. Packaged with the 2.5l ultra-reliable EFI engine, these cars are a hell of a bargain, but sales finally fall off and they get cancelled. Don't dismiss the Onmi unless you've owned one. (BTW my neighbor has a super clean 44K, 1990 for sale soon)
The actual plant that produced our Imperials and NYBs was demolished in the late 1980s (or early 1990s) to make way for the new Jefferson North, which has produced Jeep Grand Cherokees since 1992.
Construction began on Jefferson North Assembly Plant (JNAP in Chrysler-speak) in late 1990, while the old Jefferson plant was demolished. The first Grand Cherokees rolled out in '92.
But wait, there's more....
My sources tell me that much of the original tooling (conveyer chain/motors, fixtures, etc.) from the old Jefferson plant was shipped to a Chrysler plant in
Mexico, the same plant that now builds the PT Cruiser.
Carmine F.
And still more info from Carmine...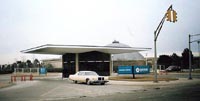 Hi,
This is a photo of my '77 New Yorker in front of Chrysler HQ in Highland Park, taken in about 1995.
Although Chrysler's engineering had moved out to Auburn Hills years earlier, under the proper stewardship of Lee Iacocca, the actual headquarters remained in Highland Park until the new headquarters building was completed. (The building with the giant pentastar skylight.)
Knowing that the entire complex would soon be gone, I made it a point to take his picture, and visit the "employees only" Museum housed in the former styling dome (more about this in the next e-mail).
Chrysler began its historical collection in 1971, and even through the bad times, had always found some way to fund it.
Once engineering, along with styling, made to move to Auburn Hills in 1992, the "old" styling dome was given to the historical department to display cars for the first time. It was for employees and their guests only at this time, most likely because it was on company property and there was always the chance you might get a look at next-year's "something".
You also weren't supposed to take pictures inside, however as the older retiree giving the tour said to me; "If I walk out of the room for a few minutes and you take pictures, I guess no one will know, right?"
Thus you see a few that I took on that day. A 1931 Imperial, a large shot that mostly shows the inside of the dome, a surviving turbine car, and "the" original 1989 concept Viper with my wife standing next to it. Note that the photo quality is rather poor due to the strange, outdoor-like indirect lighting used inside the dome.

This final picture many be of interest to Imperial-folk also. It is the old Briggs factory located at Mack & St. Jean on the east side of Detroit. The Photo was taken in 1994, just before the plant was torn down. However, if you notice in the right corner of the picture, you'll see some modern Chrysler signage. That's because Chrysler built a million-square-foot addition to the plant in 1974 (This plant was also known as Mack Stamping.) The older parts of the plant fell out of use in the 70s, until the old section was eventually walled off.
In the early 90s, Chrysler was looking for someplace to build a new "niche" car, with a team concept. This car was the Viper, and I was part of that original team, choosen for my enthusiasm for all things automotive (especially Mopars). The "new" mack ave. plant was spiffed up, (we actually called it New Mack) and used for this purpose. The new section is to the right, outside of the picture. Viper production moved out in 1996, and into a much smaller factory. The old building was actually "ground-up" into cement dust, and used to build a modern factory, known today as Mack Engine I (home of the 4.7L V8).
As you know Briggs was a body-builder for many different manufacturers, but by the 50s, mostly Imperial, Chrysler, Dodge, DeSoto, Plymouth and Packard. In fact, my grandfather who retired from Chrysler in 1981 after 34 years began working for Briggs at this factory after returning from WWII. During WWII, my grandmother worked in this plant, riveting airplane wings. My grandfather is in this picture,
When Chrysler purchased Briggs, they also received the rights to the LeBaron name, and the rest is history.
---