Joe Holsom's 1965 Imperial Crown Convertible
---
Imperial Home Page - Imperials by Year - 1965 - Joe Holsom
---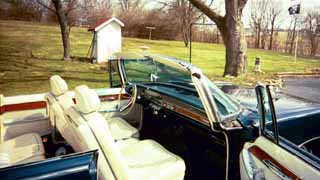 From: Joe Holsom
I would like to thank the club for opportunity to own this fine automobile. I had been looking for a 64 - 66 convertible since selling my 55 Newport. I drove to New Jersey from my home in Trenton Ohio to look at a black 66 that turned out to be in need of to much repair, so we came home empty handed.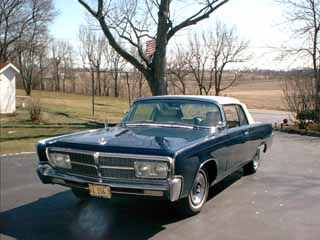 I tried to purchase Javier's fine example but we couldn't get together on the price. About that time I found a really nice Coupe on Ebay that I thought would fill the bill. Flew to Virginia in January and drove it home.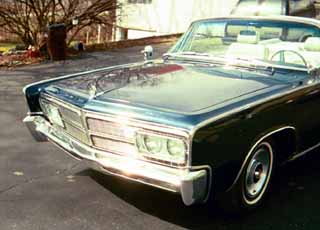 It is a nice ride and I do enjoy it but it still wasn't a convertible. Quite a few members gave me a helping hand by pointing out cars that they knew of that were for sale, and I checked them all out. Still nothing that really grabbed me.
Then in February while scaning the for sale section of the club site, lo and behold there she was. I got in touch with the owner and recieved a few pictures from him via snail mail. I was hooked,
I got on the phone to the owner and was told a little about the car. It seems that his father purchased it from the original owner in Indiana in 1983, and gave it to his son in 1991. They continued to work on it and take it for short spins (they only put 12000 miles on it since 1983).
Needless to say I was sold and off we went to Pontiac Illinois to retrieve my Blue Heaven. It is going to need some upholstrey work and a new paint job some where down the road but for right now it is great just to be able to go cruise with the top down and watch the heads turn when we go by.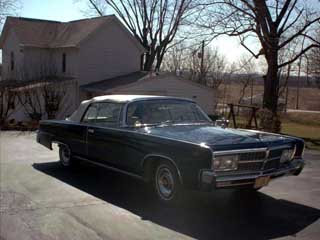 Joe 64 Coupe & 65 vert.
---
This page was last updated October 1, 2003. Send us your feedback, and come join the Imperial Mailing List - Online Car Club
---