Michael Ulander's 1965 Imperial LeBaron
---
Imperial Home Page -> Imperials by Year -> 1965 -> Michael Ulander
---

This is my second LeBaron. My first was a gold 1969 coupe with 40,000 miles on the clock.
I bought the 1965 sight unseen this past summer from a fellow in Southern California. Everything sounded good and the pictures looked great, so
I flew down to get her and drive home. Although appearing dirtier and more neglected that I expected when I saw her in person, I decided to continue.
This Imperial is a bit of an anomaly. Originally painted Patrician Gold with a black fabric w/ white leather trimmed interior, the car was purchased on January 6, 1965 from Stockton Motors in Stockton, California (I have the original owner's manual and Vehicle ID info, along with early maintenance records up to August 1967). The guy I bought it from acquired the car in late stages of neglect and spent some 8 years and (according to the calculations we did together) somewhere in the neighborhood of $13,000 bringing her back from certain death. The upholstery was evidently not salvageable, so he pulled an extremely nice black leather interior from a wrecked 1966 LeBaron (front and rear) and had it installed. While in possession of the '66 donor, he realized he liked all the Claro walnut on the '66 dash and had that installed in my 1965 as well. Other work done was a bare metal repaint in a correct-for-'65 2 stage DuPont Sequoia Green. He also had the 413 rebuilt as well as the Torqueflite, a front suspension rebuild, new brakes, new tires, new A/C compressor, new carpet, new headliner, new power antenna. For some reason he lost interest after it was completed and the car sat (outside, I believe) for several years getting only occasional attention.
Since bringing the LeBaron home, I've put in a lot of elbow time cleaning and polishing. I've replaced the battery and changed the oil, but haven't even had to tune up the engine. With the exception of a missing radio (now replaced), inoperable A/C (haven't investigated yet - it's San Francisco, after all!) and some very minor bits here and there, everything is there and in working order. A day with my DeWalt and a lot of cutting/polishing compound did wonders for the paint, although somewhere down the road a respray will be in order (toying with the idea of returning to the original Patrician Gold at that time). I did spring for a rebuild of the Torqueflite because it was showing signs that the previous work done was not up to snuff.
One of the headlight covers was shattered during a trip out to Lowell Howe's, but that's been replaced.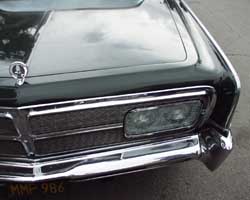 I have a new grill and a NOS rear lower bumper waiting to be installed, although the car certainly looks great with the existing ones. I'm getting ready to use Leatherique on the leather interior. All chrome is intact and in good shape; the car bears the original black California plates. The Imperial is absolutely reliable and roadworthy.
My next step is to add a 1968 Crown Coupe to the fleet. Stay tuned!
---
This page was last updated January 26, 2003. Send us your feedback, and come join the Imperial Mailing List - Online Car Club
---