Phil Spark's and Jim Tuggle's 1965 Crown 4dr HT
---
Imperial Home Page -> Imperials by Year -> 1965 -> Phil Sparks
---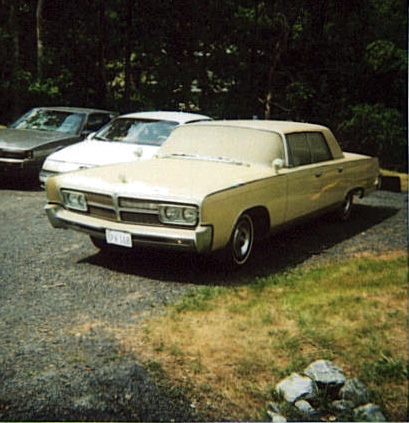 My best friend and I came across this "Land Yacht" yesterday. It had been in an old building since 1991. The engine turns over but not much compression. My nephew who is a "Mopar Buff" says it will probably start up after he fools with it a little bit. Mystery oil and all his tricks will likely prevail. It's a 65 Crown one owner.
Repainted from a bronze or copper color metalic type scheme. It would be easy to return it to original paint scheme. Left front brake drum and shoe seem to be frozen but will probably break free with a little persuasion. Carpet is original and in great shape seats are a little worn on the drivers side.
A little cosmetic detail and attention and I'm pretty sure we'll have a great big old yellow Imperial. My nephew who has about 90 old collectables (several dozen are Mopars) thinks it will come around pretty nice. He says it is a very complete car. Time will tell.
Phil Sparks and Jim Tuggle
Martinsville, VA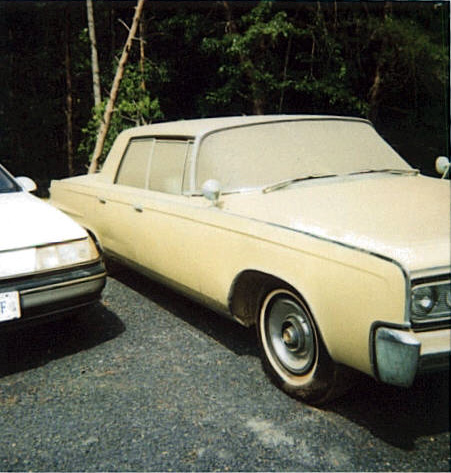 "This 65 Crown Imperial was owned by believe it or not a "little old lady" who stopped driving it in 1991. For a few years her son started it and let it run but eventually he fell into ill health and the car has been sitting in an old barn type structure unmaintained for about seven or eight years. It has 83,000 miles on it and appears to be a repaint. However the original owner's daughter-in-law does not believe she was the one that had it painted. The original dealership that sold the car did not have a sterling reputation and it may have been that she preferred that color and they whipped a paint job on it and sent it out the door claiming it to be a factory job. Since the car has always been garaged the dash is perfect, the driverside seat is a little worn and the leather is cracking in places...but we think it will be fine. This car is as complete as you'll ever find,every hubcap,piece of chrome, uncracked lenscovers, etc.
It has a 413 cubic inch, 4 bbl, 340 Horsepower engine. lots of original stickers and inspection marks in plenty of places. The car was longer and heavier than the rollback that hauled it to this location. The left front brake drum and pad seem to be frozen. The engine turns freely but has not been started as yet. (Too many preps first, to insure she starts with out damaging the engine).
The way we happened upon this "MONSTER" was through my best friends aunt. She is the daughter-in-law mentioned above. When her husband recently passed away she gave him the building for it's timber. We went up to look at the building and she had forgotten about the car even being in there. She told him he could have the car as she had no need for it and scrap prices are down.
Later as we were waiting for Ed's Garage & Towing to meet us to pick it up my friend said "Sparks" I'm cutting you in for half on the Imperial. I told him I didn't know if I wanted to invest in a fixer upper right now or not. I asked him how much he wanted to cut me in. He said look we'll just share the fix up cost 50/50 and you're in, anyway you gave me a car back in 1971 when you were returning to Viet Nam. I told him yeah...a 250,000 plus miles Plymouth Old Trooper car that I paid a hundred bucks for and it wasn't a 1965 Crown Imperial. We agreed we had known each other since diapers and hadn't ever even owned a 1965 Imperial so what the hell. We have also decided a partnership is definitely going to come in handy when we are trying to get past one of those Gas Stations it will probably love.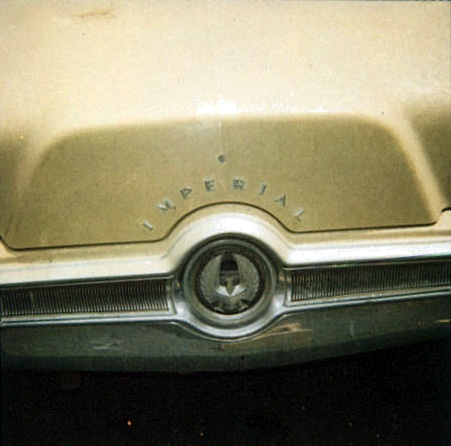 ---
This page was last updated on October 5, 2003. Send us your feedback, and come join the Imperial Mailing List - Online Car Club
---