]Like the limousines, the Duesenberg was built on a stretched convertible chassis. However, the Duesenberg's wheelbase was a foot shorter than the limousines at 137.5 inches. Although the car abounds in vintage Duesenberg styling cues and Ghia custom bodywork, there are still many bits & pieces that are still pure Imperial - most noticeably on the dash . The cashmere and leather interior is as sumptuous as it is restrained and reminds one of the more formal interior work done on the limousines. It is truly impressive and a "must see" if anyone travels to Indiana. (The Auburns, Cords, and Duesenbergs in the museum aren't bad either!)
I am not certain if this car was ever called the Duesenberg II. It was touted as the rebirth of the original Duesenberg company, with two Duesenberg heirs involved with the still-born venture. The present day Duesenberg II company (no relation) is still in business manufacturing replicas of Model J's & SJ's from the 30's.

Front door panel, showing unusual double-decker armrest configuration. The chrome door-pull appears to be the same unit used as an assist handle in the rear seat of the Ghia limos.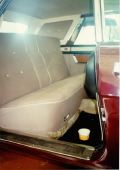 Rear seat of '66 Duesenberg. The upholstery is beautifully tailored cashmere. Note the chrome lights at the bottom edge of the lower cushion that illuminated the footwell. The carpet is sheared mouton, exactly like the limos - right down to the cut pile black carpet protectors, held in place by leather bound snaps. The padded "C" pillar pillows would appear in the '69 LeBaron.
Note: the Big Gulp cup on the floor was not standard equipment! - it actually held a supply of mothballs.

Rear view, showing the cast aluminum exhaust outlets - identical to the outlets used on the original Model J & SJ. Extra long wheelbase allowed for rear doors to be hinged at the back, opening from the center like 60's Lincolns.

Dramatic front view, showing special wire wheels made by Dayton. Huge tires were custom made by Goodyear, featuring two sets of whitewalls: a 1' stripe next to the wheel hub and a second 1' stripe just above the tread. Very clever way to make the 15' wheels look like 17 inchers, but that 2nd outside white stripe would be impossible to keep clean!