Chris Hawkins's 1966 Imperial LeBaron
---
Imperial Home Page -> Imperials by Year -> 1966 -> Chris Hawkins' LeBaron
---
In 2006, Dan Melnik purchased this 1966 Imperial LeBaron from Chris Hawkins. Dan continues to maintain this fine car, adding his own enjoyment of ownership to the many years of dedication given to the car by Chris Hawkins.
---
My 1966 LeBaron
By Chris Hawkins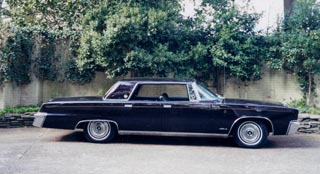 After a long search, my 1966 LeBaron was acquired on October 14, 1993. When I found it (in Youngstown, Ohio) it was an original 26,000 mile car in Dusty Gold Iridescent with a leather interior in Antique Gold and Black. Owned by an elderly lady in Ohio, it had been originally purchased by her husband who garaged it its entire life. No longer able to drive, her son in Baltimore (age 72!) wanted to sell it. It was obviously no longer needed by her. Service records indicated it had been driven only 200 miles since 1986. Miraculously, despite coming from the middle of the rust-belt, the car was completely rust-free. Best of all, the interior was absolutely perfect. Under the hood was like a time capsule. All the original hoses, belts, and mechanical bits were there with their Forward Look logos intact. Although it wasn't really driveable (brakes, ignition, tires were all going bad from non-use) I made an offer based on my assumptions of the car's potential. A week later I got a call in Atlanta saying the car was mine. I had it transported here and began to bring it back to life.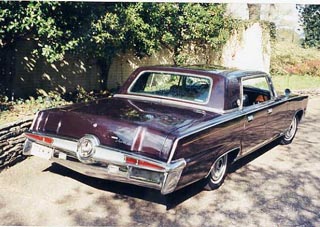 The car ran poorly due to its long storage, but the engine was quiet and the exhaust was clear. (Turned out to be a frozen advance mechanism in the distributor, plus severely corroded original ignition parts.) Soon I had it running like new: smooth, silent and powerful. Typically, the brakes needed much work. (Has anyone ever bought an Imperial that didn't?!!) In addition to replacing every single component in the brake system except the brake drums, I eventually replaced or rebuilt every single item in the car with even a hint of rubber - tires, shocks, all suspension & steering parts, belts, gaskets, fuel pump, carb, weather-stripping, etc. I also replaced all the original ancillary items like the battery, alternator, regulator, water pump & radiator to ensure trouble-free operation. While installing valve cover gaskets & fuel pump I was delighted to discover that there wasn't the first hint of sludge inside the engine. In fact, the engine innards were all clean and shiny and looked as if they had been assembled yesterday.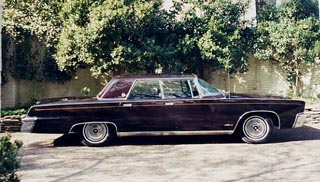 The beautiful condition of the interior would have sold me on this car even if the body had been a wreck. I suspect it would be nearly impossible (or economically unfeasible) to correctly reupholster this particular car (or any other '66 LeBaron). The leather interior on these cars is easily one of the most expensive created on a postwar production American car. Whereas other cars typically used ribbed or tufted upholstery designs where many small pieces could be economically stitched together, thus getting maximum use from every hide, the '66 LeBaron used a simple pattern requiring large panels of uncut leather. Just the upper and lower inserts must have consumed most of the useable portion of a single hide, leaving only the odd scrap for bolsters and armrests. Then these large sheets of leather were embossed with an ornate Imperial Eagle design. Like I said, to properly redo a '66 LeBaron interior would be a restoration challenge of the first order!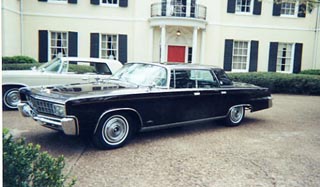 The walnut veneers in my car were in excellent shape, needing only cleaning and waxing. By the way, never use anything but a paste wax on wood veneers in a car. Liquid products of any description can get under breaks in the varnish and discolor and buckle the wood. I use dark MinWax. It also seals the wood from any moisture attack from the inevitable leaks above the vent windows that plague this era Imperial.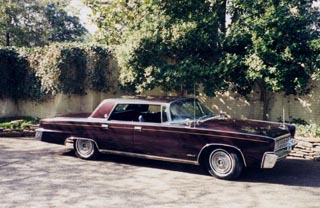 My LeBaron now has about 60,000 miles on it. Over the years I have been putting off the inevitable. The car had always had beautiful chrome and a gorgeous interior, but needed a paint job. So after a minor mishap that left a few hedge scratches down one side, I knew I could wait no longer. I bit the bullet and disassembled the car to ready it for painting. But when it came time to purchase the paint I simply couldn't bring myself to spend all that money on the original color. I just couldn't go through all that effort only to end up with yet another gold car from the '60's. So I took the big leap to do a color change and selected my favorite from 1966 - Deep Plum. I have a 1966 Imperial Color and Upholstery book that had a large swatch of Deep Plum that the paint shop was able to match. Of course, a color change meant a far more extensive and elaborate paint job. Engine compartment, trunk interior, and door jambs all had to be stripped and painted to achieve a factory original look. Plus, the hood and trunk lid had to be painted on both sides. What started out as a quick respray evolved into a nearly full paint and body restoration that would end up taking 6 months to complete. The end result has been worth it. The color is spectacular, ranging from nearly black in the shade to a deep violet or cordovan depending on how the light hits it. It is a completely new look and is almost like having another new Imperial!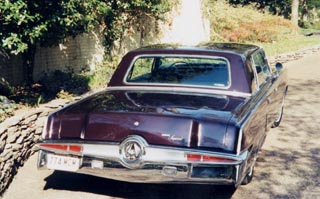 As everyone knows, the pleasure in having one of these cars is the enjoyment one gets from behind the wheel. I used to drive my LeBaron often, almost as a daily driver. But now I only take it out once or twice a week for exercise, sparing it the undignified rigors of modern traffic. And every time I get in it, I am reminded anew how impressive these cars really are.
This picture is a "before" shot of the car taken in 1994 in its original Dusty Gold Iridescent paint.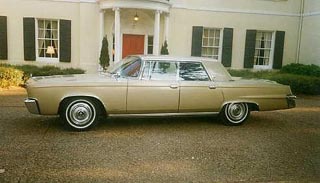 Here is a detail shot of the coach stripe.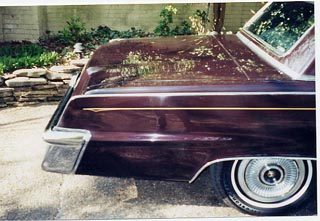 This shot shows the interior, taken just before the car was painted.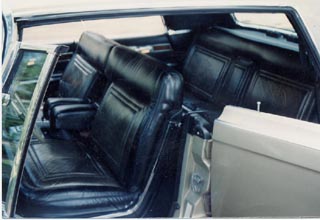 ---
This page was last updated June 17, 2008. Send us your feedback, and come join the Imperial Mailing List - Online Car Club
---