Chris Hawkins's 1966 Imperial LeBaron
---
Imperial Home Page -> Imperials by Year -> 1966 -> Chris Hawkins' Convertible
---
Chris Hawkins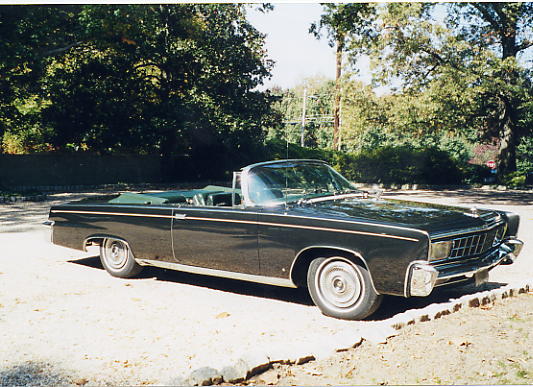 My 1966 Crown Convertible
By Chris Hawkins
On October 14, 1994, a year to the day after my 1966 LeBaron was purchased, this 1966 Convertible was acquired by my best friend, Peter White. The LeBaron was such an impressive car that the first time Peter got behind the wheel he declared his gorgeous 70 Sedan deVille no longer a fit car to drive! Thus began his quest to find a really fine 64-66 Crown Convertible.
This particular Convertible was destined to be in my garage because of a number of odd details of its history. First, the car is the rarest of the rare, a low mileage, original Imperial convertible. So what are the odds of finding one in Princess Anne, Maryland, an isolated hamlet on the Eastern shore? Our trip to Princess Anne was an exercise in deja vu because many years earlier I had purchased one of my first dream cars, a 43,000 mile 1958 Eldorado Brougham, in the same tiny town! Then, upon purchase of the Imperial, Peter recognized one its past owners, Robert Mannino, as someone he knew who had lived around the corner from him in New York City. (He had owned the car many years prior to their acquaintance.) Then, of course, there is the coincidental timing of its purchase date, one year to the day from my LeBaron. Must have been a harmonic convergence of some sort.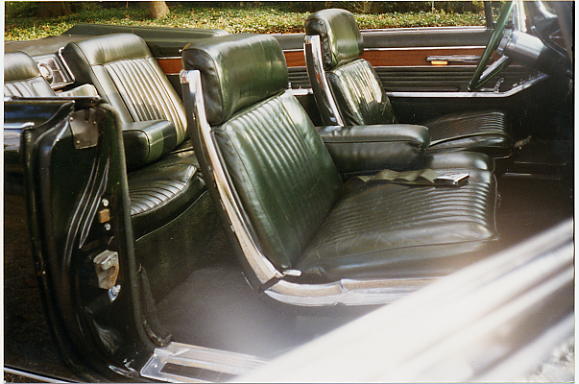 IML member Ed Trenn in D.C was wonderfully helpful with the transportation and lodging logistics necessary for acquiring this car. A very pleasant side benefit of its purchase was the opportunity it created to enjoy his splendid hospitality and become the close friends we are now. Funny how Imperials can bring new and old friends together.
This Crown Convertible was purchased with 56,000 miles on it. The original CertiCare card is still under the hood stating that the first owner was a "Mr. George Hite III, Wipowin Island, Greenwich, Ct." (This car apparently started life with a silver spoon in its mouth.) Dr. Buell, the Princess Anne resident from whom it was purchased, had owned it 10 years, but only drove it sporatically. Its excellent condition inspired enough confidence for us to drive it back to Atlanta via a short stopover at Ed's garage in D.C. - parked near his wonderful 1964 Crown Coupe. The trip home was uneventful, other than stopping to replace a tired flasher to make our turn signals operational. Optioned with only A/C, a Tilt & Telescope wheel and hazard flasher, it nonetheless had everything one could need for elegant motoring. The only equipment added later was a factory power trunk release - a necessity in any car. The color is Sequoia Green with a matching leather interior. Cosmetic restoration requirements were minimal on this car. Garaged all its life, the chrome and paint were all shiny and straight. New carpet replaced the slightly faded and soiled original, along with matching custom floor mats. New cardboard panels & carpet from Gary Goers now line the trunk., replacing the soiled originals. Because the interior had been exposed to the elements much more than the LeBaron, it was necessary to strip and refinish all the wood veneers. Fortunately all the veneers were intact with no sun or water damage, just cracking varnish. The veneers in this particular car also have much more of a burl pattern than the straight grain wood in my LeBaron. The warm color of the wood really looks terrific against the dark green of the interior. (And there is so much more of it than in the LeBaron!) The leather is excellent and the original top was still in very good condition. After five years of additional use it was replaced 2 years ago with a white one in the correct grain. Happily, the fiberglass boot covers came with the car.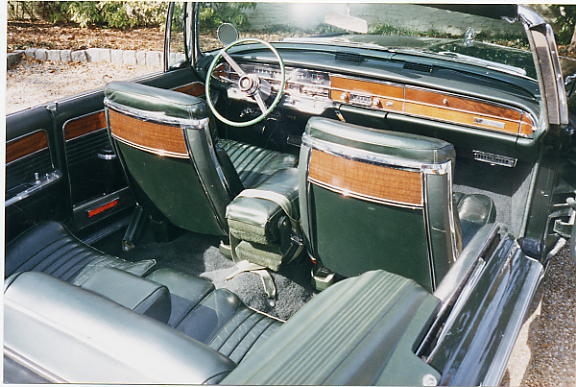 Mechanical restoration has been typical. Engine and trans were super, but after years of storage the brakes (as always!) and exhaust needed complete replacement. The exhaust was a real challenge. Thinking we would help out our muffler man by giving him all the parts the needed, we purchased a complete dual set-up from one of the major suppliers. It was all wrong and much of it had to be tossed or reworked. That's why mechanics charge extra when the customer helps! Aside from an air conditioning freshening, the only other major work needed was front end related. The real trick was to find a replacement idler arm, whose rubber bushing had shrunk. They are "convertible only" items, and the part number is used only in 1964-66. That meant that over 30 years ago only about 2000 cars were built that ever used this part. Therefore it was not something one might find sitting on the shelf at NAPA. A year of hunting turned up an excellent used one. The car now drives and steers like new.
Although it looks showroom fresh, this Imperial is definitely a driver. It has always been driven everywhere - often on long trips. It's what these cars were meant to do! As a result, there is now almost 75,000 miles on it. My friend Peter has had many wonderful cars, including a '61 300-G convert, a 62 T-Bird Sports Roadster, and a '73 Eldorado convert. But of all the cars he's ever owned, this one was designated as a definite keeper. "What could I possibly buy" he said, "that could be more beautiful and more satisfying to own?" Thus he drove this car as his daily driver until his untimely death 2 years ago. Family & friends always regarded the car that Peter loved so dearly as being so much a part of him that it would be inconceivable to ever sell it. After nearly 2 years of stewardship by his brother in Tulsa, I was recently asked if I would like to bring it back to Atlanta, to use and enjoy it as my own, and to preserve this fine Imperial in memory of Peter. I am doing all of the above gladly.
Chris Hawkins
---
This page was last updated May 21, 2002. Send us your feedback, and come join the Imperial Mailing List - Online Car Club
---