---
In 2006, Dan Melnik purchased this 1966 Imperial Crown Convertible from Bill Ulman. Dan continues to maintain this fine car, adding his own enjoyment of ownership to the many years of dedication given to the car by Bill.
---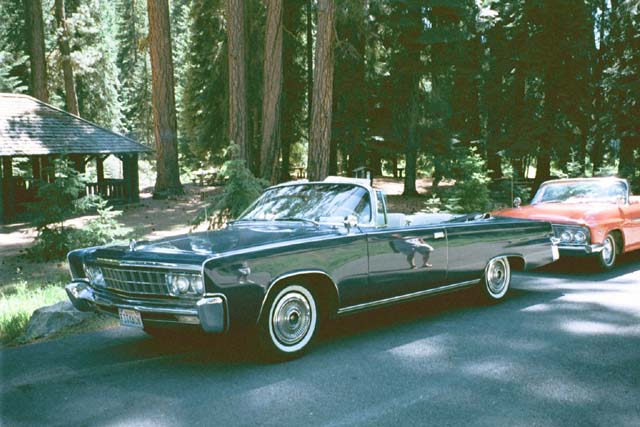 I bought Doris on Labor Day weekend 2000. I traded back to Jeff Carter my too well worn, and badly restored '60 Crown Convertible for Doris. Doris came from San Leandro Chrysler Plymouth, but was actually sold at San Rafael Chrysler Plymouth. At that time I was 5 years old and living in San Rafael. Doris's owner lived in San Francisco, across the Golden Gate Bridge and must have had a rather steep driveway that went under the house, which is very common in "The City". It was so steep and Doris is so long, that she would scrape her "Tush" backing out, or pulling in. Therefore the owner had installed on the rear of the car on the right underneath the bumper, casters. Truly, no lie. Those casters were still on the car when I bought her, but seized, and well worn out. They are gone now. Doris then ended up in Palm Springs from what I was told. Along the lines she had her dash pad replaced with another of the same color, but with the Auto Dimmer on it. Doris was not equipped with this item when new, and it is not hooked up. I doubt the wiring harness is there at all anyway. Sure would be nice, but not a big deal.


I don't know how she got to WA state, except some guy named Bill had several of these cars, and restored them. This is one he ripped the interior out of for no apparent reason, then got into trouble and went to Jeff Carter who probably told him the car was a complete loss, and got it cheap. Jeff put it back together, all systems working correctly, gauges calibrated, Sentry Signal to work properly when gas was down to 1/8 of a tank, window lined up etc…


At some point the engine was swapped out and she now has a later year 440 in her that was rebuilt with a mild cam. She moves out well, and drives superbly. The 727 Torqueflite was rebuilt as well before I got her. I have replaced the entire brake system, installed self adjusters as well, and done many maintenance items over the years including, but not limited to: Heater core, Heater Control Valve, rebuilt the heat/AC fan motor, found a washer bottle for her, although it is cracked on top it will hold water. A NOS washer pump which blew up on first use. NOS ain't all its cracked up to be. Just means the parts have sat around for 40 years drying out and rotting. I have replaced the Tilt-O-Scope steering column after the shift handle base broke inside. These are just Pot Metal and I had to find and buy an entire column to get the one piece. I have found good in spec drums, and only used the two front ones so I still have the two rear ones for when the time comes. I have found and added the right side outer mirror, complete with rubber base/washer, which is a must have, but hard to come by part.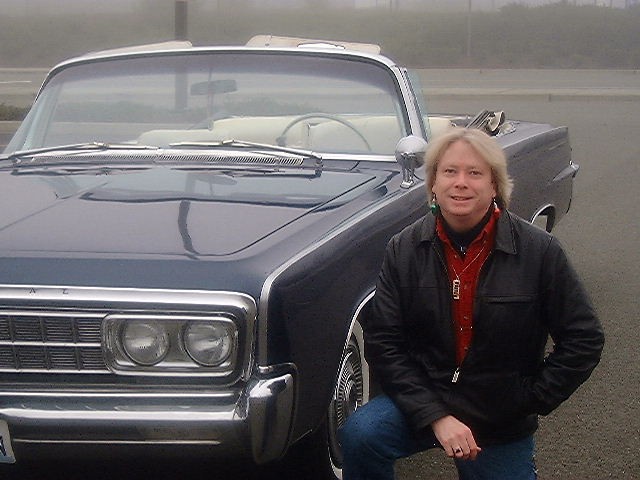 Doris and I on a foggy, cold Christmas Eve 2004
The very cool glass headlight covers are prone to rock shatter, so I have a couple of sets in reserve, and use the least shiny buckets for daily driving. I have had only one on each side be broken, but know to snatch up the covers when they become available. Hubcaps are, or were designed by drunk engineers to be 20 lb projectile disks of death and I have gone through several. I now have a reserve stock of them, thanks to Kenyon Wills. Some older caps with good retaining rings to figure out how to get on my wayward caps that I have been able to recover, but the retaining rings are smashed, but the caps hold up well after flying off at highway speeds and making oversized SUV's swerve, lose control and rollover. I usually am able to stop and recover the errant caps and scamper away without loss to life or limb on the 4 lane freeways around here. I am going to follow Kenyon's advise and wire them on someday soon.


Doris Day is her name, as she is Dark Metallic Blue, with a white Pearlescent interior. Doris drove Imperials in those old RH/DD movies, and it fits her well. I have WA State Vanity Plates that read: FIT4AQN. Feel free to interpret that any way you like. 99% of the people who see Doris and her plates laugh at the double entendre. Those that are offended I get to laugh at. For those people there is a village somewhere that is missing an idiot.

---
This page was last updated May 8, 2005. Send us your feedback, and come join the Imperial Mailing List - Online Car Club
---