1967 Theodorou Imperial Limousine
---
Imperial Home Page -> Imperials by Year -> 1967 -> Limousines -> Theodorou
---
UPDATED 8-2005
Recently purchased and being lovingly restored by Greg Ryckman
watch for more info at; http://www.senzellimousine.com/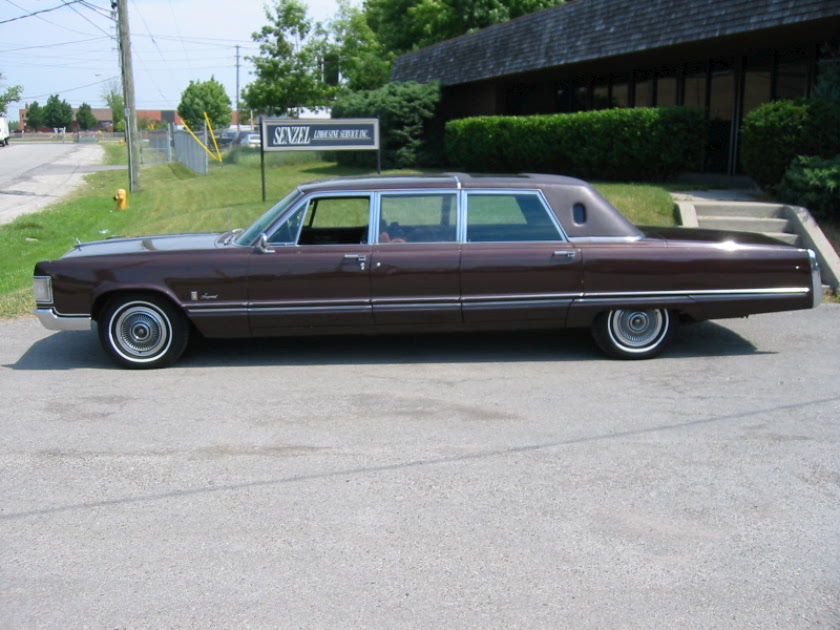 Hi Good morning,
I would send you a note on the lost 67' Limo. What a great find, its really fun for me as a collector/limo enthusiast to find such a vehicle. There are very few cars left that either are truly lost or not even known to exist and so to have the sales brochure for years and wonder about the car and if it actually existed adds to its excitement for myself anyways.
I will give you my opinion of the history of this car and invite anyone who would like to add anything to join us in recreating the history of this one of kind limousine. For those who do not know me, I have been in the limousine business for my whole working life, 30 years. I am 45 years old and have been limo crazy my entire life and own and operate the largest livery in Toronto Ontario Canada.

I have bought and sold hundreds of limousines over the years with a great percentage of them being classics and enjoy visiting some of Americas great collector auctions in search of unique limousines. I currently own ten collector limousines including the 64 Landau Ghia on the website that Cecil McCaul had the pleasure of owning and I only mention this to substantiate my opinion about the 67'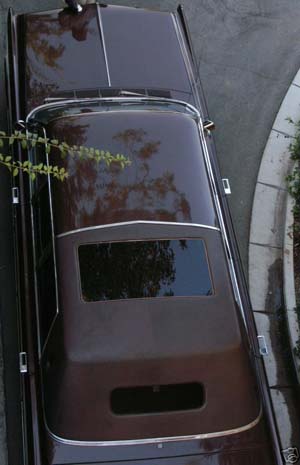 So as we know I bought the Imperial through Ebay from a church in California called the Movement of Spiritual Awareness who teach soul transcendence. Let me say that they were wonderful to deal with. They had the car donated to them from a member that owned the Carriage House Hotel in Miami Beach Florida in 1973 and had owned and maintained the car since then just outside to Los Angeles on a mountain top.The car had apparently been delivered new to the Carriage House in 1967.
Built in Chicago as we know by the brochure the car started out as a Black 67 Imperial Sedan. Now this is where my knowledge of other limos comes into play.
From what we know there appears to be only one of these limos built before Armbruster Stageway got involved and produced the rest of the cars for 67'. I believe thru my knowledge of builders and owning 5 Lehmann Peterson Lincoln Limos that this conversion was probably either built by Lehmann as a favor or experiment or had some definite input into its design. The car may have been trimmed by Theodoreau in another facility or subcontracted out. A great number of similarities appear between the cars. The Lehamnn rear window is of identical size and shape and placement.The partition is of the same sliding design.The rear jump seats and side compartments are close. The use of front door skins for the middle panels which are of comparable size to the Lehmanns. Now what sets this car apart from any custom built limousine of its era is that it is a double cut car. The original sedan was stretched in between the two doors but again approx. 8 inches behind the rear door as can be seen in my photos of the vinyl roof trim and the size of the front of the fender skirt. A very expensive and time consuming customization for that time. This allows for the rear seat to sit back in behind the rear door opening providing more privacy and great entrance room.
The car carries the same design halo band as my 64' Ghia giving the car a 1/3rd vinyl roof with a larger sail panel. 8 inches larger.
At some point the car was painted brown and the vinyl roof was dyed brown as well. Possibly the car was painted that color for the Hotel.
The interior was finished in a brown velour material including the covering of all the door panels and center sections. Sometime after the car was sent to California it was refinished again in the same brown and all of the seating material was replaced with another velour type material because of rodent damage. ( Apparently a problem on mountain tops in Southern California )

During its 32 years in LA the church maintain the vehicle mechanically beyond anything I have ever seen. They included a file of repairs back to Florida of approx. two hundred invoices including interior retrimming and exterior repainting.

The car has as many gadgets and switches as I have ever seen in any car except the Black Beauty.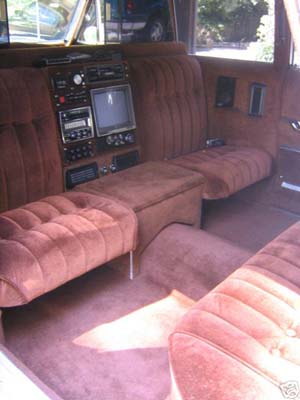 There are dual batteries with front cut off switches and kill switches. There are solar panels on the front dash connected to the batteries to recharge the system.There is a front to rear intercom of Radio Shack vintage above the partition. In the Rear there is a color Vintage TV. Eight Track player, CB radio, Radar detector, Thermometer, Vintage Rear TV antenna of Lehmann design, Updated AM/FM cassette radio player, Rear Air and Heat controls that still function very well, Fuse panel and drinking glass holder storage in the box below the panel. There are two Opera wndows in the rear sail panels There are over head reading lights of every kind and an aftermarket sunroof in the rear that was added in California. There is an elaborate alarm system with outside key shut offs that I have not attempted to figure out. The trunk is original and plain.
The overall condition of the car is great being completely rust free but representative of a double repaint and the original chrome shows its 40 years of age with some pitting probably started in Miami.

The car sits up very proud and runs and drives terrific, much better than the cosmetics of the car. The air-conditioning system works amazing and there are enough invoices to justify that.

Its a very neat limo that I plan to completely restore and color change back to black including the interior probably back to a full leather set which we have discussed. If anyone has any information on this car or would like to contact me about it I would invite them to contact me thru my email at ryckman@senzellimousine.com

Thanks for your time I hope I wasn't to long winded.
Greg
---
This page was last updated August 6, 2005. Send us your feedback, and come join the Imperial Mailing List - Online Car Club
---