Ken & Tracie's 1968 Imperial Crown Four Door
---
Imperial Home Page -> Imperials By Year -> 1968 -> Ken & Tracie
---
When Ken brought home his 1968 Frost Green Metallic Imperial Crown Four Door home from Oregon, here was the reaction of his wife Tracie: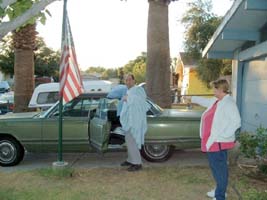 An Imperial makes far more comfortable sleeping quarters than a dog house.....
We hope Ken tells us more about his Imperial soon! Looks like it's going to be quite an adventure!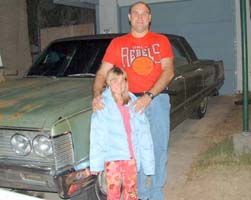 Update 5/2/2006:
Here's a snapshot from Summer, 1974. A salesman is taking the Imperial to the used car section of Tosa Chrysler-Plymouth. The car will be cleaned, some body work done and then it will be sold to its second owner within a few weeks.The plates have already been transferred to the new Duster by a lot attendant. Yep, Dad traded down to a Duster. A fine reliable little car, but no comparison...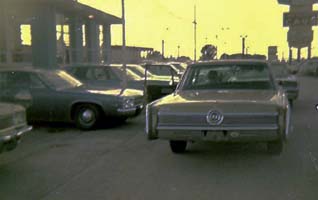 The sign in the distance (on the far right) belongs to Krause Oldsmobile. Note the dog dish hubcaps on the Satellite to the left.
Having trouble with printouts coming out way too small, or pieces of a document printing acro ss sev eral page s?
Then go to our "How To Print Imperial Literature" page to learn how to print an item at the size you'd like.
---
This page was last updated 2 May 2006. Send us your feedback, and come join the Imperial Mailing List - Online Car Club
---