The story of "Emily":

March of 1990. My friend John who is a mechanic who lives in Arkansas USA sent me via snail mail the following two pictures of this 1969 Imperial saying that one of his customers wants to sell his car for $1200.00 asking me if I am interested in it. It also came with a parts car, a 1969 New Yorker. I responded with a very excited "YES!"

I made arrangements with John to keep the car at his shop till I could make a road trip / vacation to pick it up. In June 1990, my friend Bernie and I drove in his 1986 Chrysler LeBaron and we were Arkansas bound. We spread the 16 hour drive over two days. After all, it was a vacation, right! Once there, John and I spent a leisure week going over this car mechanically making all the necessary repairs in order to have it to pass an Arkansas safety check. I then had dual exhaust put on (for $320) as well as new radial tires. We decided to make the drive back all in one day. With a 10 day temporary travel permit, we left Arkansas at 5 AM and since the weather there was high humidity (feeling like 110 degrees in the shade), we made sure the A/C worked even though the system deposited the A/C water inside on the passenger floor area. So I lined the floor area with heavy plastic and used a bunch of rolled up towels to absorb the water (so we could travel for longer periods of time and not have the water slosh around spilling all over the place). We needed to stop every 2 hours to wring out those towels and to use the rest areas. So timing wise, it all worked out well. I'm sorry that I did not think to take pictures of the 1969 Imperial LeBaron being followed by the half size 1986 Chrysler LeBaron. We had the Bill of Sale notarized before we left Arkansas. Thus, my customs visit getting back into Canada with this car, was short and sweet.
Click on photos to see larger versions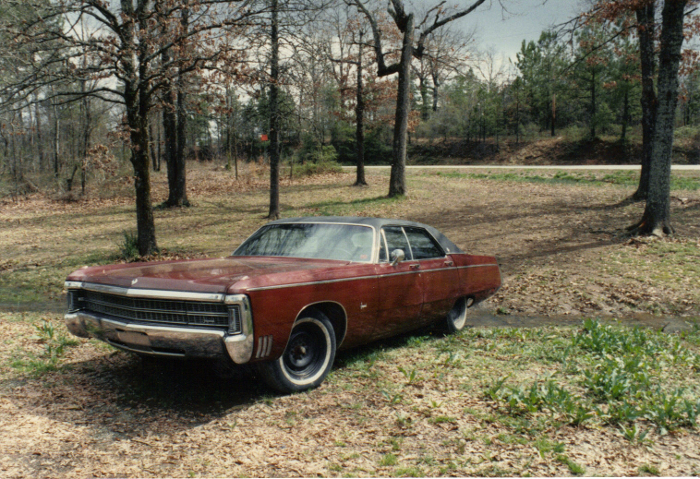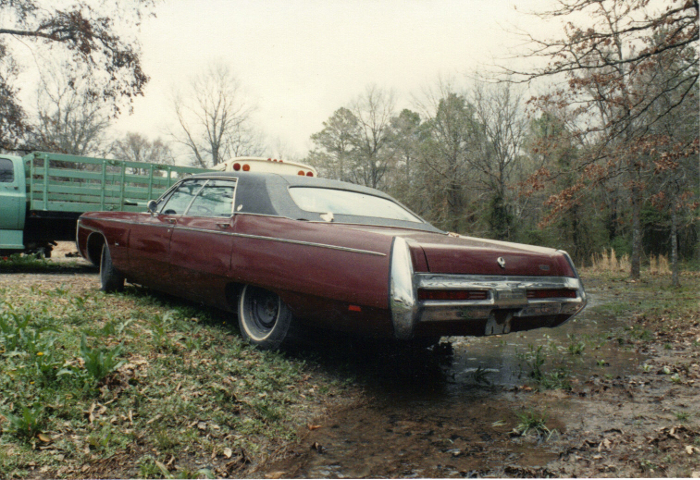 The next two photos were taken June 1990 after some TLC. Notice the 3 major dents on the passenger side by the previous owner, as well as the torn vinyl roof.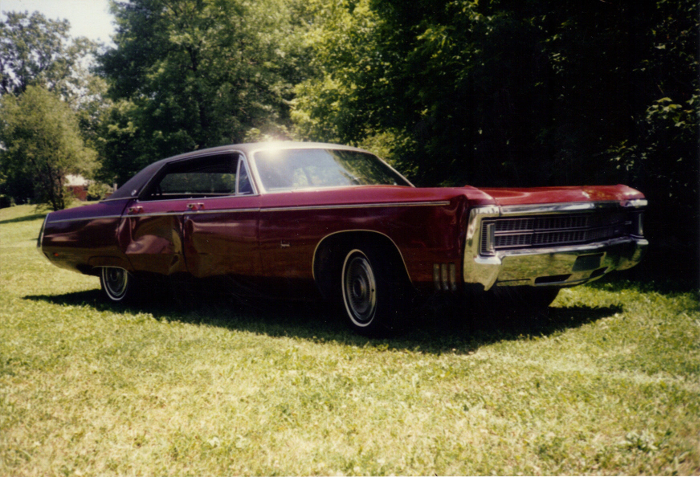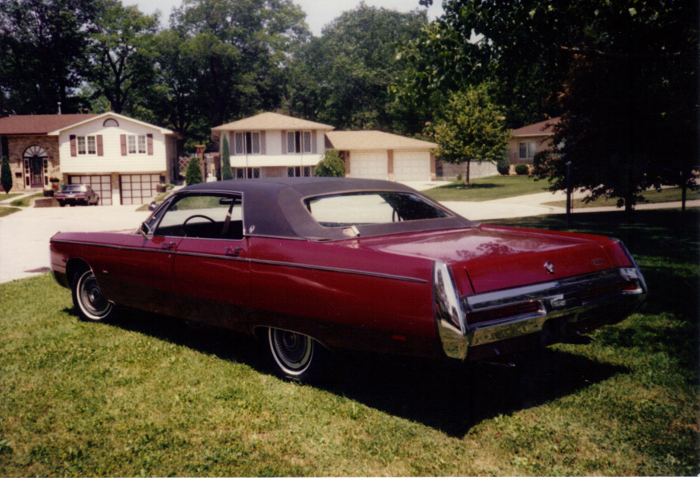 This photo was taken March 1991 of my everyday driver, a 1978 Chrysler Newport,
and the Imperial (I gave the name of Emily)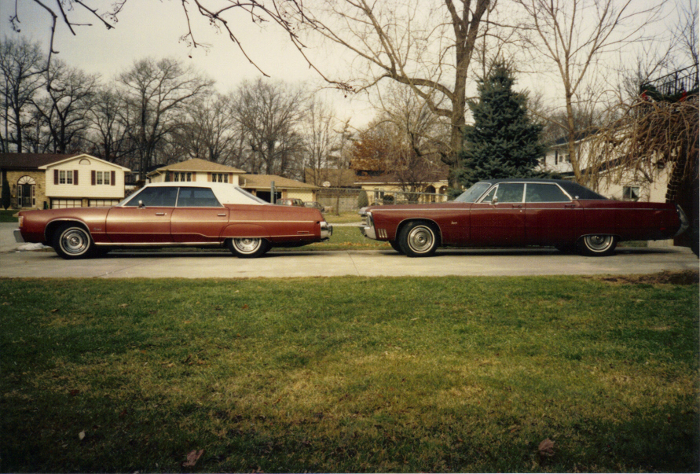 March of 1992. My parents purchased a brand new 28 foot house trailer and did not have a tow vehicle. We negotiated a price and then had the Imperial painted to match the trailer as my Dad always wanted this kind of set up. I came up with the two tone paint scheme as I had seen it done similarly done on a 1970 300 Hurst. We left the Imperial in my name as we all knew I would be doing most of the towing and the car would eventually be mine again. In these photos we are just setting up the equalizing hitch and did not quite have it level yet. Emily towed the trailer with ease as her 5200 lbs almost matched that of the trailer. Quite amazing to be in command of over 47 feet of car and trailer. Since I was moving away, and that fact that my father was not comfortable towing. They found a permanent campsite and parked the trailer. This meant Emily went into storage under a car cover in their garage. I would go back to visit a few times a year and start her up rolling her back and forth on the driveway. Then one day, the brake pedal went to the floor as the master cylinder started to leak, Thus, Emily stayed in storage for close to 20 years as my father decided he would not put any more money into the car. I was good with this fact as I noticed that my Dad's driving skills we not the best as his fairly new everyday driver (Dodge Caravan) was full of dents and scratches.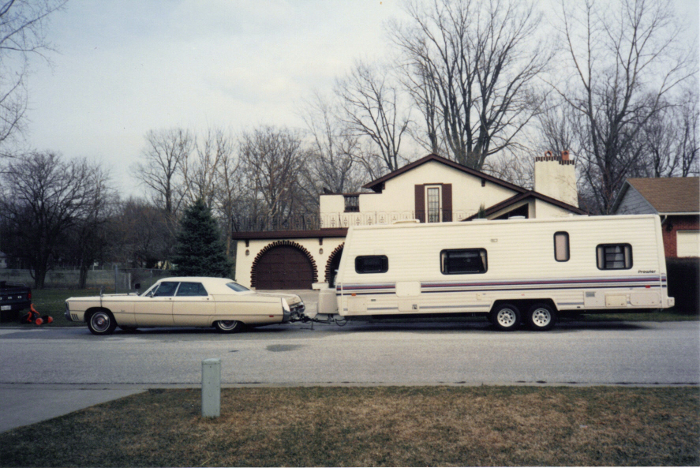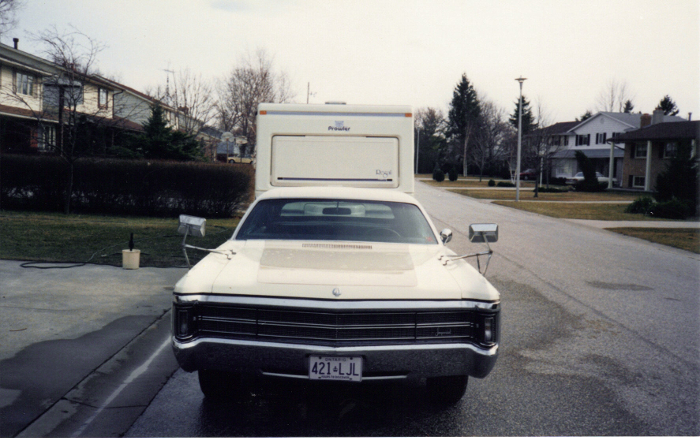 Fast forward to October 2012... After some family drama, and almost 10+ years being parked in a garage, I got the Imperial back in my possession having it moved by flatbed to my hometown. The master cylinder was replaced and brakes were inspected and adjusted. The fuel tank sending unit had to be replaced as the old gas after so many years, had turned to a rust water sludge and the sending unit was rusted beyond repair. The man in the garage doing the work was a Mopar enthusiast himself. But he did not tell me the sending unit replacement was from a Chrysler. After all the repairs were done, I went to fill it with gas and the dash gauge only read 5/8th full. No Imperial sending unit could be found. Four years later, I am still in search for one as the gas gauge still reads 5/8th full in spite of us the bending the float arm, and checking the ohms and ground.

June 2013... My Imperial goes on its first out of town drive, in order to give a relaxing Sunday afternoon drive for my friend Howie (who did these youtube videos and helped me with many of the repairs) to also thank him for all his help and expertise with my Imperial.

I had to undo my Dad's circus wagon paint job to the Imperial's hubcaps (he wanted it to match the paint stripes on the trailer). I returned them to black to match the color of my car's interior. I also removed the pinstripes at the beltline that he also added. I feel the car looks much better having cleaner lines now.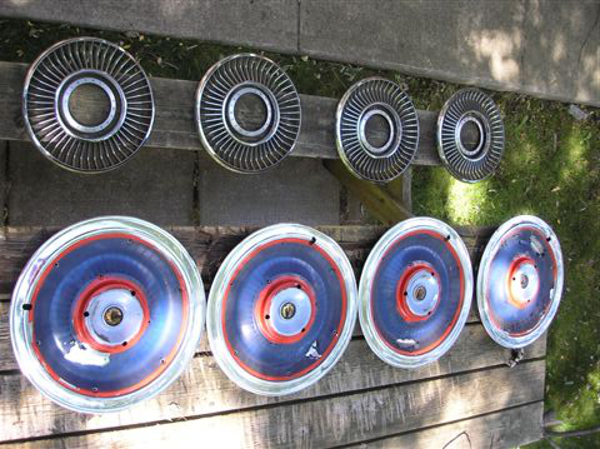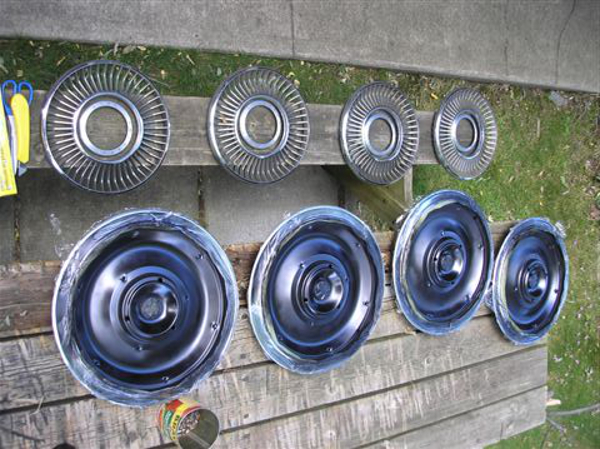 A photo opportunity at a wonderful 1920's Mansion called the Palette Mansion, made for a picture perfect evening. The Mansion's colors match my Imperial's. That's me in the final photo... the very proud and passionate classic car enthusiast... who happens to own two amazing cars.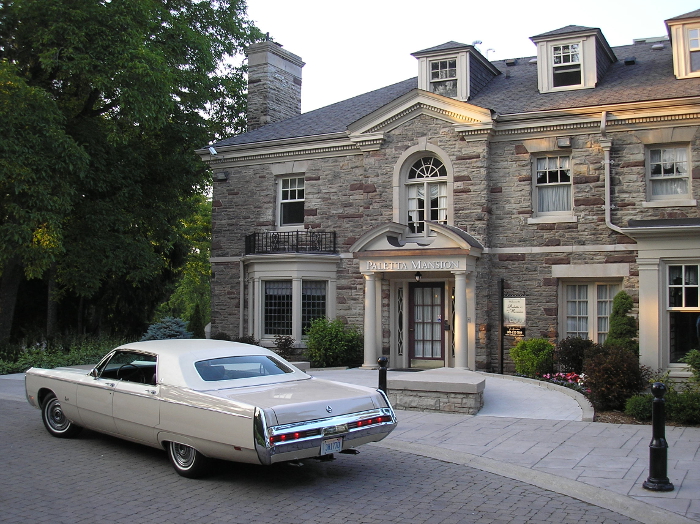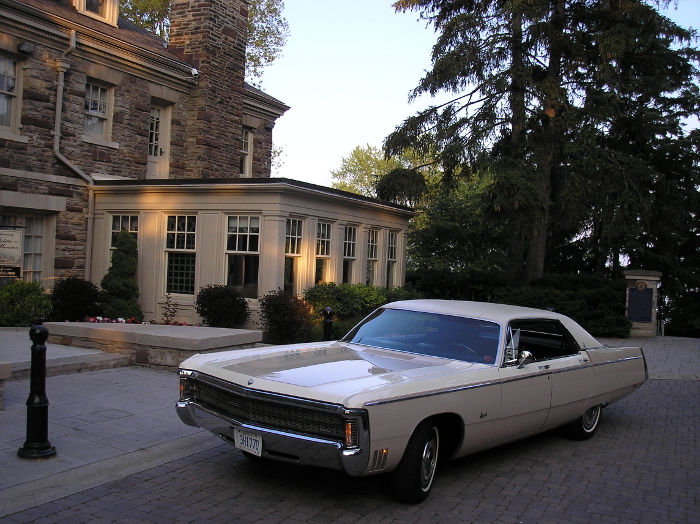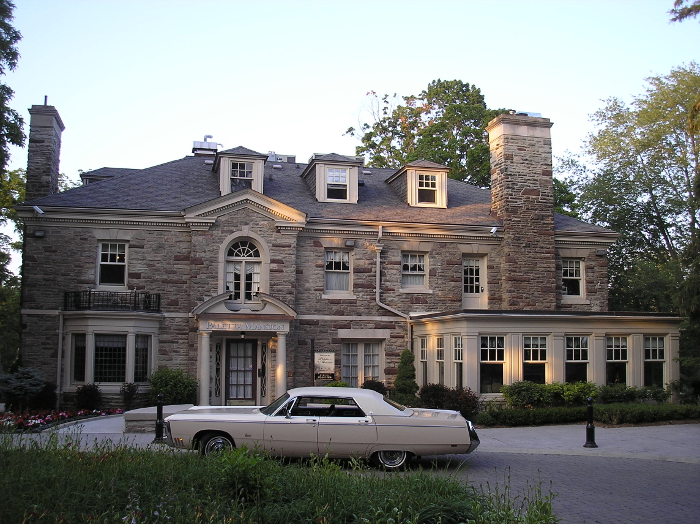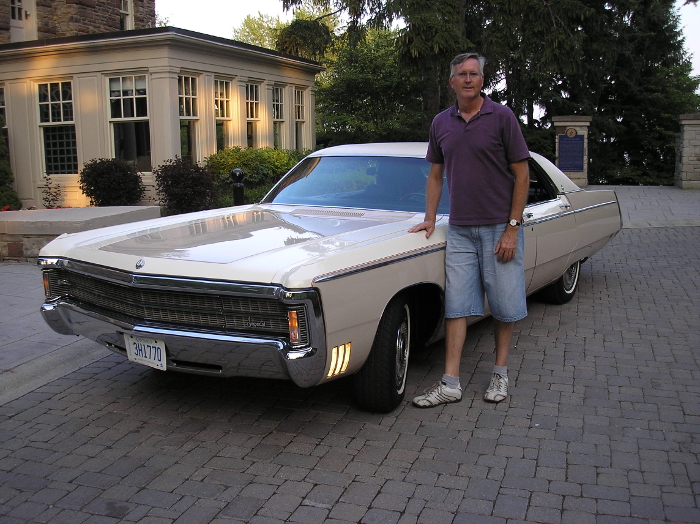 These photo's were taken in the Spring of 2018. This is while attending the Mopar Spring Fling in Mississauga Ontario Canada. This is Emily with her older sibling who are meeting for the first time. The only family resemblance that I can see, are their hubcaps.

One day, It is my hope that we (the OIC members), can arrange a huge car show gathering where a bunch of our Imperials and their owners can all be together... Perhaps next year at Mopar Fest 2019?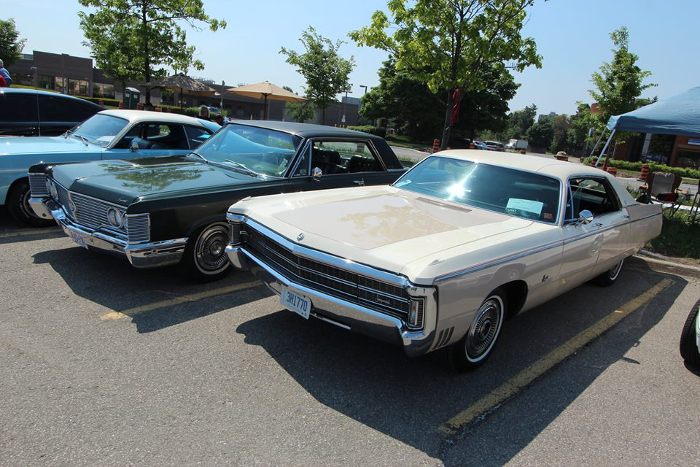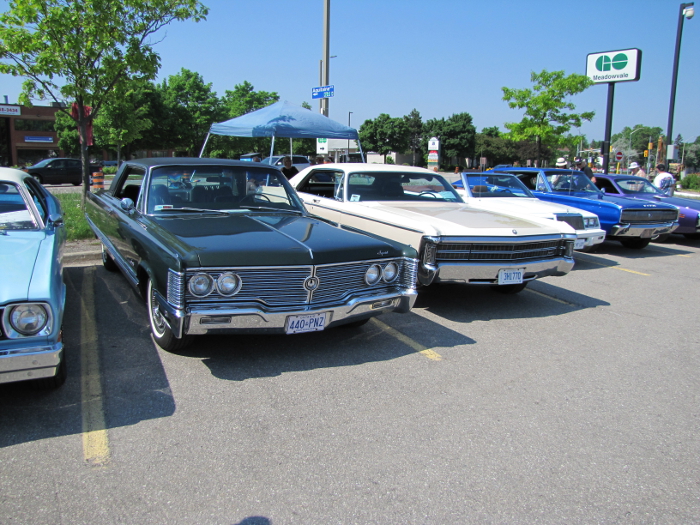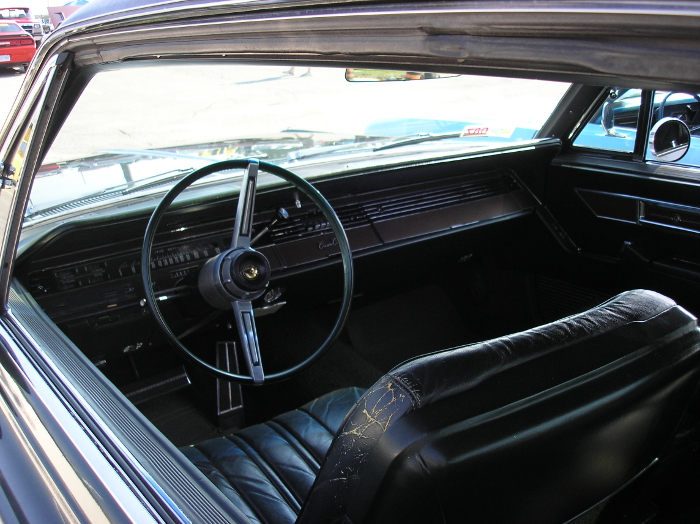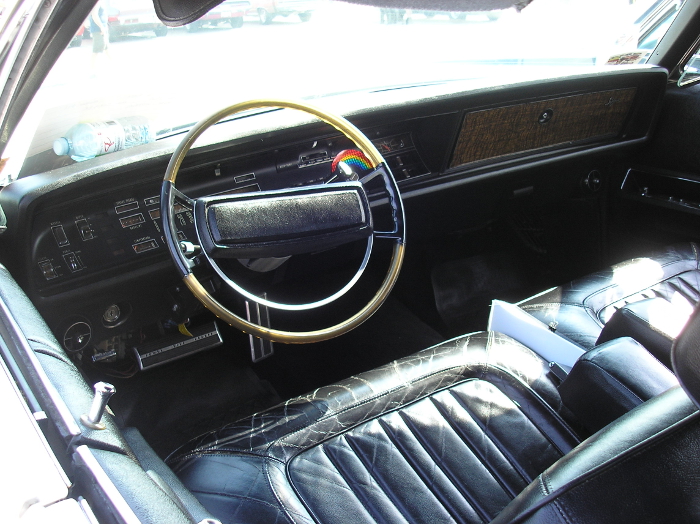 My 1960 Dodge Polara and my Imperial, together for as long as I am able!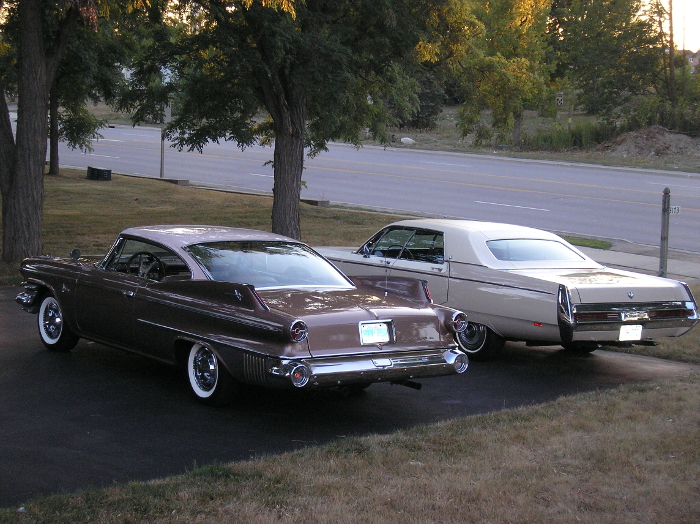 Having owned my 1969 Imperial going on 28 years now. I thought to chime in adding my experiences I have had with my Imperial after almost 3 decades.

Here's a Youtube link explaining the "new" features for the "Fuselage" styling of my Imperial that I enjoy watching: 1969 Chrysler Imperial Sales Features - Dealer Promo Film

I will vouch for Club Member Joe's input on the electrical issues. I had many gremlin's show-up and disappear in my cars electrical system: dash gauges, interior & dash lights to my cars sequential tail lights working, then not, to starting issues, due to poor quality of the car's wiring harness, having bad grounds and flimsy connectors. The main wiring harness on the firewall that transitions to the inside, to the under dash fuse box, handle with white gloves as it is so very delicate / becoming brittle. Start there if you have this vintage of car with electrical gremlins. My car does drip the A/C water on the inside of the passenger side floor pan. Thus, I choose to hardtop it all the time till I get ambitions to get this issue fixed. Related to this topic, there's all the vacuum issues around Auto Temp climate controls....

From the firewall back, my Imperial shares so many parts with the New Yorker, 300's, and Newport's. The Imperial has the added 3 inches to the wheel base (of 127") from the firewall forward. As John S. and Kenyon shared, my car does handle amazingly well for its size and 5200 lbs of Mopar metal. While attending car shows and cruise nights, most comment on how large the car is. The second comment that I hear is how comfortable and roomy the interior looks and how the ride must be... "like a Lazyboy couch on wheels!" I took my Imperial on a 4 hour road trip last weekend having one stop about halfway. I noticed I was not physically tired or sore at all ... as well as the ease of doing 90 mph, it sure melts the miles / kms away.

I had the pleasure of riding in a 68 Imperial a few months back. This car's sound and maneuverability are the same as my Imperial. The biggest difference that I noticed is in the seating position (high up) as well as low beltline with very little blind spots. A great car to be in a parade to be seen in! In the 69, the windows are smaller, I sit lower and a high belt line (the attached youtube video link clearly demonstrates these selling features) and I have a more discreet feeling when driving my Imperial.


Warm regards,
Bill Taekema