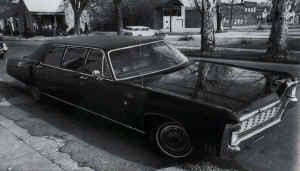 An article from the January-February 1969 issue of Bus Ride magazine indicates, "Another interesting Armbruster product is custom limousines. These are built under a subcontract from the Imperial Division of Chrysler. They are usually regular Imperial sedans lengthened out one section and then installed with a set of plush seats facing the rear. Then a custom built console is built and placed in the rear compartment. It usually contains a television set and a stereo unit. Five of these cars were built last year. They are used mainly by corporation executives, government officials. Production of these special units is limited to about twenty to twenty-five a year."
While the 1969 limousines are easy to identify, it is difficult to identify the sales year of the 1970 and 1971 models. The cars were evidently updated each year with fenders, bumpers, grilles, and other trim as appropriate to reflect the relatively minor changes in the production Imperials for the three years. The 1971 and 1971 limousines appear to possess a mixture of features and trim taken from the three years, with the basic framework retaining the characteristics of the 1969 production Imperial.
Production figures are sketchy, with multiple sources indicating a variety of numbers. Most sources indicate that six limousines were produced for 1969, another six for 1970, and possibly one additional limousine for 1971. One source also indicates that the 1971 limousine was built from a 1971 Imperial LeBaron four door hardtop, but the hardtop design would present some engineering challenges for the stability of a stretch conversion.